Trump Just Set The Stage For Election Fraud, An Informed Public Threatens Those In Power – Ep. 2695
Watch The X22 Report On Video
The people of the world are now getting hit with inflation and higher fuel costs. This will only get worse. Food prices are on the rise in the US and the temporary decline of fuel costs have come to an end. Trump trapped the [CB] and [JB], others are now preparing for a new system. Trump and the patriots have now set the stage to expose election fraud. Each person is playing their part. Trump knows that states will decertify and the [DS] is preparing to counter this, Trump just countered their plan by calling them out. The pieces of the plan are all coming together, the [DS] is panicking.The public is being informed, they are seeing the truth and how the establishment lied to them, this is the [DS] worst nightmare, they have lost control and power. The clock has been activated.
---
Economy
Shoppers Are Caught Off Guard as Prices on Everyday Items Change More Often
Airlines, gas stations and large retailers have used dynamic pricing for years. Now others are trying out the strategy to deal with inflation.
Everyday items, from grocery staples to home décor, are being priced more like airline tickets and gasoline, where the sticker prices can move frequently within hours or days.Retailers say the price moves are in response to rising production, labor and shipping costs, and continuing product shortages associated with the Covid-19 pandemic. The price changes are happening online as well as offline, especially among smaller retailers that have been wary of spending on pricey technology or frustrating customers, according to executives and analysts.
Source: wsj.com
Global food prices back on rise; though annual change is easing, level is testing highs from over a decade ago pic.twitter.com/CLp5ffB6DX

— Liz Ann Sonders (@LizAnnSonders) February 4, 2022
President Biden is about to have yet another major problem as the average price of gasoline surged to the highest level in seven years, according to new AAA fuel data. For this time of year, seasonal trends show prices are the highest since 2013.

Despite Biden's attempt to squash surging fuel costs (as his war chest runs thin), AAA reported regular gasoline at the pump rose to $3.423 a gallon, a high most Americans haven't seen since September 2014.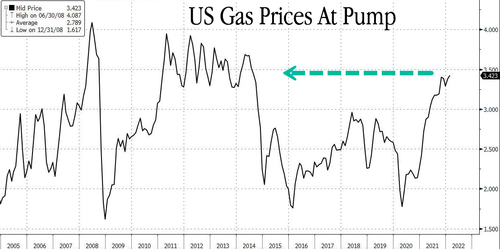 It's becoming a fact that Biden's ability to impact fuel prices is rapidly diminishing. OPEC+ has snubbed Biden's request to rapidly increase supply.
Source: zerohedge.com
The Fed Has Trapped Itself, Few Understand This…
BREAKING: Senator @tedcruz has bought #Bitcoin according to filings disclosed today pic.twitter.com/jFyyFLDKCf

— Blockworks (@Blockworks_) February 5, 2022
---
Political/Rights
A Morning Consult poll is being framed around how viewership for the Winter Olympics in Beijing, China, may attract fewer viewers than the Tokyo Summer Games. But a major reason for the lack of interest is buried: 40 percent of Americans said the reason they aren't tuning in is that the Communist Chinese Party is in charge of the event.
"Forty percent of those who don't intend to watch pointed to China hosting the Games as a reason for tuning out, including 31 percent who cited it as a 'major' reason," the polling group said of its survey. "Among Republicans who said they don't expect to watch, 56 percent pointed to China as a reason, versus 28 percent among Democrats who don't plan to watch."
Source: breitbart.com
Confidential banking records related to Hunter Biden in Senate hands: Report
The U.S. Treasury Department has started turning over confidential banking records related to Hunter Biden in response to requests from Senate investigative committees.
Senate Finance Committee Chairman Chuck Grassley and Senate Homeland Security and Governmental Affairs Committee Chairman Ron Johnson asked the Treasury in November for "suspicious activity reports," banking alerts involving money laundering or fraud, related to Biden and his associates.
A spokeswoman for Sen. Ron Wyden, the ranking Democrat on the Senate Finance Committee, told Yahoo News that the department has already started turning over records. The Wyden spokeswoman criticized the Treasury Department for "rapidly complying" with the requests, calling the Republican-led Senate investigation of Biden a "sideshow."
Source: washingtonexaminer.com
UNDER-fire Prince Andrew will face a two-day grilling at a "neutral" location when Virginia Giuffre's lawyers fly in from the US, it has been reported.
The exact day that the Duke of York will face his sex accuser's legal team has now been revealed, with the royal set to face embarrassing questions about his personal life on March 10
Andrew will face a two-day grilling by Giuffre's lawyers on March 10 at a "neutral" location in London, The Telegraph reports.
---
Geopolitical/Police State
---
War
---
False Flags
In an effort to avoid his cancellation, Joe Rogan denounced his skin color, renounced his former shameful conduct and announced his new enlightenment.  Rogan predictably declared the oft familiar last ditch effort phrase, "this is a teachable moment."
We've seen this cancellation show too many times to pretend we don't know how it ends.
"There's been a lot of shit from the old episodes of the podcast that I wish I hadn't said, or had said differently. This is my take on the worst of it," Rogan said in the caption of an almost five-minute video posted on Instagram.
 s.
Source: theconservativetreehouse.com
Rogan caving won't help or save him. He has apologized before and 71 episodes were deleted, what do you think is going to happen now, the left will want more and more until he is gone.  
Prediction: Joe Rogan will get dumped by Spotify.

How many times do we have to tell people not to play the cancellation crew's game?

— Kurt Schlichter (@KurtSchlichter) February 5, 2022
When do they cancel CNN for spreading more vaccine disinformation in one year than Joe Rogan has in a lifetime? pic.twitter.com/bvGktKhnnn

— Rising serpent 🇺🇸 (@rising_serpent) February 5, 2022
NEVER bow to the WOKE MOB!!!

— Dan Scavino Jr.🇺🇸🦅 (@DanScavino) February 6, 2022
— Dan Scavino Jr.🇺🇸🦅 (@DanScavino) February 6, 2022
TAKE A LISTEN
El Salvador President Nayib Bukele tweeted out on Monday wondering if there's a deliberate plan to destroy the United States from within.
 
Is there a deliberate plan to destroy the United States from within?

Why are the authorities and some of the media not even commenting on this things?

Why are they letting their beautiful cities rot? https://t.co/whGKTEKN1J

— Nayib Bukele 🇸🇻 (@nayibbukele) January 31, 2022
Source:  humansarefree.com
This is why they want to put a kill-switch in every vehicle by 2024-26. pic.twitter.com/UftkSbCK8I

— James 2.0 🚛🚚 (@SgtJames13) February 4, 2022
  Witnesses in Winnepeg say that a white vehicle has "intentionally" rammed into protesters at the trucker's "Freedom Convoy," where a massive group of protesters are gathered to fight for the freedoms of Canadian citizens against COVID restrictions and mandates.
In the video below, a white vehicle can be seen speeding up and then ramming into the back of another vehicle where protesters are casually lining the edge of the street. In the video, it appears as though the driver is intentionally ramming into the vehicle in front of it where the pedestrian is also standing.
 Watch:
BREAKING: Three people injured after car appears to intentionally ram protesters at 'Freedom Convoy' in Winnipeg, witnesses say

— Election Wizard 🚛 (@ElectionWiz) February 5, 2022
Source: thegatewaypundit.com
A driver accused of hitting four Freedom Convoy protestors Friday night in Winnipeg is facing numerous charges including assault with a weapon.
The suspect faces several charges including assault with a weapon, dangerous operation of a vehicle causing harm, and failure to stop at the scene of an accident:
– Assault with Weapon x 4
– Dangerous Operation of a Conveyance Cause Bodily Harm x 2
– Dangerous Operation of a Conveyance
– Fail to Stop After Accident Knowing That Reckless x 2
– Fail to Stop at Scene of Accident x 2
Source: thepostmillenial.com
— Dan Scavino Jr.🇺🇸🦅 (@DanScavino) February 6, 2022
The Food and Drug Administration (FDA) has restored a document outlining why it approved Moderna's COVID-19 vaccine, days after the regulatory agency pulled the 30-page file offline after receiving questions about it from The Epoch Times.
No explanation has been given for why the document vanished hours after the questions were sent, but the removal triggered pushback from the National Vaccine Information Center and multiple members of Congress.
The document in question is called the Summary Basis for Regulatory Action (SBRA) and was made public on Feb. 1, one day after the FDA approved Moderna's jab without consulting its expert advisory panel.
The initial version of the SBRA said that a scheduled communication and a scheduled meeting between regulators and Moderna were canceled, but did not explain why. The updated version says that Moderna canceled the meetings.