Trump Sends The Message, It's Time, Define Renegade – Ep. 2763
Watch The X22 Report On Video
The people around the world see the inflation, the [CB] cannot hide it anymore. Trump is proven right again, Germany is being controlled by Russia. If sanctions work how come Russia economy is expanding and the US is contracting. The [CB] says the quiet part out-loud, globalization is coming to an end. The [DS] is throwing everything they have against the wall but it's not sticking. They are in panic mode, you don't try to stop disinformation if you are in control. Trump is back on social, he made his first truth, the message is clear it is time. Trump also released a statement pointing the finger at [BO]. The offensive has begun, the treasonous crimes will be revealed and the [DS] will not be able to stop it.
---
Economy
Bidenflation Roars To 25% YoY In March As Real GDP Growth Goes Negative (Clueless Joe)
While headline inflation is growing at 8.6% YoY in March, flexible price inflation grew at a terrifying 25% YoY rate.
Diesel prices have skyrocketed under Biden.
Source: investmentwatchblog.com
TAKE A LISTEN
Trump claimed, during a testy breakfast meeting in 2018 with NATO's Stoltenberg, that Germany's dependence for its energy needs made it "totally controlled" by and "captive to Russia."
It turns out – much to the chagrin of everyone who mock-horrored at the time – that Trump was right  
In just a few weeks, Germany will face the same dilemma that Poland and Bulgaria encountered a few days ago: pay for Russian gas on Vladimir Putin's terms, effectively breaching European sanctions, or see the Kremlin close the valves.
Source: zerohedge.com
The longer Western sanctions isolate Russia and reduce energy supplies to European refiners. The higher energy prices will go. Even though Russian energy exports are declining, higher prices have enabled the country's state-owned oil and gas companies to double revenue, thus stabilizing the ruble and allowing financing for President Putin's military machine.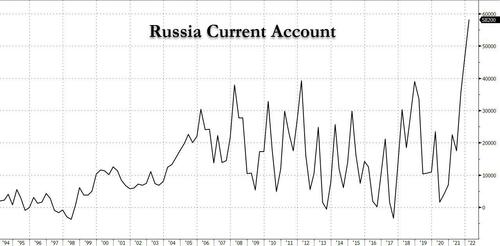 Source: zerohedge.com
 Goya Foods CEO Bob Unanue has issued a similar warning: "We are on the precipice of a global food crisis." 
 "Americans will have to tighten their belts and consume less," in response to her question about a potential food shortage crisis.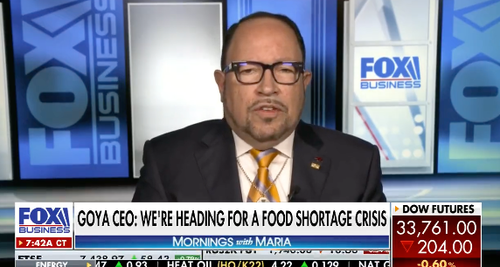 Bartiromo then asked a series of questions, such as "Do you think things will get worse?" and "Do you think food prices will go even higher later this year?" 
He warned about an imbalance in world food production, indicating "farmers are paying double for fertilizer, they're planting less and yields will be less." 
Source: zerohedge.com
DUBAI REAL ESTATE GIANT TO ACCEPT BITCOIN AS PAYMENT
DAMAC will soon begin accepting bitcoin as payment in its property sales as the UAE seeks to become a cryptocurrency hub.
Dubai, United Arab Emirates-based luxury real estate developer DAMAC Properties will soon begin accepting Bitcoin payments for the sale of property in the region, the company said in a Wednesday statement."DAMAC Properties has always been at the forefront of innovations from developing luxury homes to creating unique experiences," said ALi Sajwani, general manager of operations at the company and lead of its digital transformations initiatives.  Source: bitcoinmagazine.com
CENTRAL BANKS SAY THE QUIET PART OUT LOUD
THE SUNSET OF GLOBALIZATION
We emphasize another very important exchange from the IMF roundtable when the moderator asks about the decline in globalization. Powell says that it is quite possible that we see a reversal in globalization, while Lagarde "pleads Europe's case" for a mere revisiting of the terms of trade.
Source: bitcoinmagazine.com
---
Political/Rights
President Joe Biden's Department of Homeland Security (DHS) has seemingly confirmed plans to siphon healthcare services away from American veterans treated at Veterans Affairs (VA) to illegal aliens arriving at the United States-Mexico border.
During a hearing before the House Homeland Security Committee on Wednesday, DHS Secretary Alejandro Mayorkas confirmed to Rep. Ashley Hinson (R-IA) that the Biden administration is in talks with VA officials to potentially transfer doctors and nurses to the southern border to treat illegal aliens arriving every day in record-breaking numbers.
"Is the department planning to reallocate resources, doctors and nurses, from our VA system intended to care for our veterans to illegal immigrants at our southern border?" Hinson asked.
Mayorkas responded, stating that "the resources that the medical personnel from the Veterans Administration would allocate to this effort is under the judgment of the secretary of Veterans Affairs, who prioritizes the interests of veterans above all others for very noble and correct."
 
The remarks come as Sen. Josh Hawley (R-MO) had sought clarification on reports that the Biden administration was looking to siphon doctors and nurses away from the VA toward illegal aliens at the border.
"In the words of one [Customs and Border Protection] official, 'We're going to take medical services away from people that really deserve that, who went to combat … to give free medical attention to illegal migrants,'" Hawley wrote in a letter to Mayorkas.
Already, Americans are forced to subsidize medical care for illegal aliens to the tune of $18.5 billion annually. Last year alone, Americans footed the bill for more than $316 million in medical care for border crossers and illegal aliens who were detained in Immigration and Customs Enforcement (ICE) custody.
Source: breitbart.com
More than 700 individuals in north Mississippi were arrested during a month-long U.S. Marshals led operation in the state, Department of Justice announced Wednesday.
The operation, dubbed "Operation MPACT" (Mississippi Partnering Agencies Coming Together), led to the arrests of hundreds of individuals in the state on a variety of charges including homicide, aggravated assault, aggravated domestic assault, child abuse, child sexual assault, drug distribution, unlawful gun crime, DUI, and failure to register as a sex offender.
Federal, state and local law enforcement partners from four areas of north Mississippi, including Panola, Lee, Lowndes and Grenada counties, worked together to target known offenders, deter crime and improve community and safety relations, the justice department said.
Of the total number of arrests made during Operation MPACT, 350 were for felony offenses and 56 were gang-related. Law enforcement officers also seized $134,180 worth of narcotics, $50,720 worth of cash, and 38 firearms.
The month-long effort began on March 1, and was organized in response to a surge in crime in the area in recent months. The increase in violent crime came after several organized criminal groups operating out of Memphis and Chicago migrated to Mississippi via Interstate 55, the justice department said.
 Source: theepochtimes.com
---
Geopolitical/Police State
A majority of Americans approve of Tesla CEO Elon Musk's successful bid to buy Twitter, according to the results of an upcoming poll, which shows that even the majority of Democrats believe Musk will make the social media platform better.
62 percent of adults think Musk's purchase of Twitter will make the social media platform better, according to a Rasmussen poll set to be released on Friday, obtained by the New York Post.
Source: breitbart.com
The far left hates everyone, themselves included!

— Elon Musk (@elonmusk) April 29, 2022
So weird that Twitter had zero influence or impact over the electoral process until this week.

— Lauren Boebert (@laurenboebert) April 27, 2022
This is discomforting for all of us.  A far-left nut who claimed that the Hunter laptop was a Russian misinformation operation is running a government operation on misinformation.  What could be more discomforting for free speech?
Source: thegatewaypundit.com
This is messed up

— Elon Musk (@elonmusk) April 29, 2022
Secretary Mayorkas didn't know that his new "disinformation" czar pushed the Steele Dossier and throttled the Hunter Biden laptop story.

You can't make it up. https://t.co/qgFtvGbVMo

— House Judiciary GOP (@JudiciaryGOP) April 28, 2022
TAKE A LISTEN
v4495
Q

 

!!Hs1Jq13jV6

 

ID: acb60b

 No.9707125

"Every record has been destroyed or falsified, every book rewritten, every picture has been repainted, every statue and street building has been renamed, every date has been altered. And the process is continuing day by day and minute by minute. History has stopped. Nothing exists except an endless present in which the Party is always right." ― George Orwell, 1984
Sound familiar?
Q
---
War
– no visits to the front line
– no interviews with commanders
– no casualty stats
– field hospitals off limits
– and my phone was repeatedly seized by soldiers who deleted photos and videos https://t.co/loLgSthP60

— Seth Harp (@sethharpesq) April 29, 2022
Yes, this actually happened today.  During her press briefing Press Secretary Jen Psaki said the White House doesn't want to "define what success in Ukraine looks like," but demands U.S. taxpayers to give them another $33 billion toward it.
A few moments later Psaki admits the money will be spent subsidizing not only Ukraine, but NATO allies who are suffering the results of inflation.
Psaki stated the Biden demand for more money "is not all for Ukraine, it's also for some of our Eastern European partners and others to help support them during this time as well."  Wait, now we are paying to subsidize the economy of EU countries while our own economy is contracting?
Source: theconservativetreehouse.com
Psaki stated the Biden demand for $33B "is not all for Ukraine, it's also for some of our Eastern European partners and others to help support them during this time as well."

Wait, now we are paying to subsidize the economy of EU countries while our own economy is contracting? pic.twitter.com/7q8LyiHZLn

— TheLastRefuge (@TheLastRefuge2) April 28, 2022
Poland has secret plan for Ukraine, Moscow claims
Intelligence obtained by Russia suggests that Poland and the US are working on a plan for Warsaw to regain control of Ukrainian areas that Warsaw considers as "historically belonging" to it, Moscow's Foreign Intelligence Service (SVR) chief Sergey Naryshkin has said.
According to the alleged plan, the first stage of this "reunification" will see Polish "peacekeepers" deployed in western Ukraine under the pretext of "protection from Russian aggression," Naryshkin outlined in a statement on Thursday.
The details of the operation are now being discussed between Warsaw and the US government, he claimed, adding that the operation is designed to be executed without a NATO mandate, and only volunteer states taking part.
 .
According to Russian data, the actual "tactical objective" of the Polish troops will be taking control of strategic facilities from the Ukrainian National Guard. Poland's intelligence services are apparently now searching for "reliable" members of the Kiev elite, who would be willing to form a pro-Warsaw counterbalance to Ukrainian nationalists.
Source: rt.com
---
False Flags
 Pfizer document release shows pregnant/nursing women were not included in vaccine clinical trials – there is no way it could have been called 'safe and effective'. DOD data shows 'pregnancy abnormalities' doubled after mandatory vax including deaths, birth defects, after injection. Pfizer tried to keep this data secret for till 2076. This is massive criminal activity and a national security breach.
Dr. Naomi Wolf reporting on War Room Pandemic.
Source: cdmedia.com
---
Q
Mayorkas: Black Lives Matter isn't domestic terrorism threat
Homeland Security Secretary Alejandro Mayorkas said Thursday that Black Lives Matter is not a domestic terrorist threat, distinguishing the group from right-wing extremists whom he has cast as the most significant terrorism-related danger to the U.S.
Source: washingtontimes.com
Representative Adam Schiff (D-CA) said   that the House Select Committee investigating the January 6, 2021 Capitol riot had "ample evidence of criminality" by former President Donald Trump.
Schiff said, "I can say say that any of the players who were involved in the bogus litigation involve in discussions at the White House whether voting machines ought to be seized or what the authority was or the declaration or martial law, you know, we want to bring them all in. Obviously, I think Mr. Giuliani is a person who will have a great deal of relevant information."
Source: breitbart.com