Warmongers Are Being Exposed, Missile Warning System Transferred To SF, Stage Is Set – Ep. 3183
Podcast: Download (Duration: 1:35:37 — 41.4MB)
Watch The X22 Report On Video
The [WEF] plan is backfiring, Germany is in a death spiral and the people will soon be fighting back against this. Finnish government has a leak in their gas pipeline, coincidence? The economic lies are getting worse and the people are seeing through it. Lenders are preparing for a depression. The [DS] tried to use a wag the dog tactic to distract the population. The people are now seeing the warmongers. Trump and the patriots are exposing the people that are pushing war, once the D's are coming to the side of Trump and as we go throughout 2024 and the economy breaks down, the border invasion gets worse and we head into war the people of this country will start to understand who the true enemy is. This will all come together for the 2024 election.
---
Economy
Sugar in the USA is about 2x more expensive than the rest of the world to support US farmers because we can't compete with Brazil and other cheaper locations. Sugar is one of the most regulated and managed markets on the planet.

But they are going to blame it on climate and… https://t.co/rtRMkVIWhb

— Wall Street Silver (@WallStreetSilv) October 10, 2023
Over the past 3 months, full time employment has dropped by 700,000. Part time jobs have increased by 1.2 million.

The jobs reports have been extremely misleading from the headline numbers which the media reports without analysis.

5 million workers have dropped out of the… https://t.co/moA1tOjdeo

— FXHedge (@Fxhedgers) October 9, 2023
In the last 24 hours:

– Mortgage rates hit +8.09%
– Credit card interest rate hits record high
– Car loan interest rate hits highest since 2001
– Oil prices jump highest in 6 months
– China planning +$137 billion stimulus
– War continues on in Israel

But guess what?

Stocks are…

— Genevieve Roch-Decter, CFA (@GRDecter) October 10, 2023
up today.
Incredibly resilient market!
Good Morning Everyone! As tensions escalate overseas, my heart goes out to all the innocent civilians caught in the midst of it💔

Back home, we're facing a challenge. Oil prices have surged by +4% in last 24 hours (biggest jump in 6 months) and according to Reuters, the U.S. has… pic.twitter.com/UsInNWp8Z9

— Genevieve Roch-Decter, CFA (@GRDecter) October 10, 2023
Nevertheless, an examination of the banking industry's reserve levels indicates that lenders are preparing for potential credit deterioration and increased losses in the event of a recession.

Read more: https://t.co/Gdj1cUeDQk

— unusual_whales (@unusual_whales) October 10, 2023
World economy 'limping', IMF says amid uncertainty after Israel attack
The world economy has lost momentum from the impact of higher interest rates, the invasion of Ukraine and widening geopolitical rifts, and it now faces new uncertainty from the war between Israel and Hamas militants, International Monetary Fund warned Tuesday.
The IMF said it expects global economic growth to slow to 2.9% in 2024 from an expected 3% this year. The forecast for next year is down a notch from the 3% it predicted back in July.
Source: globalnews.ca 
✨ JP Morgan CEO exactly 2 years ago: #Bitcoin is "worthless." It's "fools gold."

Today, Fidelity, BlackRock, and all of Wall Street are getting ready to sell to Jamie at $250k 😂 pic.twitter.com/jUr3oz7dIp

— RIZZO (@pete_rizzo_) October 10, 2023
---
Political/Rights
Matthew Graves, a Biden-appointed US Attorney for DC and the January 6 lead prosecutor, refused to reveal the names of those involved in a decision to not bring charges against Hunter Biden.
According to the transcript, Graves met with "five or six" people from his office in March 2022 to determine whether Hunter should be charged with tax crimes. Three weeks later Graves' office decided not to be involved in Hunter Biden's case, 
Matthew Graves also told lawmakers he never felt he needed to recuse himself from Hunter's case even though he was a part of Joe Biden's presidential campaign.
Excerpt from Just the News:
Matthew Graves, the U.S. Attorney for Washington D.C. who was a key figure in Jan. 6 prosecutions and refused to bring tax charges against Hunter Biden, backed out of naming those involved in declining to prosecute the first son, according to his transcribed interview with lawmakers.
Source: thegatewaypundit.com
BREAKING

Our FOIA lawsuit against the National Archives has now revealed that then-Vice President Biden's Office had:

🚨19,335 emails with Rosemont Seneca
🚨4,243 emails with Hunter Biden
🚨1,751 emails with Jim Biden
🚨3,738 emails with Jim's Lion Hall Group pic.twitter.com/yFTfvvLqdC

— America First Legal (@America1stLegal) October 10, 2023
BREAKING: Joe Biden's VP exchanged nearly 20,000 emails with Hunter's Rosemont Seneca firm! Twenty thousand!! @America1stLegal obtained this damning discovery through our litigation against the National Archives. https://t.co/hvHE8f2uK1

— Stephen Miller (@StephenM) October 10, 2023
 the White House is staying out in front of this story, Joe Biden was interviewed by Special Counsel Robert Hur (pictured below left) about the classified documents located in his Delaware home, beach house and office in Pennsylvania.  The documents stem from the time when Joe Biden was a senator and vice-president.
The interview was conducted at the White House on Sunday and Monday and was done voluntarily, the administration added. So they didn't raid Bidens homes
" 
.
The timeline doesn't make sense.  What was the FBI and John Lausch doing for two months?   Something is not adding up.
If the FBI began investigating on November 9th, and USAO Lausch began investigating on November 14th, then why were Joe Biden's lawyers informing Laush of additional classified documents found in Delaware on December 20th?   Why did the FBI and Lausch not find them?
Why were Joe Biden's Lawyers informing USAO Lausch, on January 12th, about the third batch of classified documents?  Again, where was the FBI and John Lausch?
Also, you don't appoint a Special Counsel on the day it is announced.  There had to be some discussion with Robert Hur in the lead up to the announcement.
Source: theconservativetreehouse.com
 Kevin McCarthy (R-CA) isn't ruling out a return to his old post if the House Republican Conference is deadlocked on a replacement.
Source: zeroehdge.com
So lets see McCarthy thrown out
D's/Rhinos and Defense contractors worried that no more money will be spent on the wars
Hamas Attacks Israel
Stocks go up for defense contractors
Now McCarthy is being pushed back in by the Rhinos/Ds/Defense contractors
---
War
Long way of saying, Esper is a liar, Smith asked Chaka Kan to gag Trump because it's all a lie.

He did nothing wrong. https://t.co/KXIbgmRTTa

— Rich Baris "The People's Pundit" (@Peoples_Pundit) October 10, 2023
The former CIA Director and board member of the far-left Newsguard operation, then doubled down on Tuesday morning for good measure.
I was surprised to wake up this morning and discover that many MAGAnuts had lost their minds over my suggestion that "Coach" Tuberville not be considered a member of the human race. I stand by that view. I'm wishing you all a nice day even the intransigent Tommy Tuberville.

— Gen Michael Hayden (@GenMhayden) October 10, 2023
It is not the first time this unhinged leftist hurled death threats at Trump or MAGA supporters.
In August 2022 General Hayden trolled online for the execution of President Trump.
In August 2021 General Hayden called for unvaccinated Americans to be dropped off in Taliban-controlled Afghanistan.
Michael Hayden is upset with Senator Tuberville for holding up military appointments after the woke military started paying for service members to travel to to neighboring states for abortions.
Source: thegatewaypundit.com
He should be immediately arrested. Yes, I said it. He is talking about eliminating a sitting US Senator from the human race (his words!!!)!

Our nation is at such risk right now and there is almost zero trust in any of our government institutions. This lack of trust is exactly… https://t.co/sGwwU3X8IG

— General Mike Flynn (@GenFlynn) October 10, 2023
because of arrogant A$$e$ like Hayden. He being a former CIA and NSA Director making this statement only exacerbates this extraordinary lack of trust. The DOJ & FBI must take this threat seriously and hold him accountable.

@GOP must do the same. This is not a joke. These are very serious times in America and we need to find ways to fix our American problems otherwise, we won't have an America for much longer. God help us 
A 2021 report by the Government Accountability Office found that 1,700 senior government officials had taken positions in the arms industry over a five year period, an average of well over 300 per year. And a new report from our organization, the Quincy Institute for Responsible Statecraft, found that this practice is particularly pronounced among top generals and admirals. In the past five years, over 80% of retired four-star generals and admirals (26 of 32) went on to work in the arms sector as board members, advisers, lobbyists, or consultants.
For example, Boeing recruited the former Chief of Naval Operations Admiral John Richardson following his retirement from government service. The admiral joined the company's board of directors within two months of his retirement ceremony. Boeing was the Pentagon's sixth largest contractor in Fiscal Year 2022, with total prime contracts awards amounting to $14.8 billion.
Source: activistpost.com
Prime Minister Benjamin Netanyahu vehemently denied allegations that Israel had ignored warnings from Egyptian intelligence about an impending "big" operation by Hamas. The Prime Minister's Office labeled the claims as "totally fake news."
An anonymous Egyptian intelligence official told The Associated Press that Israel had been warned multiple times about "something big" being planned by the Gaza-based terror group, Hamas.
T
Source: thegatewaypundit.com
Full story here:

How Hamas trained to slaughter from the skies: Terror group shows how it rehearsed deadly Israel paraglider attack, with mock-up buildings marked with Jewish Star of Davidhttps://t.co/4ZcsTeXp5Q

— Charlie Kirk (@charliekirk11) October 9, 2023
On Tuesday afternoon family members of US hostages who are missing after Saturday morning's Hamas attack.
Two families spoke to reporters in Tel Aviv begging for assistance for recovering their loved ones.
During the press conference one family member said they know of 10 other families who are missing their loved one and US citizen who were taken on Saturday.
One speaker called on the Biden regime to return their family members from their Hamas captors.
** The entire press conference was live on FOX News.
Source: thegatewaypundit.com
8. Kamala- Failure
9. Biden- there are no words
Fake news glorified all these #GovernmentGangsters n said they would usher a new America after Trump… they sure did: death, destruction, and war
Miss @realDonaldTrump yet
The Biden administration's former special envoy to Iran, who was placed on leave earlier this year for allegedly mishandling classified material, should face "extensive scrutiny" for his "permissive" stance toward the Tehran regime after it aided Hamas and Hezbollah in carrying out terrorist attacks against Israel, critics said Monday.
"Rob Malley deserves extensive scrutiny — yesterday, today and tomorrow," Rep. Darrell Issa (R-Calif.) told The Post after the Wall Street Journal reported that officers of Iran's Islamic Revolutionary Guard Corps planned and signed off on this weekend's atrocity that killed at least 900.
"These reports could not be more concerning, and they hint at what could be the worst State Department scandal since Alger Hiss," Issa added.
"Malley and others created an incredibly permissive environment for Hamas, for Iran, to do all these things," added Gabriel Noronha, a former special adviser on Iran at the State Department.
Noronha, who served under former Secretary of State Mike Pompeo, said Malley and his negotiating team "purposefully funneled billions of dollars to [Iran] through lack of sanctions enforcement and provision of sanctions relief that has given them somewhere between $50 [billion] and $80 billion over the last two and a half years."
A senior House Republican aide told The Post that the cash influx followed an even more generous payout of $1.7 billion that the Obama administration made to Iran in 2016, eventually contributing to Saturday's attack that triggered the Jewish state's first declaration of war in 50 years.
"There is a straight line from Obama's giveaway to Iran, to Biden's enriching of Iran — to Iran's war on Israel," the aide said.
Source: nypost.com
Assuming this is true, and the "senior intelligence source" has this degree of knowledge of Iranian intentions, then were they also aware in advance of Iran's plans to launch an attack against a close American ally? https://t.co/tCQuNinYXs

— Ezra A. Cohen (@EzraACohen) October 9, 2023
HAMAS OFFICIAL SAYS GROUP IS OPEN TO DISCUSSIONS OVER TRUCE WITH ISRAEL (Reuters)

A senior Hamas official said the group is open to discussions over a possible truce with Israel, having "achieved its targets." pic.twitter.com/gWBe9k6FnZ

— FXHedge (@Fxhedgers) October 9, 2023
On Monday's broadcast of the Fox News Channel's "The Story," White House National Security Council Coordinator for Strategic Communications John Kirby defended President Joe Biden's remarks last month that climate change is "more frightening than a nuclear war," and is "the only existential threat" facing humanity.
MacCallum then asked, "Given all the nuclear players in these two areas where we are now engaged, John, does the President stand by that comment?"
Kirby answered, "Absolutely he does. Climate change is an existential threat. It actually threatens and is capable of wiping out all human life on Earth over time. I don't know how [much] more existential you can get than that. But that doesn't mean that we walk away from our obligations or our national security interests in very dangerous parts of the world, you mentioned two of them –."
MacCallum then cut in to ask, "But John, he said it was 'more frightening than a nuclear war,' is that — it's more frightening than a nuclear war in this moment?"
Kirby responded, "The President believes wholeheartedly that climate change is an existential threat to all of human life on the planet. That's just science. That's fact, Martha. But it doesn't mean that we turn our back on the other challenges facing this country and our allies and partners around the world. We've got broad national security commitments literally globally. And we've got to mind all of them at the same time. You mentioned two of them, obviously, Israel right now. Certainly, Ukraine over the last almost two years now. We are a big enough and powerful enough and effective enough nation to be able to look after all of these disparate national security threats, and one of them, absolutely, is climate change."
Source: breitbart.com
Good Morning Everyone! As tensions escalate overseas, my heart goes out to all the innocent civilians caught in the midst of it💔

Back home, we're facing a challenge. Oil prices have surged by +4% in last 24 hours (biggest jump in 6 months) and according to Reuters, the U.S. has… pic.twitter.com/UsInNWp8Z9

— Genevieve Roch-Decter, CFA (@GRDecter) October 10, 2023
This is the ad for a 'Day of Resistance' event at California State University. They are not gathering to denounce Hamas's crimes, but to celebrate them as an act of Palestinian 'protest.'

It is grotesque.

The ad includes a paraglider like the one Hamas sent to massacre and… pic.twitter.com/2Xbn6eAiiO

— Aviva Klompas (@AvivaKlompas) October 10, 2023
OCT_NK_L.JPG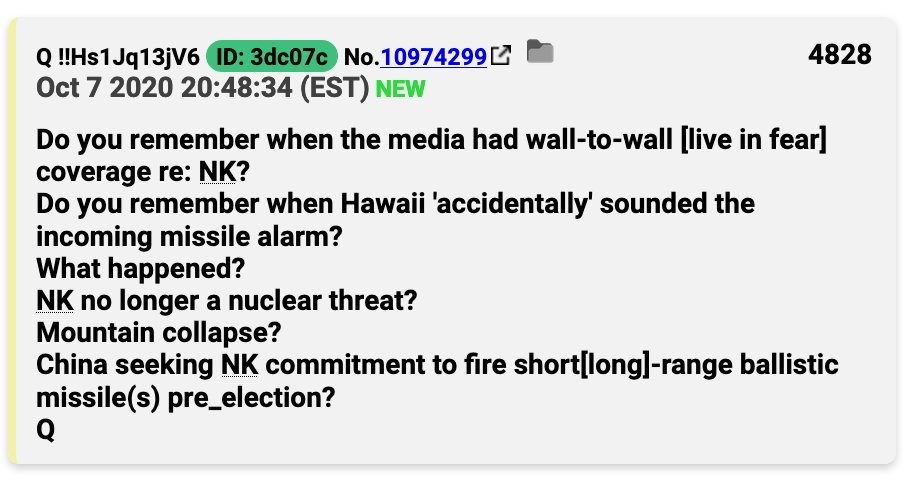 Sometimes 'public awareness' of certain events prevents occurrence.
Sometimes 'public awareness' of certain events forces accountability.
Q
---
False Flags
Reinfections cleared faster than initial COVID-19 infections, including among people who never received a COVID-19 vaccine, according to a new study.
People infected with COVID-19 for a second time cleared the illness a mean of 6.6 days, compared with a mean of 9.3 days for the initial infection, U.S. and British researchers reported in the paper.
Source: zerohedge.com
---
Q
Presidential candidate Robert F. Kennedy Jr. said  his family's response to his departure from the Democratic Party has been "very painful for him."
"It was very painful for me," Kennedy said in an interview on Fox News's "Fox and Friends." "I mean, I … you know I was raised in the Democratic Party. My father and my uncle were the … leaders of the party. You know, our relationship with the Democratic Party goes back generations."

Four of Kennedy's siblings — former Maryland Lt. Gov. Kathleen Kennedy Townsend (D), former Rep. Joseph Kennedy II (D-Mass.), Rory Kennedy and Kerry Kennedy — later released a statement that called their brother's choice to run against Biden as a third-party candidate "dangerous to our country."
Kennedy, who comes from a well-known liberal family, said the choice to leave the Democratic Party was "very difficult for him."
"So leaving the party of my … family is very, very difficult for me," Kennedy said. "But it was a choice that I didn't feel that I had a — I didn't feel I had a choice about."
Source: thehill.com
"If the 2024 Democratic presidential candidate is Joe Biden and the Republican candidate is Donald Trump, and Robert F. Kennedy runs as a third-party presidential candidate, how likely is it that you would vote for Kennedy?"

It's Likely-
DEM: 33% 👈
IND: 28%
GOP: 14%
All: 25% https://t.co/aQVGuZUMv7

— Rasmussen Reports (@Rasmussen_Poll) October 9, 2023
"How likely are you to vote for former President Donald Trump in the 2024 presidential election?"

Independents Only-
Very Likely: 32%
Somewhat Likely: 18%
Not Very Likely: 12%
Not At All Likely: 32%
Not Sure: 6%

32% + 18% = 50% https://t.co/M6LUJgeFbk

— Rasmussen Reports (@Rasmussen_Poll) October 10, 2023
"How likely are you to vote for former President Donald Trump in the 2024 presidential election?"

Republicans Only-
Very Likely: 64% 👈
Somewhat Likely: 16% 👈
Not Very Likely: 7%
Not At All Likely: 10%
Not Sure: 3%

Link – https://t.co/9Qv2IHXwq1 https://t.co/obUDtyXCFw

— Rasmussen Reports (@Rasmussen_Poll) October 10, 2023
"How likely are you to vote for former President Donald Trump in the 2024 presidential election?"

Democrats Only-
Very Likely: 19% 👈
Somewhat Likely: 11% 👈
Not Very Likely: 9%
Not At All Likely: 59%
Not Sure: 3%

19% + 11% = 30% – AKA – Big Trouble for DNC https://t.co/IEZ448oNJx

— Rasmussen Reports (@Rasmussen_Poll) October 10, 2023
TAKE A LISTEN