Watch The Water, The World Is Witnessing The Dismantling Of The New World Order – Ep. 2718
Watch The X22 Report On Video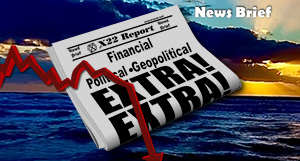 The economy continues to implode, inflation is hitting and fuel prices are moving up very quickly, instead of becoming energy independent the people see the lies of Biden and the [CB]. Alternative currencies are in play, the destruction of the [CB] in progress. The [DS] is panicking, they are unable to stop the white hats from destroying their money laundering operation in Ukraine, they are becoming desperate. War is real the information regarding the war is fake. We are witnessing the dismantling of the new world order. The US will no longer be the policeman of the world, countries will now take care of their own battles. Look at the middle east, Afghanistan etc. The pandemic disappeared, the truth about it is coming out, the numbers were rigged. Scavino sends a message.
---
Economy
The Food and Agriculture Organization of the United Nations reported last week that the international food price index hit an all-time high in February. Food prices are up 24% from one year ago.
And it's only going to get worse.
Seeking Alpha reported:
Source: thegatewaypundit.com
White House Press Secretary Jen Psaki  sparred with a Fox News reporter over Biden's decision to continue to buy oil from Russia while putting restrictions on domestic energy production.
"As long as we're buying Russian oil, though, aren't we financing the war?" Fox News White House Correspondent Jacqui Heinrich asked Psaki.
"Well, Jacqui, again, it's only about 10% of what we're importing. I've not made any announcement about any decision on that front," Psaki said.
If Psaki can brush off the fact that Russia is only 10% of what the US is importing, then why does Biden argue banning Russian oil would harm US consumers?
Source: beckernews.com
Buttigieg regurgitated Democrat talking points about 'green energy' and offered no real solutions.
Biden killed the Keystone XL pipeline and halted new oil and gas leases.
Meanwhile, the US is still importing Russian oil despite Putin's threats of nuclear war on the West.
 
Now the Biden Regime is open to buying oil from Iran.
"All options are on the table," Buttigieg said.
Source: thegatewaypundit.com
Hate to say it, but we need to increase oil & gas output immediately.

Extraordinary times demand extraordinary measures.

— Elon Musk (@elonmusk) March 5, 2022
Obviously, this would negatively affect Tesla, but sustainable energy solutions simply cannot react instantaneously to make up for Russian oil & gas exports.

— Elon Musk (@elonmusk) March 5, 2022
BREAKING: For the first time in eight years, the U.S. average gasoline retail price has surged above the $4 per gallon barrier, according to data from the AAA motoring club.
Crypto exchange blocks sanctioned Russian accounts
Major cryptocurrency exchange Coinbase has blocked the accounts of Russian citizens and companies that are subject to US sanctions, the platform's CEO said on Friday.
The exchange is "not pre-emptively banning" all Russians from using Coinbase, Armstrong added, acknowledging that "everyone deserves access to basic financial services" and ordinary citizens are using crypto "as a lifeline now that their currency has collapsed." However, according to him, if the US government decides to impose a ban on ordinary Russians, the exchange will comply.
Source: rt.com
Turkey's inflation surged to 54%, the highest in 20 years.

Ever hear about #Bitcoin, Mr. President? pic.twitter.com/eJor76MLUr

— Bitcoin Magazine (@BitcoinMagazine) March 4, 2022
---
Political/Rights
Special Counsel John Durham blasted Hillary Clinton's campaign lawyer Michael Sussmann for trying to get the indictment dismissed.
Sussmann was indicted in September for lying to the FBI.
According to the indictment, Sussmann falsely told James Baker he wasn't doing work "for any client" when he asked for a meeting with the FBI where he presented bogus evidence the Trump Tower was secretly communicating with Kremlin-tied Alfa Bank.
The attorneys for Michael Sussmann last month requested the courts dismiss Durham's case against him.
Sussmann's lawyers absurdly argued that his false statement to the feds is protected under the First Amendment and made no impact on the FBI's probe.
Durham blasted Sussmann in a new filing on Friday and revealed Hillary's lawyer actually alleged Trump and his associates were using Russian-made phones in the vicinity of the White House.
Michael Sussmann is trying to get his charges dismissed. Durham files his response.

Notable: Sussmann alleged Trump and his associates were using Russian-made phones in the vicinity of the White House.

They passed that info to the CIA.

Full doc:https://t.co/1NttEoKovI pic.twitter.com/U7aWHrZ970

— Techno Fog (@Techno_Fog) March 4, 2022
Source: thegatewaypundit.com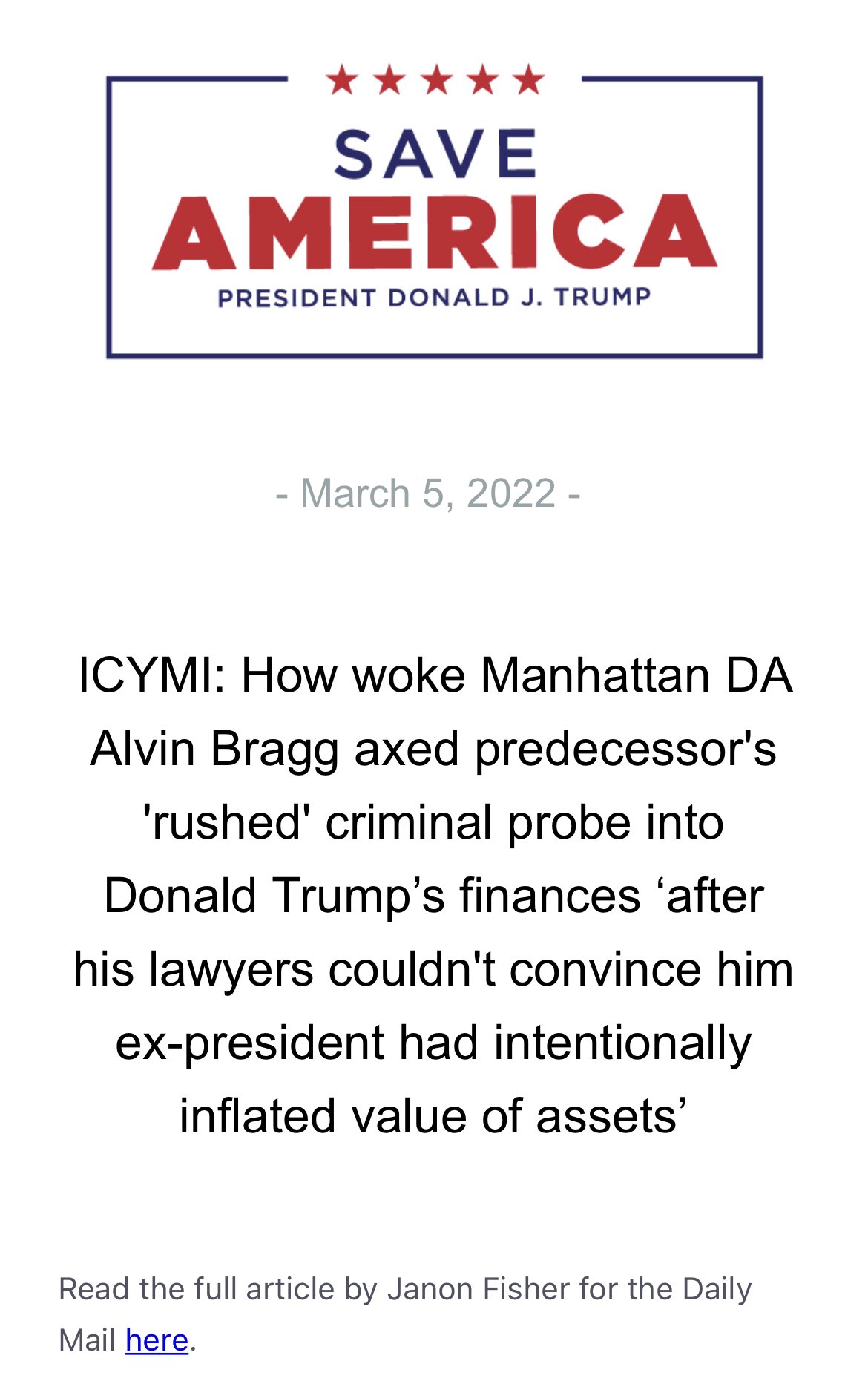 REVEALED: How woke Manhattan DA Alvin Bragg axed predecessor's 'rushed' criminal probe into Donald Trump's finances 'after his lawyers couldn't convince him ex-president had intentionally inflated value of assets'
Alvin Bragg ended the grand jury into ex-President Trump because he was not convinced that they could prove their fraud case
Pit-bull prosecutors Carey Dunne and Mark Pomerantz quit the case after Bragg hit the brakes on the investigation 
Out-going DA Cyrus Vance Jr rushed the probe forward in his final months in office making veteran prosecutors in his office uneasy
The DA sought to prove that Trump inflated the value of his properties in order to secure bank loans
Michael Cohen, a key witness for the prosecution, was convicted himself of tax evasion and campaign finance violations
Bragg doubted if Cohen would be a credible witness
Trump accountant Allen Weisselberg, who is facing tax-dodge charges, refused to flip on his former boss
Vance had tried to bring fraud charges before against the Trump SoHo project, but could not make the case
New York AG Letitia James continues to push a civil fraud case against the Trump Organization for inflating asset value
A Manhattan judge ruled recently that Trump, his daughter Ivanka and son Donald Jr would have to testify in the case 
 Bragg has had a rocking few months since he was sworn into office as crime in the city continues to rise
Source: dailymail.co.uk
"Which laws had Mr. Trump broken?"

The crime of…making his lenders *more* money

These radical prosecutors tried to invent crimes against President Trump, and when the DA wouldn't pursue their "righteous case," they quit

Sick! pic.twitter.com/MLD4XGAWx2

— Liz Harrington (@realLizUSA) March 6, 2022
---
Geopolitical/Police State
---
War
FLASHBACK: Leaked Tape in 2014 Showed State Department's Victoria Nuland Saying "F*** the EU" then Plotting Ukraine Coup Using Biden's Help 
 In 2014 the State Department's Victoria Nuland reportedly was caught on tape planning a coup in Ukraine using Biden's help.
Victoria Nuland is currently serving as Under Secretary of State for Political Affairs in the Biden – Obama Administration but she was with the State Department under Obama as well.  She was instrumental in the affairs in Ukraine at that time.   
But back in 2014 Nuland was very busy in Ukraine.  She was seen passing out cakes to protesters in Kiev, Ukraine at that time.  A few weeks after this the protests in that country got violent and a number of individuals died during these riots.
At this time, Nuland made a call with another American, Jeffrey Pyatt, to discuss the events in Ukraine.  She mentioned Jake Sullivan in the call as well as Joe Biden.  In their phone conversation, Nuland and Pyatt discussed who should join a unity government. Nuland notified Pyatt that after the review of the three opposition candidates for the post of Prime Minister of Ukraine, the US State Department had selected Arseniy Yatsenyuk.
Joe Biden was involved in their decision.  It was a coup.  The Americans had picked their candidate.
Source: thegatewaypundit.com
The only people who can fix this are the Russian people.

Easy to say, hard to do.

Unless you want to live in darkness for the rest of your life, be isolated from the rest of the world in abject poverty, and live in darkness you need to step up to the plate.

— Lindsey Graham (@LindseyGrahamSC) March 4, 2022
Graham's call for the Russian president be assassinated
Source: beckernews.com
Bill Clinton announced the Clinton Global Initiative will be hosting a leadership summit in New York in September after a 5-year hiatus.
T
"Overall fundraising for the Clinton Foundation, which also includes the Clinton Development Initiative and the presidential center in Little Rock, Arkansas, has dropped since Hillary Clinton's loss to Trump. It reported $16.3 million in contributions in 2020, down from its 2016 peak of $62.9 million, according to tax filings." Bloomberg reported.
The need for cooperation and coordination has never been more urgent than it is now.

NEW: President @BillClinton is calling on the CGI community to come together again. Read his letter and join us: https://t.co/CqaKjpjKeB pic.twitter.com/XM2uCztdtV

— Clinton Global Initiative (@ClintonGlobal) March 4, 2022
Source: thegatewaypundit.com
3125
Q
!!mG7VJxZNCI
03/20/2019 14:11:41
 ID: 0ad5ef
Archive Bread/Post Links: 5791243 / 5791828
Direct Link: 5791828
 The Russian troops have destroyed 1,812 Ukrainian military facilities in their special operation, including 49 planes on the ground and 13 aircraft in the air, 635 tanks and 54 unmanned aerial vehicles, Russian Defense Ministry Spokesman Major-General Igor Konashenkov said on Friday.
"The Russian troops continue delivering strikes on Ukrainian military infrastructure facilities. Over the period of the operation, they have destroyed 1,812 facilities, including 65 command and communications centers of the Ukrainian armed forces, 56 S-300, Buk-M1 and Osa surface-to-air missile systems and 59 radar stations. They have also destroyed 49 planes on the ground and 13 aircraft in the air, 635 tanks and other armored vehicles, 67 multiple rocket launchers, 252 field artillery guns and mortars, 442 items of special military hardware and also 54 UAVs," the spokesman said.
Source: tass.com
865
Q
!UW.yye1fxo
03/06/2018 11:53:47
 ID: 53851b
Archive Bread/Post Links: 567922 / 568027
Direct Link: 568027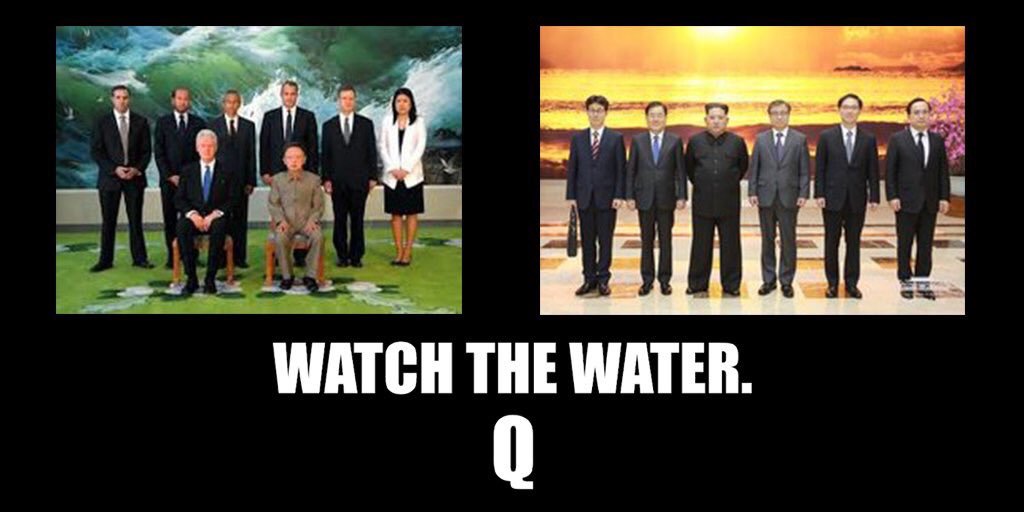 Image Name:
763B79E9-EA56-4EBD-A42A-2….jpeg
Filename:
98641f316a9a844f5ba6f2db37cdf2829722185e68ccbb8d8aa44c78c5b3b057.jpeg
864
Q
!UW.yye1fxo
03/06/2018 11:30:38
 ID: 3c553f
Archive Bread/Post Links: 567140 / 567803
Direct Link: 567803
Anonymous
03/06/2018 11:24:22
ID:897bbe
Archive Bread/Post Links: 567140 / 567733
Direct Link: 567733

Filename:
1e90dc92151942ae14333825cee8e1e478bf04f589fce556096258f1ae8bbdb9.jpeg
Image Name:
EF3D1B1B-2E68-4FD4-814F-E….jpeg
So let's connect all the dots here.
Putin says he is striving for the demilitarization and denazification of Ukraine
The Russian embassy in Canada releases a statement saying they are ending wars rather than starting them, in similar manner to Trump.
The Russian embassy statement reinforces that Russia's goal is the denazification of Ukraine, and specifically names the neo-Nazi group "Azov".
Azov was funded by Kolomoisky.
Kolomoisky is almost certainly the owner of Burisma.
Burisma hired Hunter Biden.
Joe Biden as VP withholds $1 billion in loan guarantees to get the prosecutor looking into Burisma fired.
Putin's denazification of Ukraine connects to Joe Biden's entire Ukraine scandal. Think about how significant this connection is. Putin has declared war on Nazism in Ukraine, and I believe this is a common enemy he shares with Trump.
Source:  patelpatriot.substack.com
Lawmakers in Newark, New Jersey, voted to suspend licenses of Lukoil gas stations after Russian forces invaded Ukraine.