"We Have To Bypass The Media In Order To Get Straight To The People", House Of Cards – Ep. 2617
Watch The X22 Report On Video
The world is now feeling the economic disaster that was unleashed by the elite, they are now pushing their agenda, but the people will not take it they will fight back. Trump was right again, according to BoA oil might hit 120 per barrel, oil might hit 10 dollars or more. Texas steps in to help the supply chain problem. The [DS] is a house of cards and it is about to come crashing down. Trump is ready and prepared to bypass the media and big tech companies. The pandemic/vaccine narrative is falling apart, the fake news is now ready to cut Fauci loose. The truth will destroy the media. Candice Owens talks about a cyber pandemic, the playbook is known and once the [DS] cannot control the flow information we will see a communication blackout. Countermeasures are in place.
---
Economy
Gas tariffs for Moldovan residents will more than double in November — expert
This will be the highest tariff in the entire history of the country, former head of the Moldovan National Energy Regulatory Agency Viktor Parlikov said Gas tariffs for Moldovan residents in November will rise from 4.3 lei (around $0.25) per cubic meter to 9-10 lei (over $0.5) and will be the highest in the entire history of the country, former head of the Moldovan National Energy Regulatory Agency Viktor Parlikov said in an interview with PRO TV channel. 
Last week, Moldova and Gazprom agreed to extend the fuel supply contract for a period of five years. The new gas price for the republic in November will reach $450 per 1,000 cubic meters and will vary depending on the market situation. Last year, the republic imported gas for an average of $148. The annual demand of Moldova for natural gas is estimated at about 2.9 bln cubic meters.
Source: tass.com
 Supply chain issues hit France's manufacturing sector in October, where the slowdown in growth came broadly in line with initial forecasts, a monthly survey showed on Tuesday.
IHS Markit added that manufacturing output had declined in France for the first time since January as a result of problems with supplies of key goods,
"It's difficult to imagine the situation improving any time soon. Prudent inventory management will be crucial for businesses hoping to keep production lines going," he added.
Source: theepochtimes.com
This is how Blanch justifies what would be the highest oil price since the summer of 2008:
We up our oil price forecasts and targets for 2022, 2023…
Source: zerohedge.com
Joe Biden wants to raise your taxes so that they can go to this caravan & those in the future! pic.twitter.com/Yh4ukXWpKv

— Lauren Boebert (@laurenboebert) November 2, 2021
🚨🚨 Dems' far-left spending bill exposed:

$2.5 BILLION of American taxpayer money for "tree equity."

RT so everyone sees! Don't let them get away with sneaking this through. pic.twitter.com/JENOMQJV9g

— Steve Scalise (@SteveScalise) November 1, 2021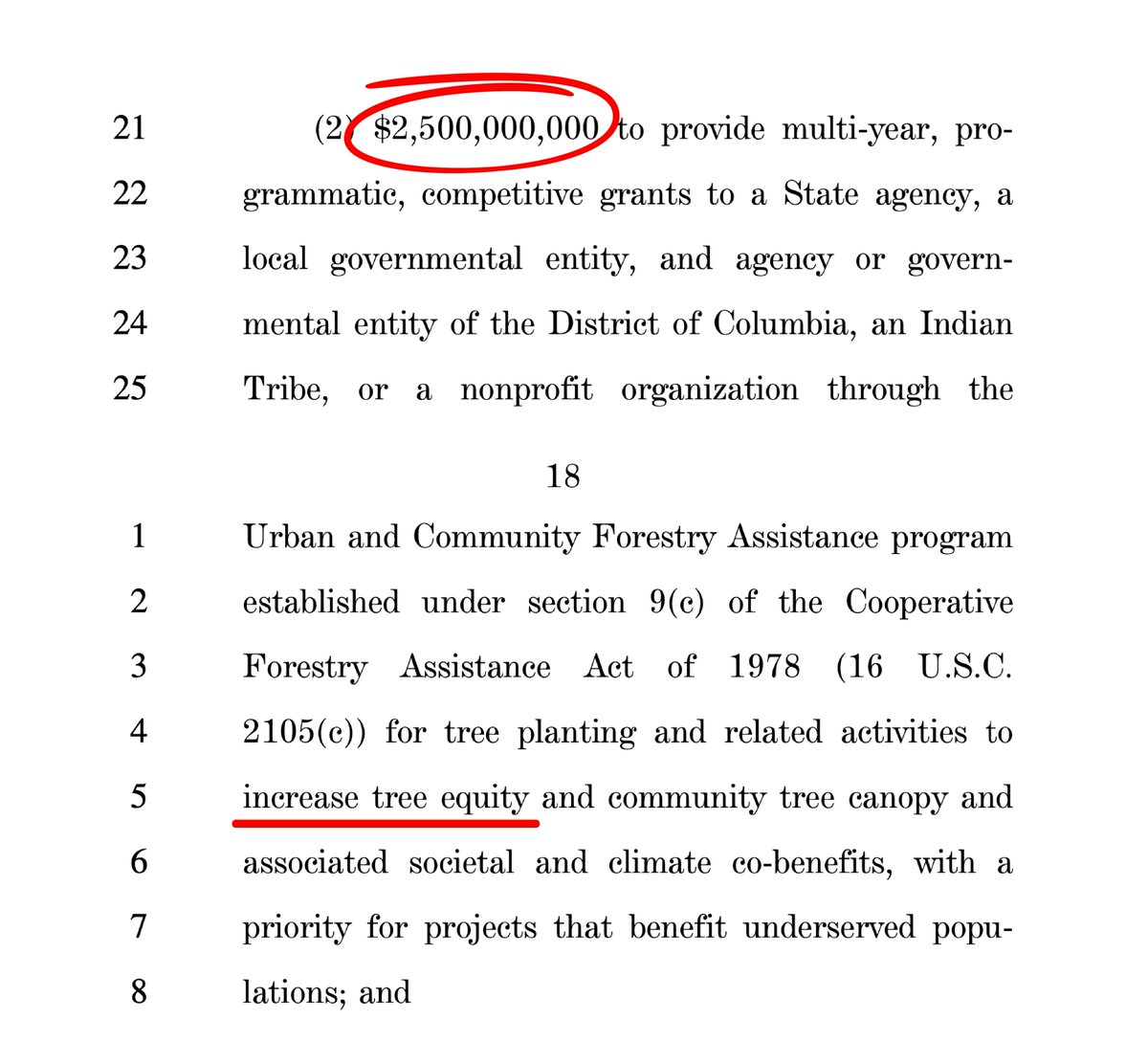 Pay no mind to gas prices,  inflation or national debt.
 ," Texas Gov. Greg Abbott (R) urged ships stuck in the backlog off the coast of California to come to Texas and said they could come and unload in Texas more quickly than they can in California.
Abbott said, "Listen, because of the rules and regulations that exist in California, that's one reason why you see the almost 100-day delay in ships being able to go to port and unload and get those goods across the United States of America, causing the problems that we see in the supply chain. In just two weeks, those same ships could go through the Panama Canal and go to the Houston Port and the Freeport Port in the State of Texas, unload, and be back in Asia before they would even be unloading in California. Also, just as important, the ports that we have in the State of Texas, they are open 24/7. And because of the central location of the State of Texas and because of the highways, the railways that we have, the goods they are seeking to unload in California could be unloaded in Texas and quickly dispersed to locations across the entire country, getting goods out faster at a lower cost. 
Source: breitbart.com
---
Political/Rights
POLL: Only 36% of Democrats Even Want Biden to Run Again
New polling from Marist University indicates that only just over a third of Democrat-aligned voters even want President Joe Biden to run for reelection in 2024,
36% of Democrat and Democrat-leaning independents openly state a preference for Biden in 2024, suggesting that demand for a second Biden term is lower than that for any incumbent President since World War II- including Jimmy Carter, who faced a strong primary challenge from Ted Kennedy.
Source: bigleaguepolitics.com
---
Geopolitical/Police State
Climate activist Joe Biden flew to the UK on Air Force One and brought an 85-car caravan to talk about the threat of 'global warming' in Glasgow, Scotland.
Everything the elitists do from buying ocean front mansions, to flying on private jets, proves they don't believe 'climate change' is a threat.
Joe Biden needs 85 cars to be transported from an airport to a climate change conference while he lectures you on the virtues of making sacrifices to save the planet.
Source: thegatewaypundit.com
Biden and his convoy of 4 planes will emit 2.2 million pounds of carbon during his trip 5-day trip across Europe

And his 2 Presidential Cadillacs, part of an 85-car convoy, emitted 1,680 pounds of carbon to drive 92 miles to Glasgow at 8 mpg

…All to "fight climate change"

🤔

— Charlie Kirk (@charliekirk11) November 1, 2021
Humans, as an existential threat to planetary survival, was exactly the terminology used today by current White House occupant Joe Biden, British Prime Minister Boris Johnson, French President Emanuel Macron, HRH Queen Elizabeth II of the United Kingdom, and her son heir to the throne, Prince Charles.
All of these global leaders called the people who populate the planet "an existential threat to mankind."
Joe Biden said: "This is the challenge of our collective lifetimes. The existential threat to human existence as we know it. 
.
The key point is this:  The global elite consider the population of the planet to be the problem.
   Man made climate change as an issue is only solvable, in its most dire of circumstances, by eliminating the root cause of the problem, people.
This is where the fundamental question about why there is such a big push on the COVID-19 vaccination, that is wildly disproportionate to the risks from the virus itself, start to make a little more sense.
If you want to reduce the population, a key method would be to reduce the lifespan of the average human on the planet.
What exactly would a product do that is designed to reduce lifespan?
A product designed to reduce lifespan would likely attack or replace the body's natural immune system.  This would leave the human immune system compromised so that ordinary ailments, viruses, diseases and illness would become much more deadly.
If people died more frequently, and/or people did not live as long, the objective of saving the planet from the existential threat -by reducing the population- could be achieved. If the make women/men infertile is this another way of reducing the population
Source: theconservativetreehouse.com
How do you control the narrative, you look to the fake news and big tech, their bull horn.
Twitter announced that it would introduce a feature to combat climate change denial and promote "authoritative information" on Monday.
The so-called "pre-bunk" feature will be a digital hub on Twitter's website where users can find resources and commentary from environmental experts about climate change, the social media platform said. The announcement coincided with the start of the United Nations Climate Conference (COP26), a high-level summit where world leaders hope to set ambitious goals for cutting global emissions over the next several decades.
Source: dailycaller.com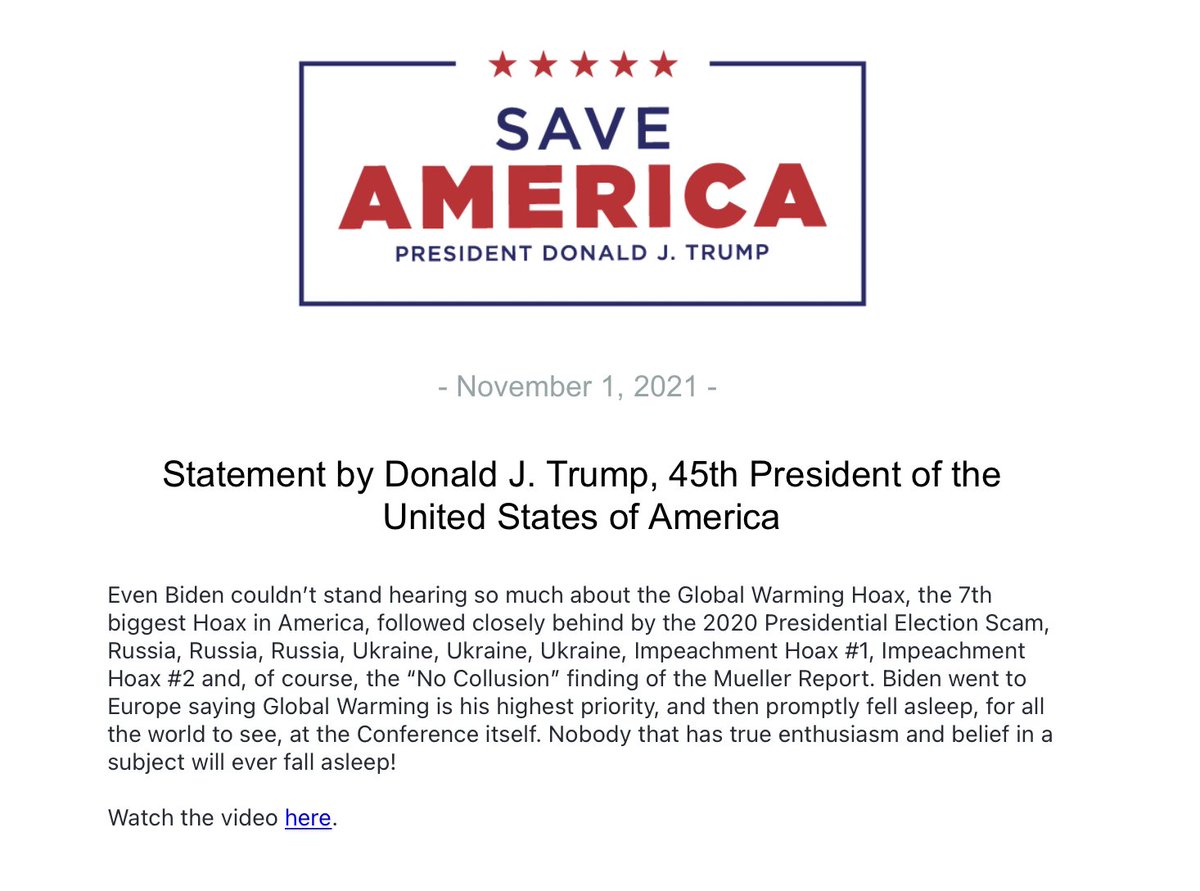 ---
War
President Joe Biden's administration has resettled about 10,000 Afghans across American communities in the last two months despite issues with vetting.
Biden's massive resettlement operation plans to bring at least 95,000 Afghans to the U.S. for resettlement across 46 states. Multinational corporations and former Presidents Bill Clinton, George W. Bush, and Barack Obama are bankrolling the operation.
The Afghans are initially flown into Philadelphia International Airport in Pennsylvania or Dulles International Airport in Virginia before temporarily living on various U.S. military bases while awaiting resettlement.  , about 53,000 Afghan refugees remain temporarily living at U.S. bases in Wisconsin, Texas, New Mexico, Indiana, New Jersey, and Virginia.
Source: breitbart.com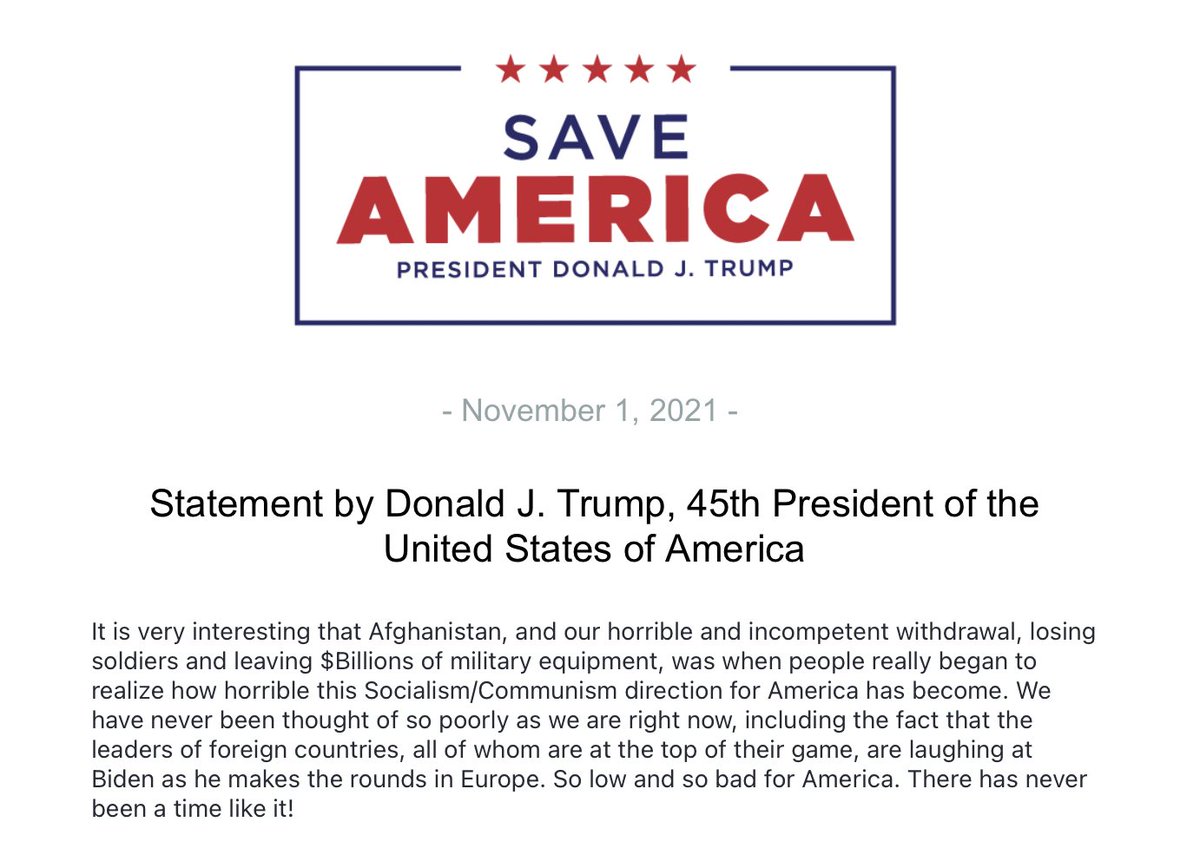 ---
False Flags
New York City lost 9,000 municipal workers and first responders as the deadline for taking the mandatory vaccination has lapsed. More than 2,000 of the city's 11,000 uniformed firefighters have taken sick days in the week leading up to the mandate going into effect.
 
Source: theconservativetreehouse.com
INSIGHT-From Boeing to Mercedes, a U.S. worker rebellion swells over vaccine mandates
  In Wichita, Kansas, nearly half of the roughly 10,000 employees at aircraft companies Textron Inc and Spirit AeroSystems remain unvaccinated against COVID-19, risking their jobs in defiance of a federal mandate, according to a union official.
"We're going to lose a lot of employees over this," said Cornell Adams, head of the local Machinists union district. Many workers did not object to the vaccines as such, he said, but were staunchly opposed to what they see as government meddling in personal health decisions.
The union district has hired a Texas-based lawyer to assist employees and prepare potential lawsuits against the companies should requests for medical or religious exemptions to vaccination be denied.
Source: reuters.com
When the pandemic hit, America needed someone to turn to for advice. The media and public naturally looked to Dr. Anthony Fauci—the director of the National Institute of Allergy and Infectious Diseases, an esteemed laboratory immunologist and one of President Donald Trump's chosen COVID advisers. Unfortunately, Dr. Fauci got major epidemiology and public health questions wrong. Reality and scientific studies have now caught up with him.
Here are the lies he told
Natural immunity. By pushing vaccine mandates, Dr. Fauci ignores naturally acquired immunity among the COVID-recovered, of which there are more than 45 million in the United States.
Protecting the elderly. While anyone can get infected, there is more than a thousand-fold difference in mortality risk between the old and the young. After more than 700,000 reported COVID deaths in America, we now know that lockdowns failed to protect high-risk older people.
School closures. Schools are major transmission points for influenza, but not for COVID.
Masks. The gold standard of medical research is randomized trials, and there have now been two on COVID masks for adults. For children, there is no solid scientific evidence that masks work.
 
Collateral public health damage. . . . As an immunologist, Dr. Fauci failed to properly consider and weigh the disastrous effects lockdowns would have on cancer detection and treatment, cardiovascular disease outcomes, diabetes care, childhood vaccination rates, mental health, and opioid overdoses, to name a few.
Source: thegatewaypundit.com
A new international report of 64 studies shows Ivermectin has an 86% success rate as a prphylaxis and a 67% success rate in early treatment of coronavirus.
The results mirror the over 290 studies on hydroxychloroquine that have been reported over the past year.
 The new international report shows Ivermectin does extremely well as a prophylaxis and in mortality results.
Source: thegatewaypundit.com
A federal judge temporarily blocked an Illinois hospital system from allegedly putting workers with religious exemptions on unpaid leave.
In late October, several employees at the Chicago-area NorthShore filed a legal complaint against the company, arguing that the firm's vaccine mandate discriminated against them by forcing them to decide between a vaccine and their jobs.
Liberty Counsel, which is representing the 14 health care workers, said in an emailed statement last week that the "plaintiffs have shared these religious beliefs, and others, with NorthShore, and have asked NorthShore for exemption and reasonable accommodation for these beliefs, but NorthShore has unlawfully and callously refused."
U.S. District Judge John Kness on Friday issued a temporary restraining order against the hospital system.