We're Back, You Must Show Them, Only Then Will People Have The Will To Change – Episode 2175
The D's believe that this is the time to put their economic plan in action, they want to bring the US to a 3rd world economy, they want to move ahead with it, they have already failed, Trump has been dismantling their plan. The economy is continuing to come online as more business open up. Trump says the "the days of globalists have come to an end". The [DS]/MSM have lost the event, more states are opening, those states that are receiving marching orders from the [DS] are trying to stay closed and push mail-in voting, this will fail, the DOJ will be bringing legal action. Trump moves forward with this plan to show everyone what tyranny looks like and feeds the MSM/[DS] with exactly what they want to hear, vaccines are coming, or are they. Trump is working behind the scenes on another plan.
Check Out The X22 Report Spotlight YouTube Channel X22Report Spotlight
Please check Newzsentinel.com for the latest news on the economic collapse. The Sentinel Alerts are updated throughout the day.
---
Current News – 05.15.2020
---
Economy
Joe Biden says the coronavirus outbreak is "a chance" to alter the U.S. economy.
"We have to come out of this godawful situation and build an economy that's fair to everybody," Biden said.
"We have a chance to institutionally change the way this economy functions once we get by this godawful pandemic," Biden 
His idea to "rebuild the economy" is "every new highway is green," and said there should be tax credits for constructing "green buildings."
Biden proposed creating a "Public Health Corps.," where 100,000 young people would "track and trace," presumably referring to coronavirus contact tracing programs.
Source: breitbart.com
One month ago, when looking at the March retail sales report – which only captured the last two weeks of the US shutdown- and comparing it to the Bank of America real-time credit and debit card spending data, we concluded that "Retail Sales Were Bad; The Reality Is Catastrophic."
Fast forwarding to today, when this morning the Commerce Dept published its snapshot for retail spending in April, which as we duly noted saw the biggest drop on record, with a total collapse in auto and clothing sales.
 As Bank of America writes in its latest consumer spending report which tracks BofA credit and debit car spending, "the daily data show meaningful improvement in spending into May, driven by the lower income population. Total card spending is now running at a pace of -10% yoy over the 5-day period of May 3- May 7, a big shift from the low of -36% yoy during the last 5 days of March.
And in a remarkable reversal, retail sales ex-auto spending is now actually increasing, running at a 1% yoy rate over the same 5-day period."
There are two critical reasons for the improvement in consumer spending: stimulus payments and phased reopening of the economy. Stimulus payments started to filter in on April 15th through direct deposits which was followed by physical checks.
Gold and Silver are surging  
Source: zerohedge.com
President Donald Trump said virus-related disruption to supply chains has exposed the vulnerability of America's reliance on sources in foreign countries, adding that he believes that the days of "globalists" have come to an end.
"It's about our country, it's not about the world, we have to fix our country," Trump said of some of the lessons the pandemic has delivered to supply chain design.
"Years ago, we made our product, we didn't rely on everybody in the world," he said, adding, "they're globalists. They're people that think we have to make the world wealthy at our expense."
"Those days are over," Trump said, adding, "and if nothing else, over the last two months, it's been proven to be right."
Trump said the pandemic highlights the vulnerabilities of globalized supply chains.
"And one little piece of the world goes bad and the whole thing is messed up," Trump said, 
"We should have them all in the United States," Trump said of key supply chains.
Source: theepochtimes.com
---
Political/Rights
It turns out that Flynn amicus John Gleeson once worked with (and allegedly supervised) Mueller prosecutor Andrew Weissmann.

Curious if Gleeson and Weissman have talked recently. https://t.co/IDITqYjxXe

— Techno Fog (@Techno_Fog) May 14, 2020
Per the great @RonColeman –

Flynn Amicus John Gleeson's law firm represented Sally Yates and fought against her testifying before the House.

Gleeson's firm was present with Yates during her testimony. pic.twitter.com/5LLrIAxnM9

— Techno Fog (@Techno_Fog) May 14, 2020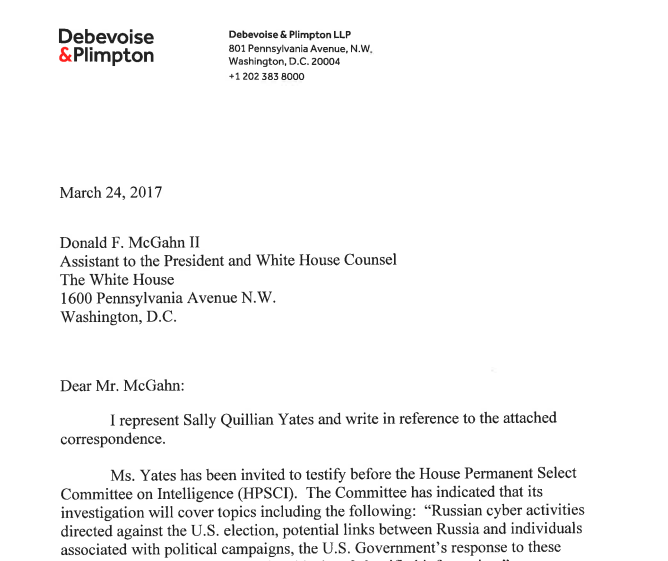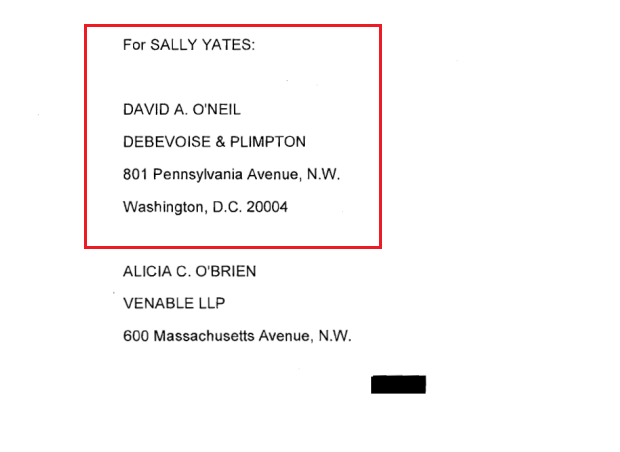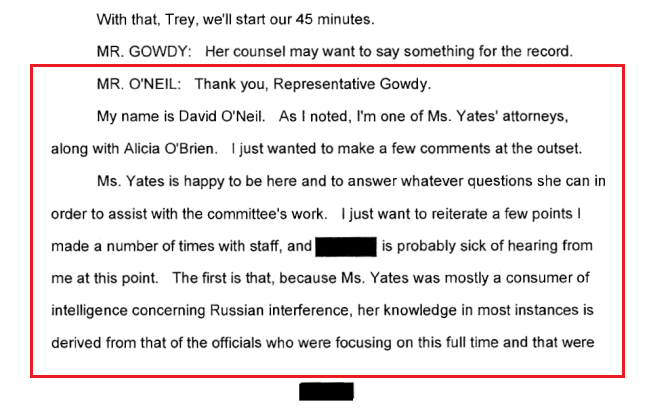 General Flynn Attorney Sidney Powell wrote an open letter to former President Obama.
This letter is devastating.
Via SidneyPowell.com.
OPEN MEMORANDUM

To: Barack Hussein Obama
From: Sidney Powell
www.SidneyPowell.com

Date: May 13, 2020

Re: Your Failure to Find Precedent for Flynn Dismissal

First, General Flynn was not charged with perjury—which requires a material false statement made under oath with intent to deceive.1 A perjury prosecution would have been appropriate and the Rule of Law applied if the Justice Department prosecuted your former FBI Deputy Director Andrew McCabe for his multiple lies under oath in an investigation of a leak only he knew he caused.  

Second, it would seem your "wingman" Eric Holder is missing a step these days at Covington & Burling LLP. Indelibly marked in his memory (and one might think, yours) should be his Motion to Dismiss the multi-count jury verdict of guilty and the entire case against former United States Senator Ted Stevens. Within weeks of Mr. Holder becoming Attorney General, he moved to dismiss the Stevens prosecution in the interest of justice for the same reasons the Justice Department did against General Flynn—egregious misconduct by prosecutors who hid exculpatory evidence and concocted purported crimes.

As horrifying as the facts of the Stevens case were, they pale in comparison to the targeted setup, framing, and prosecution of a newly elected President's National Security Advisor and the shocking facts that surround it. This case was an assault on the heart of liberty— our cherished system of self-government, the right of citizens to choose their President, and the hallowed peaceful transition of power.

Third, the inability of anyone in your alumni association to find "anybody who has been charged [with anything] just getting off scot-free" would be laughable were it not so pathetic.

Fourth, even if your many alumni don't remember multiple cases that had to be reversed or dismissed for their own misconduct, Judge Emmet Sullivan should remember dismissing the corrupted case against Ted Stevens. Judge Sullivan is the judicial hero of Licensed to Lie. It is that case that caused Judge Sullivan to enter the strong Brady order the Mueller and D.C. career prosecutors violated repeatedly in the Flynn prosecution.

Fifth, there is precedent for guilty pleas being vacated. Your alumni Weissmann and Ruemmler are no strangers to such reversals. At least two guilty pleas they coerced by threats against defendants in Houston had to be thrown out—again for reasons like those here.
Source: thegatewaypundit.com
Where is the 302? It is missing. Was it stolen or destroyed? General Flynn is being persecuted! #OBAMAGATE

— Donald J. Trump (@realDonaldTrump) May 15, 2020
Senate Judiciary Committee Chairman Lindsey Graham (R-SC) said  his committee will begin holding hearings on the FBI's investigation into the Trump campaign, dubbed Crossfire Hurricane, after urging from President Trump.
"The Judiciary Committee will begin holding multiple, in-depth congressional hearings regarding all things related to Crossfire Hurricane starting in early June," Graham said.
"Our first phase will deal with the government's decision to dismiss the Flynn case as well as an in-depth analysis of the unmasking requests made by Obama Administration officials against General Flynn. We must determine if these requests were legitimate," he said.
"Our next area of inquiry, later this summer, will be oversight building upon the Horowitz report about FISA abuses against Carter Page. My goal is to find out why and how the system got so off the rails," he added.
"Finally, we will look at whether Robert Mueller should have ever been appointed as Special Counsel. Was there legitimate reason to conclude the Trump campaign had colluded with the Russians?" he said.
Source: breitbart.com
Judicial Watch Asks California Court of Appeal to Command Lower Court to Issue Temporary Restraining Order Halting Governor from Paying $75 Million In Cash Benefits to Illegal Aliens
Judicial Watch  filed in the California court of appeals a Petition for Writ of Mandate that would require a trial court to issue a temporary restraining order halting California Governor Gavin Newsom's plan to use taxpayers' dollars to provide cash payments to illegal aliens. Though the lower court said that Judicial Watch taxpayer clients are likely to succeed on the merits (that Governor Newsom has no authority under law to spend the money), there's more harm to illegal aliens during the coronavirus crisis than there is to California's 40 million taxpayers and citizens. Judicial Watch filed the writ petition in the California Court of Appeal, Second Appellate District, in order to overturn a May 5, 2020 Superior Court of Los Angeles County ruling denying a temporary restraining order sought by Judicial Watch in the case (Crest et al. v. Newsom et al. (No. 20STCV16321)).
Today's filing asks the Court of Appeal to command the Superior Court to issue the restraining order against California Governor Gavin Newsom and his Director of the California Department of Social Services Kim Johnson, enjoining them from making what is now an imminent, May 18, 2020 illegal expenditure of $79.8 million of taxpayers' funds to illegal aliens pending the final determination of the taxpayer action brought by Judicial Watch in the lower court.
Source: judicialwatch.com
---
Geopolitical/Police State
The DOJ is now rounding up professors that have been selling secrets to the Chinese government, Brian Cates puts this all together for us in a twitter thread. 
"The Department of Justice remains vigilant over programs such as the Thousand Talents Program that recruits professors and researchers to work for China," said Assistant Attorney General for National Security John C. Demers."

— Brian Cates //Flynn & Breitbart's Army! (@drawandstrike) May 15, 2020
---
False Flags
  House Speaker Nancy Pelosi set herself up to fail by instructing her caucus and surrogates to insist that Congress prioritize testing, testing, and more testing in future rounds of coronavirus response funding.
At the end of the day, Democrats scrounged up a budget for those tests amounting to less than 1 percent of the $3 trillion package Pelosi introduced this week. Instead of putting their money where their mouth is, they slapped together a leftist wish list dedicated to causes unrelated to the pandemic.
The dems are staying out of DC and are waiting for the 1,800-page bill, remember what she did with Obamacare you have to pass then you can read it. 
Pension bailouts, unsustainable environmental mandates, fundamental changes to tax policy — these are all issues Congress has no business touching during a national emergency.
  Pelosi ignored the millions of business owners, breadwinners, and gig workers struggling to make ends meet, those people started their own honest, and at times difficult, conversations about how and when to reopen the economy.
Source: thefederalist.com
BREAKING: Records show HHS "whistleblower" and media darling Dr. Rick Bright is a Democrat who's donated to a liberal Democrat PAC that's raising money for Joe Biden with the pitch: "Will you rush a donation now to make sure Joe Biden defeats Donald Trump?"

— Paul Sperry (@paulsperry_) May 15, 2020
The USNS Mercy, a 1,000-bed hospital ship sent to Los Angeles to help take pressure off hospitals — which officials predicted would be overrun by Chinese coronavirus patients — is departing on Friday after treating just 77 patients.
Source: breitbart.com
More and more states are opening, businesses are opening
Three weeks have passed since Georgia started reopening its economy, and the feared apocalyptic resurgence in the coronavirus that was supposed to overwhelm the state's health-care system and cost thousands of lives hasn't come to pass. And many of the same experts who warned against reopening the state "prematurely" – a group that includes Dr. Tony Fauci – are now conspicuously silent.
Meanwhile, other experts have pointed out that Georgia's reopening, along with the reopenings of others states like Tennessee, South Carolina and Texas, has so far worked out.
And if Georgia's reopening has been a success so far, then in theory, "no state is going too fast."  
Source: zerohedge.com
---
Q
#Obamagate This proves who was colluding with Russia!
Q
Buckle Your Seat Belt: @jsolomonReports anticipates more explosive Spygate evidence to come out against the Obama administration within the next 3 to 4 weeks.
Q
Chuck Grassley and Ron Johnson requested documents that Obama was trying to hide related to Ukraine interference in the 2016 election.   Obama handed over the documents.
This futuristic face shield is a serious upgrade from a bandana face mask
Fear.
Division.
Dependency.
Control.
Q
HCQ – MUST LISTEN> How fast does this pandemic end if you could start feeling better in as soon as 5 hours???
Listen carefully.
If you want to see the doctor in action, come on over to the x22report site and on the homepage if you scroll down alittle I have a video of her talking to people of Texas
Why are possible
[treatments][cures]
being banned?
Why are possible
[treatments][cures]
being attacked?
Why are possible
[treatments][cures]
being targeted?
Evidence overwhelming?
HOW DO YOU KEEP PEOPLE LIVING IN FEAR?
HOW DO YOU KEEP PEOPLE DIVIDED?
HOW DO YOU JUSTIFY VOTE-BY-MAIL?
HOW DO YOU JUSTIFY STATE BAILOUT(S)?
HOW DO YOU MAKE PEOPLE STARVE
[DEPENDENT ON GOV]
?
HOW DO YOU JUSTIFY ANYTHING NON_COVID RELATED TO BE A POLITICAL ATTACK
[FISA_UNMASK]
?
HOW DO YOU CREATE A DIVERSION?
HOW DO YOU SHIFT THE NARRATIVE?
HOW DO YOU KILL POTUS ECONOMIC GAINS?
HOW DO YOU KILL POTUS UNEMPLOYMENT RECORD(S)?
HOW DO YOU PREVENT POTUS RALLY
[IES]
?
HOW DO YOU DELAY USA_CHINA TRADE NEGOTIATION [PREVENT
[FIXED] BILLION(S) CLAWBACK]
?
HOW DO YOU SHELTER
[BIDEN]
FROM DEBATES?
HOW DO YOU SHELTER & PROTECT
[BIDEN]
?
HOW DO YOU PUSH_DELAY
[D]
PARTY CONVENTION?
WHY IS PUSHING CONVENTION CLOSER TO ELECTION DAY NECESSARY?
HOW DO YOU CHANGE-OUT
[D]
PARTY CANDIDATE
[OPTION]
?
HOW DO YOU CONVINCE
[D]
PARTY VOTERS TO ACCEPT?
HOW DO YOU TRAP
[INSTALL MEDICAL ADVISORS_SKY_IS_FALLING]
POTUS INTO ENDORSEMENT OR FACE WW MEDICAL-SCIENCE-MEDIA FULL ASSAULT?
IS THIS ABOUT THE ELECTION OR THE VIRUS?
WHO BENEFITS THE MOST?
Time to end the horror show?
Time to term
[select]
science advisors?
Time to term
[select]
gov controls by legal challenge?
Time to stand?
Q
No President has been re-elected with an unemployment rate as high as ours today, with the exception of FDR in 1936. If you are an @realDonaldTrump supporter — as I am — this should further motivate you to get the economy back open now. We win or lose by the economy.
Sometimes you can't TELL the public the truth.
YOU MUST SHOW THEM.
ONLY THEN WILL PEOPLE FIND THE WILL TO CHANGE.
Q
Q

 

!!Hs1Jq13jV6

 

ID: 84eaad

 No.9185312

NEW
Why did [D]s push 'everything is fine' narrative early on [ex: Pelosi China town]?
Why did science board push [no need close China travel] narrative early on?
Why did [select] govs push COVID-19 positive elderly patients into nursing homes [most at risk_proven] when surplus of availability in hospitals [+ USNS_Comfort]?
Why are CDC numbers conflating COVID-19 deaths with influenza, pneumonia, other?
Why are influenza deaths at [all-time] historical low levels vs years past [outside of standard deviation]?
Why are COVID-19 tests returning positive results on pawpaw's and animals?
Why are [select] swing states undergoing heavy quarantine extensions?
Why are possible [treatments][cures] being prevented and attacked [USA]?
"Testing, Testing, Testing, Tracing, and Isolation." – [Pelosi]
Q
San Diego County supervisor says six of 194 confirmed deaths are 'pure, solely coronavirus' deaths
The supervisor of San Diego County, California, is pushing back against Gov. Gavin Newsom's stay-at-home order, arguing that only six of the county's 194 recorded coronavirus deaths are "pure, solely coronavirus deaths."
"We've unfortunately had six pure, solely coronavirus deaths — six out of 3.3 million people," San Diego County Supervisor Jim Desmond said in an interview this week, according to the San Diego Tribune. "I mean, what number are we trying to get to with those odds? I mean, it's incredible. We want to be safe, and we can do it, but unfortunately, it's more about control than getting the economy going again and keeping people safe."
Think for yourself.
Trust yourself.
Your voice matters.
Knowledge is power.
Q
Q

 

!!Hs1Jq13jV6

 

ID: ef4cc0

 No.9185840

NEW
Peace_for_the_Storm_Quotes_Have_Faith_in_God_1024x1024.jpg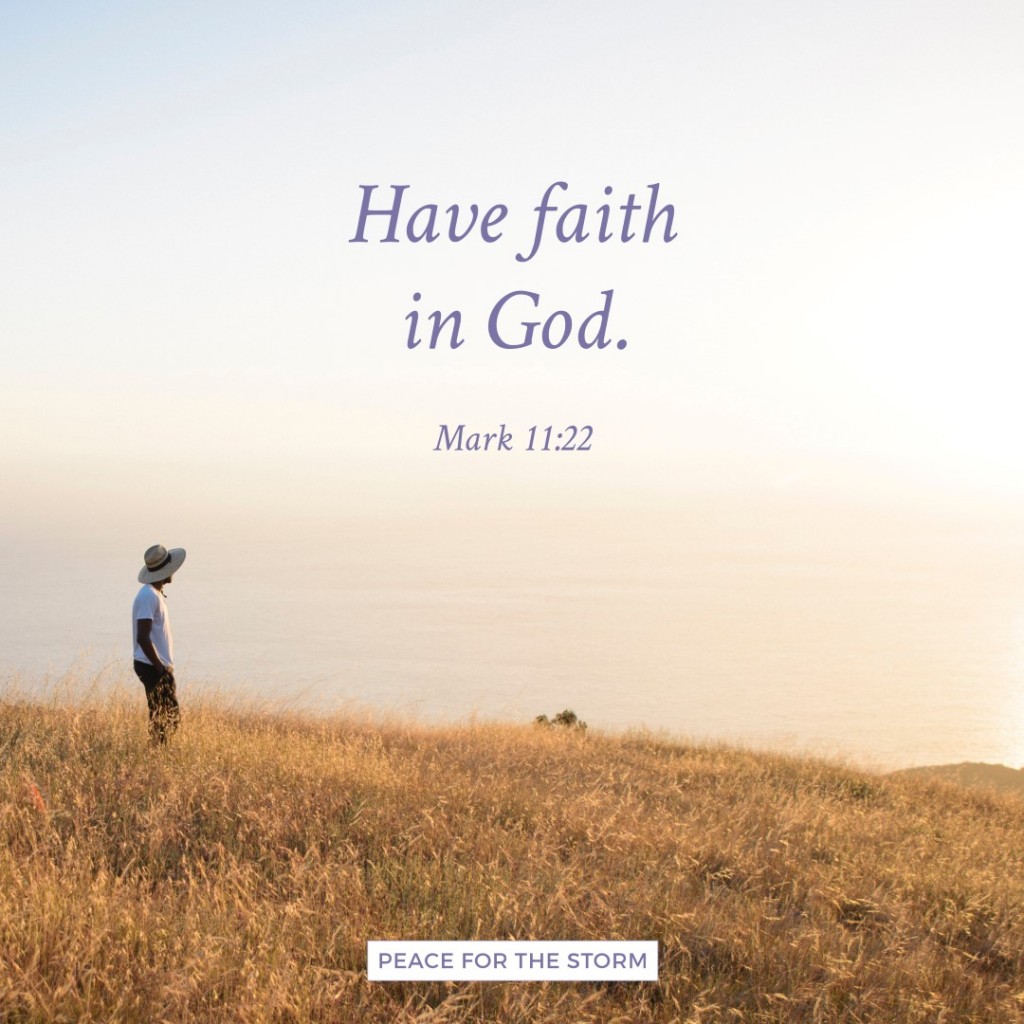 Q !!Hs1Jq13jV6 ID: 8ddc3d No.9186868


NEW
EYEy1wqU8AEw2Zn.jpg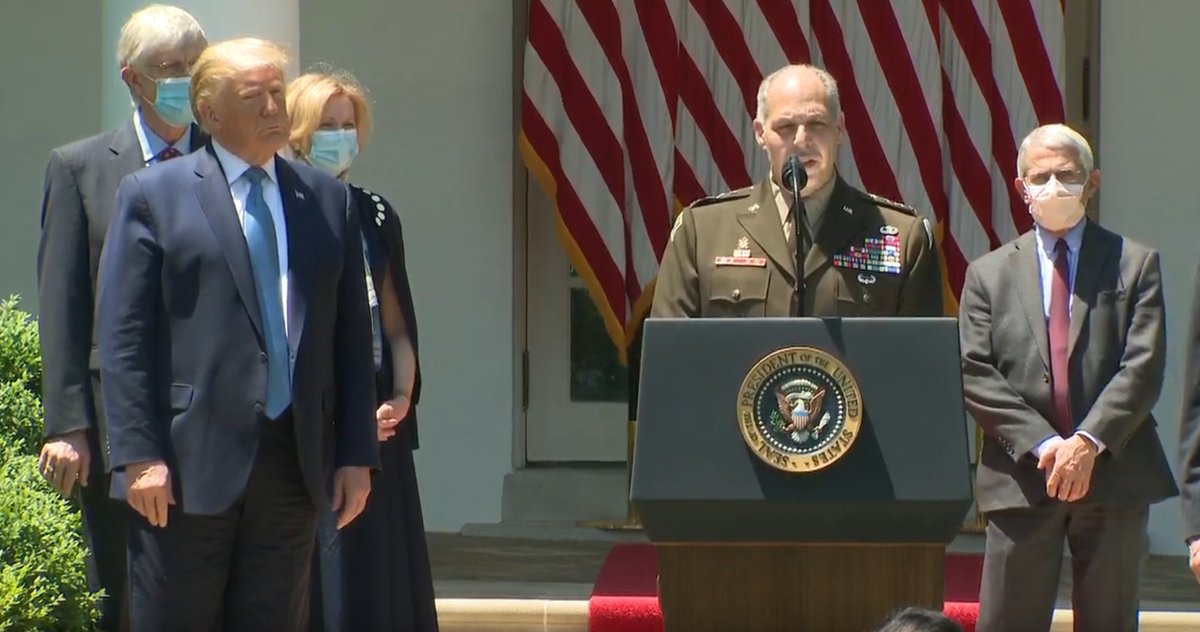 Trump: "vaccine or no vaccine, we're back"
It's time to end the horror show.
It's time to stand
[lead by example]
.
Enough have seen
[domino effect]
.
[note: who wears a mask and who does not]
Q
— Qmamanon (@qmamanon) May 15, 2020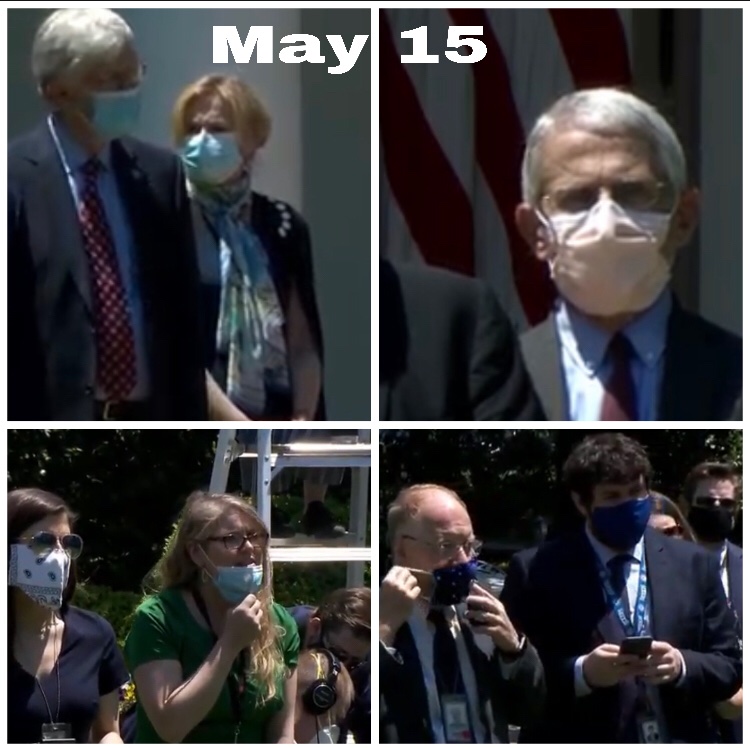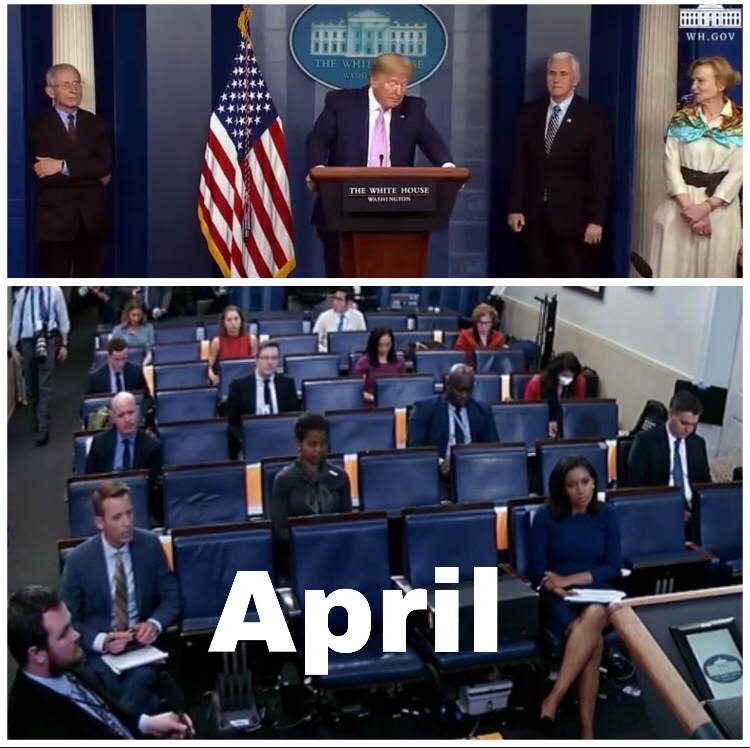 Then we have Paul Sperry he tweeted out something about Dr. Fauci and what he found on his website. 
This is on Dr. Fauci's own NIH website:

Breakthrough: Chloroquine phosphate has shown apparent efficacy in treatment of COVID-19 associated pneumonia in clinical studies.https://t.co/Vq6CygqHsn

— Paul Sperry (@paulsperry_) May 14, 2020
The coronavirus disease 2019 (COVID-19) virus is spreading rapidly, and scientists are endeavoring to discover drugs for its efficacious treatment in China. Chloroquine phosphate, an old drug for treatment of malaria, is shown to have apparent efficacy and acceptable safety against COVID-19 associated pneumonia in multicenter clinical trials conducted in China. The drug is recommended to be included in the next version of the Guidelines for the Prevention, Diagnosis, and Treatment of Pneumonia Caused by COVID-19 issued by the National Health Commission of the People's Republic of China for treatment of COVID-19 infection in larger populations in the future.
I am proud to announce that the United States will donate ventilators to our friends in India. We stand with India and @narendramodi during this pandemic. We're also cooperating on vaccine development. Together we will beat the invisible enemy!

— Donald J. Trump (@realDonaldTrump) May 15, 2020

Today Trump announced Operation Warp Speed
Think about it what is Trump doing with this, is going to push vaccines on everyone,The vaccine will not be mandatory,
TAKE A LISTEN
The question we need to ask is what is the real motivation of this vaccine push 
think masks, think ventilators, think tests etc…

who creates medication today- CHina

what did Trump just announce,  all manufacturing will be done in the US, he just moved the manufacturing of drugs from China to the US

All supplies will be created here in the US, syringes, supplies etc…

Trump is also developing other things that have nothing to do with Vaccines

Now go back to when Trump said that he thinks this will disappear without a Vaccine
TAKE A LISTEN
So he is using the vaccine push to bring back medical manufacturing,
Covid-19 will not be that big of a deal,
What about flare ups, Hydroxy Cholorquine will shutdown the fear about flare ups and mutation , this drug will be used for those who have the Covid-19, pneumonia, flu etc….
Q

 

!!Hs1Jq13jV6

 

ID: 8ddc3d

 No.9187012 

NEW
Nevada's vote-by-mail primary stirs fraud concerns, as unclaimed ballots pile up: 'Something stinks here'
Red flags are being raised about the all-mail voting system being used in Nevada's most populous county ahead of the state's June 9 primary election amid reports that thousands of ballots are being sent to inactive voters — fueling concerns about the possibility of voter fraud and ballot harvesting.
Thousands of ballots have been sent out by the Clark County Election Department to inactive voters – those who have not voted in recent elections, a roster that can include people who either have moved or are deceased – and the envelopes are piling up in post office trays, outside apartment complexes and on community bulletin boards in and around Las Vegas. 
The excess ballots have drawn complaints from local residents, who worry that anyone could pick up a ballot off the street and cast a fraudulent vote, as well as from Republican Party officials in the state who see a nefarious motive behind the vote-by-mail system being employed by the Democrat-dominated Clark County Commission.
It's right in front of you.
It always has been.
Q