What We Have Witnessed Is The Last Gasps Of The [DS],Let's Finish What We Started – Ep. 2671
Watch The X22 Report On Video
The US economy under the [CB]/[JB] is completely falling apart. The people can see this very clearly, jobs have not come back, actually the opposite is happening. Black unemployment is rising under the Biden administration. The [CB] is now pushing forward with their CBDC. The people are seeing the truth and this will be the end of the [CB]. The [DS] is struggling, they don't have the narrative, the public sees through their lies, sees their crimes. Trump is now signaling that is now time to take back our country. We are going to finish what we started. The [DS] will fight back but this will be a losing battle, the months ahead will be intense as the bull horn is ripped from the puppet masters, they will not let it go easily.
---
Economy
The US economy added only 199,000 (nonfarm) jobs in December — well below the 422,000 estimate.
This is the worst jobs report of 2021.
Paris Dennard
CNBC reported:
The U.S. economy added far fewer jobs than expected in December just as the nation was grappling with a massive surge in Covid cases, the Labor Department said Friday.

Nonfarm payrolls grew by 199,000, while the unemployment rate fell to 3.9%, according to Bureau of Labor Statistics data. That compared with the Dow Jones estimate of 422,000 for the payrolls number and 4.1% for the unemployment rate.

Job creation was highest in leisure and hospitality, a key recovery sector, which added 53,000. Professional and business services contributed 43,000, while manufacturing added 26,000.

The unemployment rate was a fresh pandemic-era low and near the 50-year low of 3.5% in February 2020. That decline came even though the labor force participation rate was unchanged at 61.9% amid an ongoing labor shortage in the U.S.
CNBC was shocked by "another big miss" in December.
Source: thegatewaypundit.com
Joe Biden shuffled out to deliver remarks on the December jobs report.
He was proud of the abysmal report.
"It's an historic day," Biden said on Friday.
VIDEO:
Source: thegatewaypundit.com
The last time the Fed started raising rates (Dec 2015) the unemployment rate was 5.0% and CPI was 0.64%

Now the unemployment rate is at 3.9% and CPI sits at 6.8% pic.twitter.com/1MVQGIM2Om

— Sven Henrich (@NorthmanTrader) January 7, 2022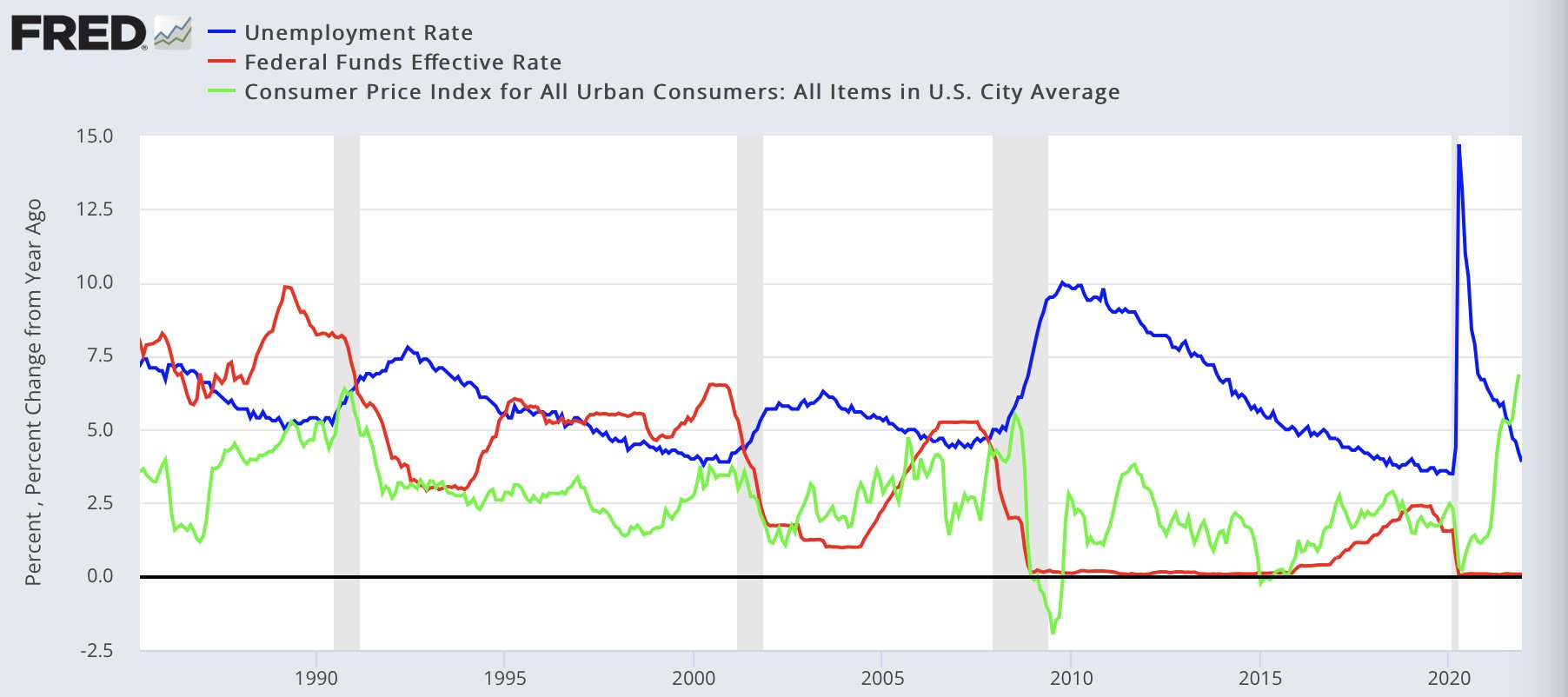 They're at least 8 rates hikes behind the curve, but given the debt explosion & historic market valuations 8 rate hikes would cause a crash & recession.
This is all so stupid. pic.twitter.com/jKZ7M8ruuO

— Sven Henrich (@NorthmanTrader) January 7, 2022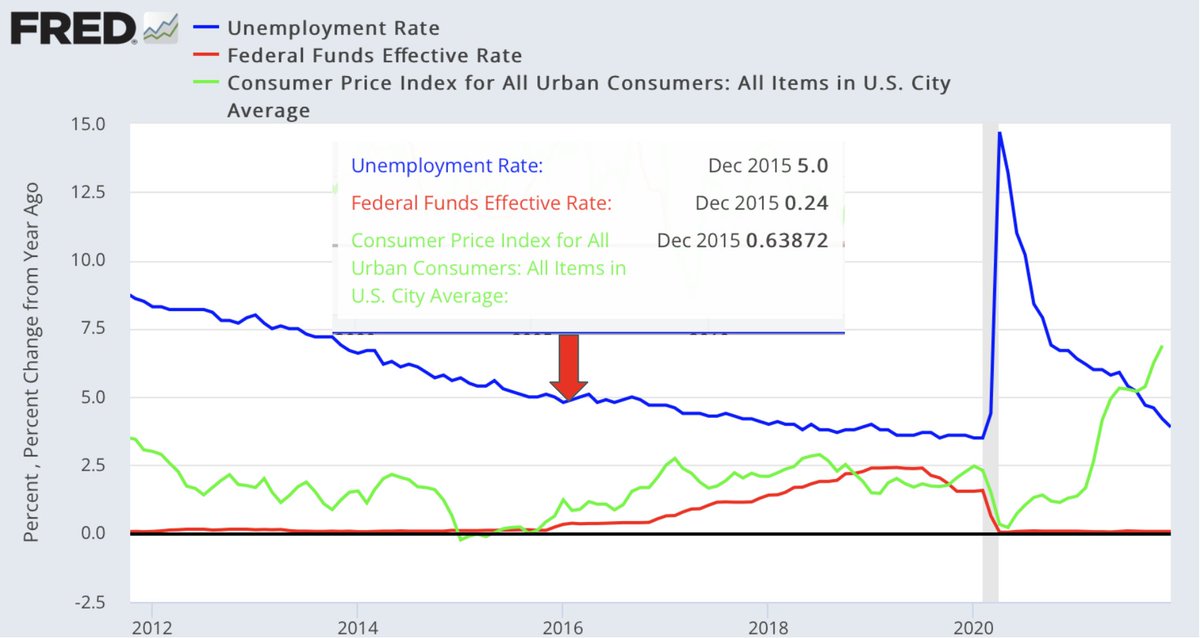 So to be clear: In 2015 they started raising rates with UE at 5% & then started cutting rates in 2019 with UE at 3.5%.
Now with UE at 3.9% & CPI at 6.8% rates are still zero.
But they keep claiming employment & price stability to be their mandates.
The Fed is so full of it.

— Sven Henrich (@NorthmanTrader) January 7, 2022
No, Powell made it very clear what the Fed's true mandate is. He said so himself in 2012:
"Investors really do understand now we will be there to prevent serious losses."https://t.co/mKq5dHgBXA pic.twitter.com/0gElhScc60

— Sven Henrich (@NorthmanTrader) January 7, 2022
And this is the guy that has millions in long $SPY and $RUT ETFs running an agency that is in the business to "prevent serious losses".

— Sven Henrich (@NorthmanTrader) January 7, 2022

---
Political/Rights
Joy(less) Reid will lose her 7 pm show in the next round of reshuffling at MSNBC.
"Joy Reid will lose her 7p show in the next round of reshuffling at MSNBC." – "She does not have a show come mid Spring" – The "decision has been made, the only thing left is messaging on the move, which will be ratings" Former managing editor at Mediate Jon Nicosia reported. 
Ratings for Joy Reid's "The ReidOut" continue to tank.
Source: thegatewaypundit.com
The "Deep State" is very real. My entire goal for this article was to see if it was possible to find the connection between the four main "battles" waged against Trump. We all assumed they were connected, but my goal was to specifically find out how. These are the 4 main "battles" I considered:
Spygate
Ukraine Impeachment
Covid-19
The 2020 Election
As I was looking at each of the above from a 40,000 ft view, a specific name kept showing up. That name is David Rubenstein, one of the co-founders of The Carlyle Group. Allow me to introduce him to you.
David Rubenstein
The Carlyle Group
Before we do a deep dive into Mr. Rubenstein himself, I'd like to discuss the company he co-founded, The Carlyle Group.
The first thing that struck me was how The Carlyle Group used political relationships for financial gain. Note that while Obama was President, Carlyle became the largest private equity firm by capital raised over previous five years. Those political relationships were not bound by a mere party label, either. 
Here is some of The Carlyle Group investments. A few things here stick out to me as very odd.
To recap with a brief timeline:
October, 1997 – Carlyle acquires United Defense Industries for $850 million, their largest investment to that point.
September 11, 2001 – Carlyle holds their investor conference, naming one investor, Shafiq Bin Laden, as their "guest of honor." Note the Bin Laden family had invested $2 million into the "Carlyle Partners II Fund."  I'll be coming back to that fund again later.
September 11, 2001 – World Trade Center terrorist attacks leading the United States into the "War on Terror."
October 2001 – Bin Laden liquidates holdings in Carlyle funds.
December, 2001 – Carlyle completes an IPO of United Defense on the NYSE.
May, 2005 – Carlyle sells UDI to BAE for $4 Billion. Carlyle Profits nearly $3.2 billion with the sale.
the Alwaleed connection is interesting. In May of 2017, Donald Trump made his first official foreign trip as President to visit Saudi Arabia, and in early November of 2017, Prince Alwaleed Bin Talal was arrested for corruption.
Alice Rogoff married David Rubenstein in 1983 and they were divorced in December of 2017. Alice has her own interesting connections.
Alice also hosted Barack Obama in August of 2015:
Before we get back to more of David Rubenstein, let's do a brief summary of what we have learned so far:
David Rubenstein co-founded The Carlyle Group
The Carlyle group has powerful bipartisan political connections
Carlyle group has a few "shady" but relevant (to our story) investors (Soros & Alwaleed)
Carlyle group has an optics "problem" (United Defense investment and 9/11)
Rubenstein's ex wife is connected to Ghislane Maxwell
Rubenstein's ex wife hosted Barack Obama for a private dinner in 2015
David Rubenstein Affiliations
It's now important to take a look at the long list of David Rubenstein's affiliations where we start to see some familiar left wing organizations come into the picture:
Ties to the CCP
Before digging into the above organizations, there is one advisory board Rubenstein is on that for some reason isn't listed above. It can instead be found in his bio on The Carlyle Group's website:
Here is a photo of Rubenstein presenting at a 2015 Advisory Board meeting at Tsinghua University:
Just so we're clear, David Rubenstein chairs an advisory board for Tsinghua University in China. This is the university that Xi Jinping graduated from and is the premier training university for future leaders of the CCP. This connection is massive. We will touch on it again when we discuss the Covid-19 pandemic and Rubenstein's connection to it. The picture below was taken in October 23, 2013.
Ties to Jeffrey Epstein
Rubenstein also has a few ties to Jeffrey Epstein (in addition to his wife Alice Rogoff and her own connection to Ghislane Maxwell). First, both Rubenstein and Epstein were members of the Trilateral Commission.
There is also this story from the Mockingbird Paper outlining an Epstein connection to the Carlyle Group through Les Wexner.
Source:  patelpatriot.substack.com
---
War
Kazakh President Tokayev has authorized 'no warning-shoot to kill' instructions for government forces battling protesters and what the regime calls 'terrorists' or foreign fighters.
President Tokayev has said law enforcement agents can use lethal force to quell the unrest that has engulfed the country – adding that he was ruling out any negotiations with "terrorists" in an address to the nation Friday, reported RT.
 
Source tsarizm.com
BREAKING: President of Kazakhstan declares constitutional order 'mainly restored' in the country after days of violent protests – AP

— Breaking911 (@Breaking911) January 7, 2022
---
False Flags
Australia's Northern Territory chief minister Michael Gunner says unvaccinated people may not go to work or exercise outdoors.

You can only leave home for 3 reasons:
– Medical treatment, vaccine
– Groceries
– Care for disabled loved one

"Work is not a reason to leave the home." pic.twitter.com/MpxZaPPGnJ

— Breaking911 (@Breaking911) January 7, 2022
FDA is not even trying anymore;
The decision is based on PFIZER data not MODERNA data, which they acknowledge in today's letter

There is literally have NO EVIDENCE for boosting MODERNA at month 5 👇👇

Gruber & Krause resign & FDA is unhinged https://t.co/TDOIzQHsWr pic.twitter.com/W6HxUb2Pum

— Vinay Prasad, MD MPH 🎙️📷 (@VPrasadMDMPH) January 7, 2022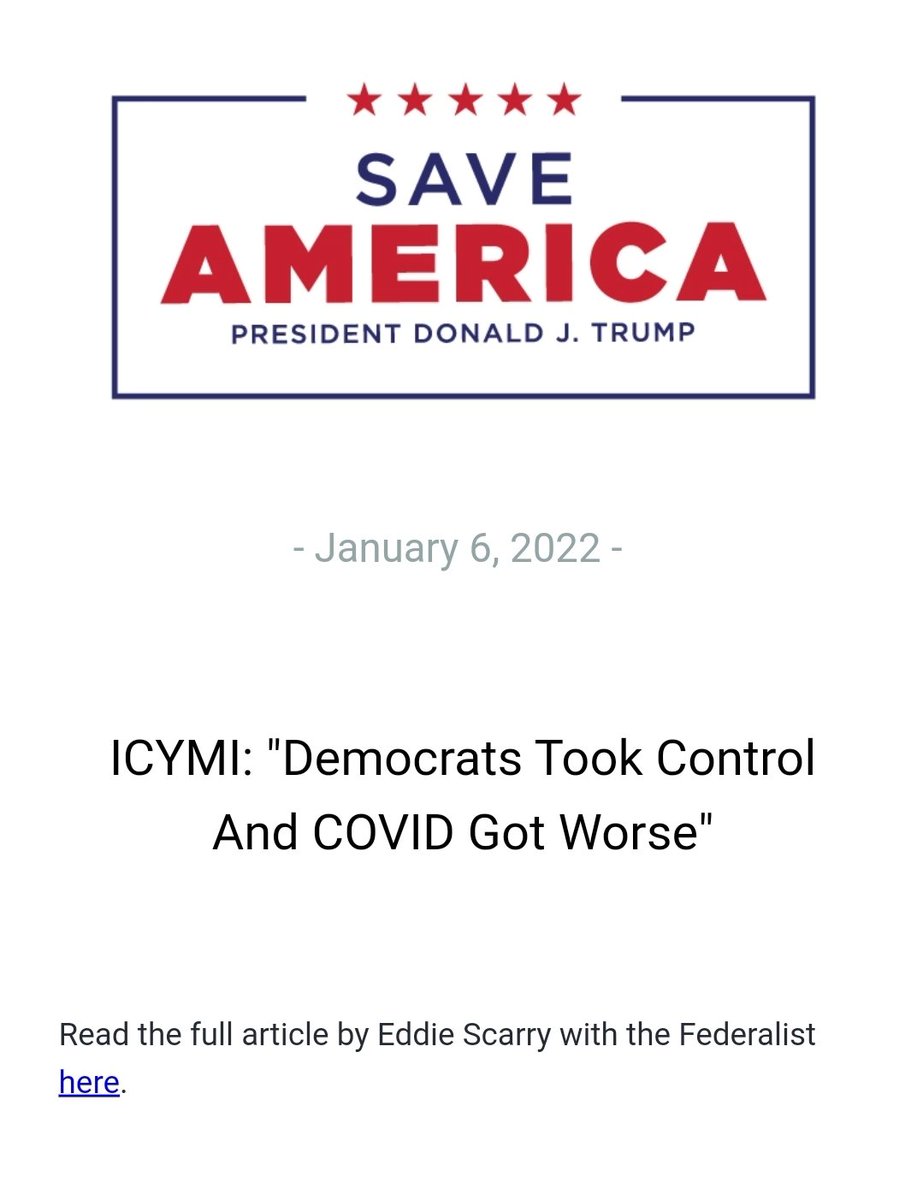 This morning at 10 am EST, the Supreme Court is hearing oral argument on the OSHA and CMS vaccine mandates.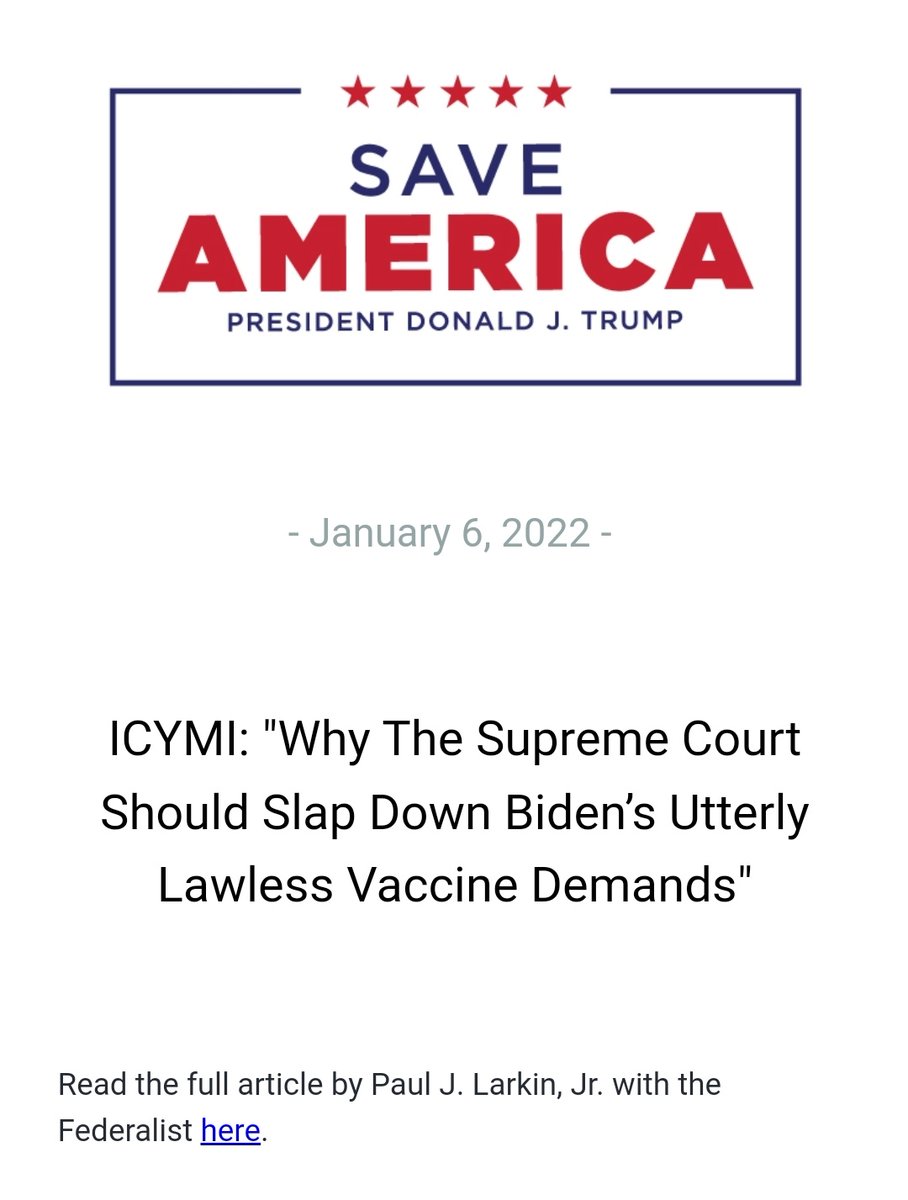 Supreme Court justice Sonia Sotomayor falsely claimed that over 100,000 children are in serious condition because of Covid.
"Many are on ventilators," Sotomayor said.
This is a lie.
The CDC on Friday said 4 in 100,000 children admitted to hospitals are infected with Covid.
The children are in the hospital with Covid, not necessarily because of Covid  
Source: thegatewaypundit.com
UPDATE: Supreme Court Justice Sonia Sotomayor also claimed that vaccinated people cannot transmit the coronavirus.
Sotomayor is being criticized in social media for making several factually dubious claims during the oral arguments:
Breyer: "Hospitals are full almost to the point of the maximum."

These people know absolutely nothing. Zero. pic.twitter.com/F5z3Hzz6IR

— Phil Kerpen (@kerpen) January 7, 2022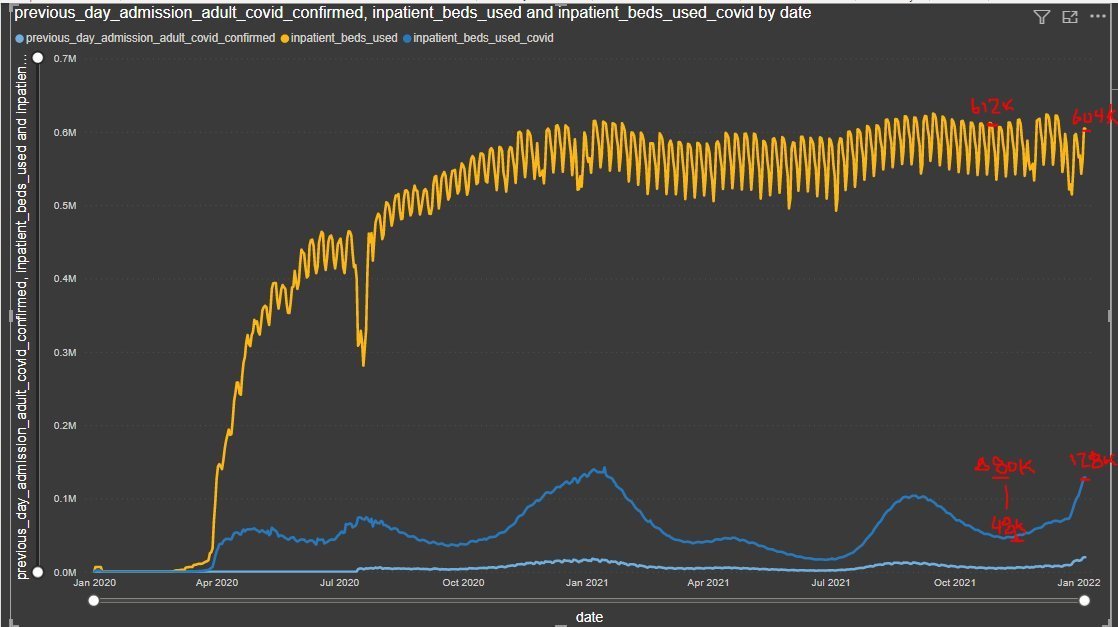 Breyer: "Growing by factors of 10 times what it was."

National hospital census is actually flat as a pancake.

— Phil Kerpen (@kerpen) January 7, 2022
OSHA on masks for…

tuberculosishttps://t.co/JfVRRvIF08

SARS-CoV2 https://t.co/ekm0umKXYV pic.twitter.com/orCoa53dXJ

— Phil Kerpen (@kerpen) November 7, 2021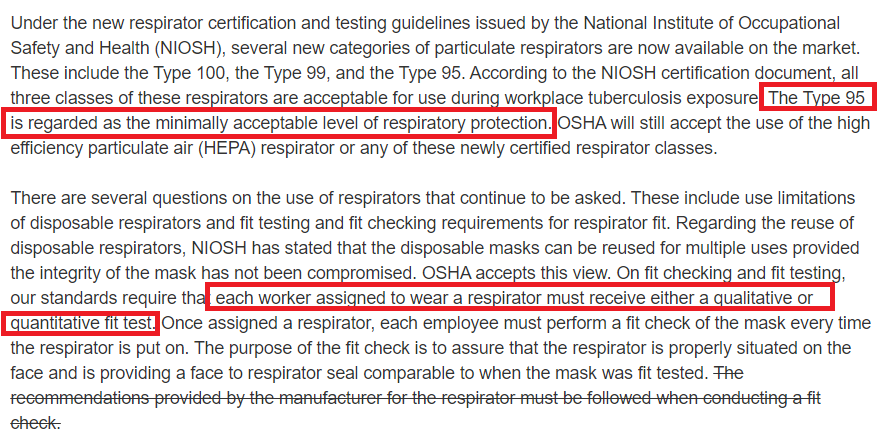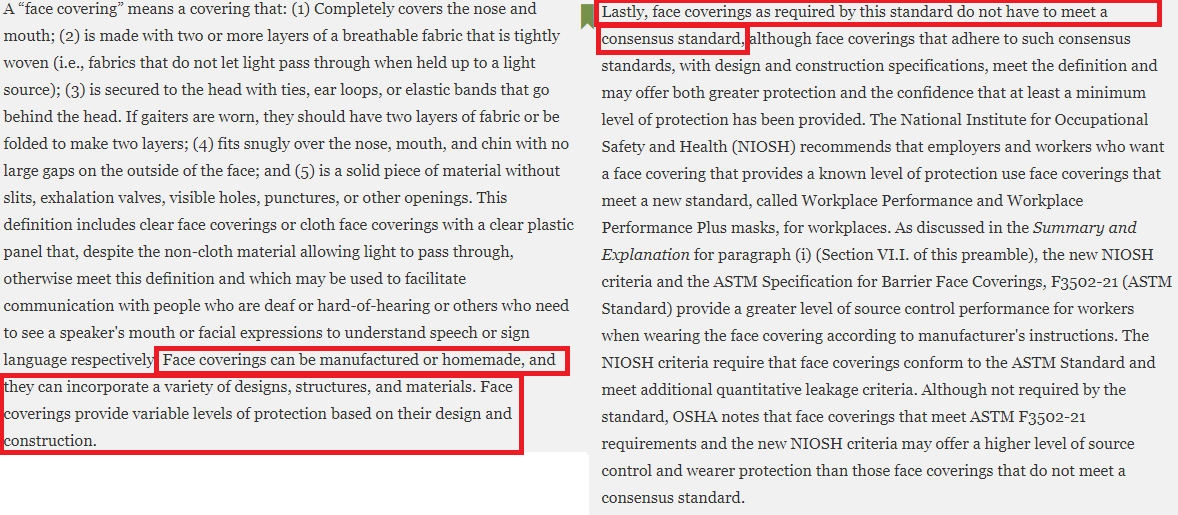 If vaccines work, then the vaccinated person can't get the disease from an unvaccinated person, so a mandate is unnecessary.

If vaccines don't work, then mandating them is idiotic.

I swear we have the dumbest and most ignorant ruling class in history. https://t.co/F6hrEixRH0

— Sean Davis (@seanmdav) January 7, 2022
For the first time in history the ineffectiveness of a medicine is being blamed on those who haven't taken it.

— Kevin Sorbo (@ksorbs) January 7, 2022
How long will vaccines take? NYtimes April 2020
Vaccine by 2033
New Study Links Lockdowns to Potential Long-Term Increases In Excess Deaths
Anew working paper published by the National Bureau of Economic Research gives a stark prediction that the economic damage brought about by lockdowns will lead to a significant increase in excess deaths for the long-term future. The authors of the study, a team of three researchers at Duke, John Hopkins, and Harvard, assert in their study that although they believe lockdown policies have saved lives, policymakers must be conscious of the long-term damage unemployment will have on public health. R
 a bad economy kills too.
The Data
The authors pool data on life expectancy, age-adjusted death rates, and unemployment rates from the CDC and the Bureau of Labor Statistics. They then inputted those numbers into a vector autoregression (VAR), which is a time series model that tracks the relationship of multiple variables. Provided below is the raw data featured in the study.  
What Does This All Mean
The study itself is quite numbers-dense and full of equations, but the message is clear. Unemployment is a real public health issue that if left unmitigated will lead to excess deaths in the future. The bulk of excess deaths do not occur suddenly but years in the future and they don't return to normal for up to 20 years down the line. 
March 2020, lockdown begin, 15 days to stop the spread, wear masks, stay at home, stay separated
Dec 2020, Lockdown are continuing,people are becoming worried, there is now news that this will last longer than they expected
June 2021, People are not working, shelves are bare in the stores, they are now rationing certain food items, cant get everyday products, people are panicking and hoarding, fuel prices are thru the roof, but most of the people do not travel because of lockdowns
Dec 2021, Non covid deaths are up 50%, people are becoming desperate and breaking into homes looking for supplies
June 2022, Lockdowns continue, gov, msm reports that this will last another 5 years and it will get worse
Jan 2027, lockdowns continue, food is hard to find, the govt are telling people to eat bugs for protein, non covid deaths are thru the roof, cities are ghost towns, infrastructure is falling apart, nobody is working they are handing out 500 a month but with inflation it does not go very far, 500 is worth 100 today,
_______
March 2020, lockdown begin, 15 days to stop the spread, wear masks, stay at home, stay separated
Dec 2020, Operation warpspeed produces first vaccine,
June 2021, Trump says don't take the vaccine to his supporters, fake news blames Trump and his supporters for the pandemic, fake news says Trump is a terrorist who is destroying the country on purpose and the followers are terrorists
Dec 2021,  Biden and DOJ the lock down need to continue because of Trump and his followers
June 2022, Trump is now being tried for crimes against humanity, he has been blamed for the pandemic
---
Q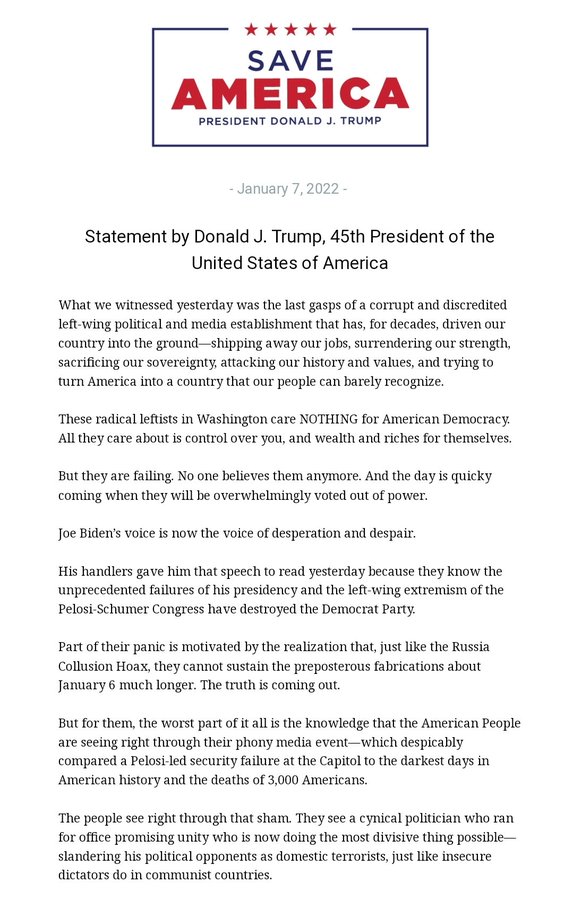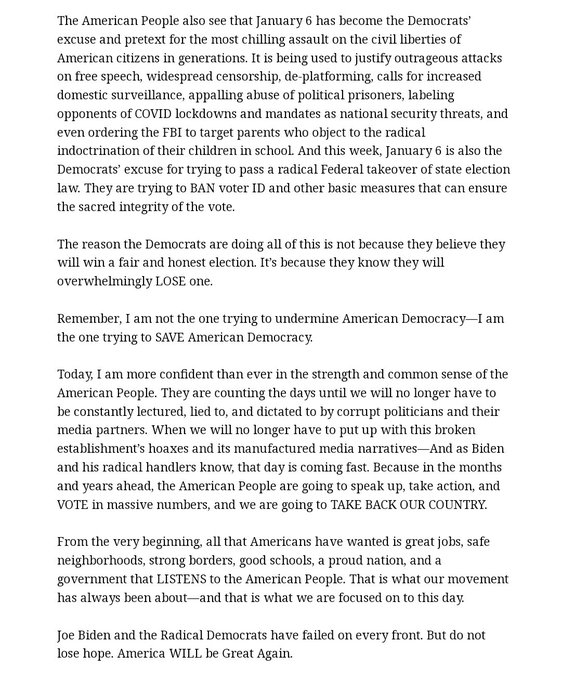 150
Q
!ITPb.qbhqo
11/13/2017 13:04:46
 ID: /lc4nimE
4chan Thread/Post: 149260496 / 149262582
Direct Link: 149262582
2478
Q
!!mG7VJxZNCI
11/11/2018 12:58:18
 ID:
Archive Bread/Post Links: 440 / 452
Direct Link: 452
I
The majority of the public does not believe that this was an "insurrection" despite the mantra-like repetition of members of Congress and the media.  
Not surprisingly, the poll received little comparative coverage on a day when reporters and commentators spoke of "the insurrection" as an undeniable fact.
Yet, when CBS  asked Americans, they received an answer that likely did not please many.
The answer was overwhelming and nonpartisan.  Some 76% believe that this was a protest that went too far.
That, however, was not one of the four options to the matinee question featured by CBS.
It did not allow the public to call this a riot when it asked them to describe "What happened at the Capitol on Jan. 6, 2021?" Why? There was the ever present "insurrection" and "trying to overthrow government." However, the other two options were "patriotism" or "defending freedom." That is perfectly bizarre. The most obvious alternatives to an actual rebellion in a violent clash would be a protest or a riot. However, the public was simply not given those options.
The result was predictable. Some 85% of Democrats dutifully checked "an insurrection" or "trying to overthrow government" while only 21% and 18% of Republicans agreed respectively.  For those who did not see the riot as an act of patriotism or defending freedom, they were simply left without a choice.
  i
Source: zerohedge.com
CBS News buries poll result showing strong bipartisan agreement Jan. 6 was 'a protest that went too far' https://t.co/uKKNhIw3tI

— Joseph A. Wulfsohn (@JosephWulfsohn) January 6, 2022
The vast majority of Americans, regardless of political party, now say that American society and culture are in decline, according to a Thursday poll from the Trafalgar Group and Convention of States Action.
The poll found that 76.8% of respondents believed U.S. society and culture are in a "state of decay," with just 9.8% saying society and culture are in a "state of progress" and 13.4% saying they were unsure. The skepticism held true for all political leanings, with 61% of Democrats, 85.9% of Republicans and 81.8% of those who identify as non-partisan or other saying U.S. society and culture is in decline.
 
 ely to the resurgence of COVID-19, the border crisis, supply chain chaos, and his botched withdrawal of U.S. troops from Afghanistan.
Source: dailycaller.com
Cyber Ninjas is closing shop. The Florida company was hired to run the Arizona Senate audit of the 2020 election in Maricopa County, Arizona's largest county. 
The media attacked the Florida firm mercilessly for running the investigation on the questionable results in Maricopa County.
The audit found evidence of alleged illegal activity and over 700,000 suspect ballots issues.
This morning we spoke with Doug Logan, CEO of Cyber Ninjas. 
Doug told us the media reports were misleading. The company's decision to shut down had nothing to do with the court ruling this week in Arizona. An Arizona judge fined Cyber Ninjas $50,000 a day for noncompliance with an August order to turn over audit-related records to the far left Arizona Republic.
Doug said the company paid off many of its creditors but was still in debt. In fact, Cyber Ninjas laid off workers in January and made the decision to shut down last year.
Source: thegatewaypundit.com