Apply The Keystone, Rig For Red, The First Salvo Of Information Has Just Been Fired – Ep. 2723
Watch The X22 Report On Video
The implosion of the global economy is now being felt world wide, the people are now pushing back, this will not end well for the [CB]s.The people in the US are feeling the pain, wages are not keeping up with inflation. The [CB]s are now pushing nations to trade in their national currencies. The [DS] is panicking, the bio labs were revealed and they did everything in their power to tell everyone that it is a conspiracy theory. This the same [DS] that pushed the fake Russia, Russia hoax, the same [DS] that pushed the fake covid hoax, the same [DS] that pushed election hoax. The people are about to learn the truth. The first salvo of information was just fired, the [DS] did exactly what the patriots wanted them to do, deny, deny and deny. Next wave coming soon.
---
Economy
Let's discuss gas pains in the EU and the US…
Force Majeure Starting Monday Stops Trucking
Via Google Translate from Ansa.
Starting from next Monday, March 14, the trucking companies will suspend their services nationwide 'due to force majeure' "and that is the explosion of fuel costs.

"The suspension of services has become inevitable – underlines a letter sent by Trasportiunito to the Prime Minister, the Minister and Deputy Minister of Sustainable Infrastructures and Mobility and the President of the Guarantee Commission in Strikes – also to protect companies and prevent that the exasperated market conditions, determined by the record rise in fuel prices, translate into advantages for other subjects in the transport sector, or into charges for contractual obligations that the companies in the logistics chain are no longer able to guarantee ".

"The road transport block will have direct effects on the community, suspending the supplies of goods in the commercial sector and leading to a surge in retail price lists in shops and supermarkets – says the president Carlo Rienzi – An inevitable consequence, considering that the 85% of goods sold in Italy travel by road, and a further damage for consumers, exhausted like companies by expensive fuel".
Source: zerohedge.com
Will Biden blame this on Putin too?
 earnings have failed to keep up with inflation for 11 consecutive months, and in February real hourly earnings contracted by 2.6% compared to a year ago. This number will get far, far worse next month when the full impact of the biggest energy supply shock since the 1970s oil crisis hits front and center.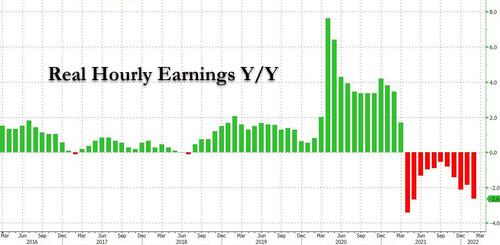 In February, 73% of "lower earners," defined as those with household income of less than $25,000 annually, said they'd felt the impact of inflation recently, but only 9% said their wages had kept up with the cost of living, according to a report from the Capital One Insights Center.
Across all income levels, just 18% of consumers said their wages were keeping pace with the higher cost of living.
Source: zerohedge.com
Russia's SWIFT ban will boost non-dollar trade, says Turkish exporters union
Severing the country from the global payment system is likely to expand trade in national currencies
---
Political/Rights
2849
Q
!!mG7VJxZNCI
02/21/2019 15:49:46
 ID: 9ec21e
Archive Bread/Post Links: 5308098 / 5308748
Direct Link: 5308748
Jussie Smollett is going to jail.

Kyle Rittenhouse is innocent.

Michael Avenatti is going to jail.

Donald Trump is a free man.

CNN is being sold for parts.

Nic Sandmann is a multimillionaire.

Perhaps, there is hope for America yet…

— Benny (@bennyjohnson) March 11, 2022
---
Geopolitical/Police State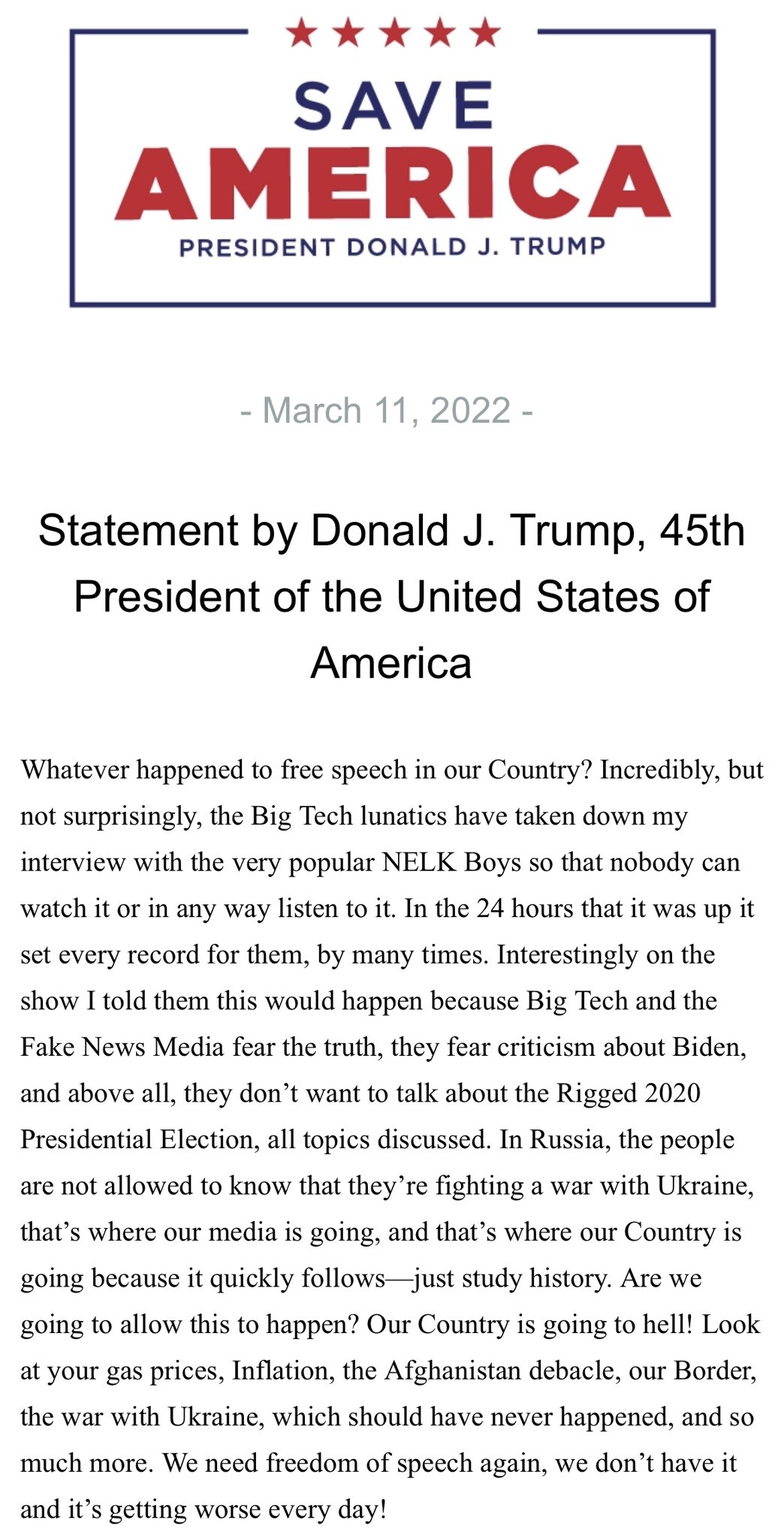 T
March 10 (Reuters) – Meta Platforms (FB.O) will allow Facebook and Instagram users in some countries to call for violence against Russians and Russian soldiers in the context of the Ukraine invasion, according to internal emails seen by Reuters on Thursday, in a temporary change to its hate speech policy.
The social media company is also temporarily allowing some posts that call for death to Russian President Vladimir Putin or Belarusian President Alexander Lukashenko in countries including Russia, Ukraine and Poland, according to internal emails to its content moderators.
"As a result of the Russian invasion of Ukraine we have temporarily made allowances for forms of political expression that would normally violate our rules like violent speech such as 'death to the Russian invaders.' We still won't allow credible calls for violence against Russian civilians," a Meta spokesperson said in a statement.
 
Source: theconservativetreehouse.com
— Defiant L's (@DefiantLs) March 11, 2022
---
War
The Bombing Allegations.
On Wednesday, March 9, 2022, a story broke about a Russian air strike that allegedly targeted a Ukrainian maternity hospital. According to the New York Times, "an apparent Russian strike on Wednesday damaged and destroyed buildings at a hospital complex in the southern Ukrainian city of Mariupol, including a maternity ward."
The New York Times acknowledged that the casualties were unknown and that it was "not clear whether the hospital was fully operating at the time of the strike or had been evacuated to some degree." It was later reported that the shelling of the maternity hospital killed three civilians, including one child. Photographs are alleged to substantiate that the maternity hospital was in-use by civilians at the time of the bombing (though perhaps not at capacity).
Interestingly, one of the purported victims seen in the photographs is an Instagram "influencer" who lives in that city.
Her Instagram has since been scrubbed.
 
Lavrov even said Russia informed the UN Security Council that the hospital had been used by the Azov Battalion on March 7 or March 6, which would be a few days before the attack. Lavrov maintained "All the women in labor, all the nurses, in general, all the staff was driven out of there."
The Evidence.
Anyway, here's where things get interesting. Video footage and photographs show a large crater in the hospital's courtyard that was the purported "site of the shelling."

The source of the video claims that is where the strike hit.

The crater was huge, and supposedly caused extensive damage to nearby buildings (as seen in the photograph below). At least one car was on fire, windows are blown out, and debris is everywhere.

Certainly we are made to believe that the force of this strike was substantial.
But is that really the case? Look closely at the photograph below. A small white building next to the crater is left standing and unscathed; the yellow wall of the building is relatively free of damage; and its top windows are intact.

In the other direction, however, cars and buildings farther from the crater have more significant damage. I'm not sure that pattern of the blast or explosion or shockwave is consistent with that you might seen in an air strike. At the same time, I certainly can't rule out that there was some type of unique radius (I'm open to any expert opinions). Unanswered questions, it seems.

Then take a close look at this picture, taken as emergency evacuation efforts from the maternity hospital were supposedly underway. This heavily-pregnant woman had just escaped the building. As one Twitter user observed, that sure is an odd time to gather supplies, build a makeshift kitchen, get a fire going, and start cooking.
Source: technofog.
"We will not fight a war against Russia and Ukraine. 
President Biden spoke to the nation on Friday, saying outright that the US and NATO "will not fight a direct war against Ukraine." He was asked by reporters about the potential use of Russian bio-chemical weapons, and said Russia would "pay a severe price" for doing so.
Source: thepostmillenial.com
On Sunday, March 6, 2022, Russian news agency Ria Novosti released documents claiming that Ukraine was working on "biological weapons" near the Russian border. Ria Novosti accused the US of instructing Ukraine to destroy the biological agents before the Russian invasion.
According to the document obtained by the news agency, the Ministry of Health in Ukraine ordered the biological pathogens to be destroyed in a February 24 memo.
Now, World Health Organization (WHO) admitted to Reuters on Thursday that they had advised Ukraine to destroy their high-threat pathogens stored in the country's health laboratories to prevent the spread of any disease.
Source: thegatewaypundit.com
3891
Q
!!Hs1Jq13jV6
03/09/2020 13:05:42
 ID: 14a566
Archive Bread/Post Links: 8357156 / 8357870
Direct Link: 8357870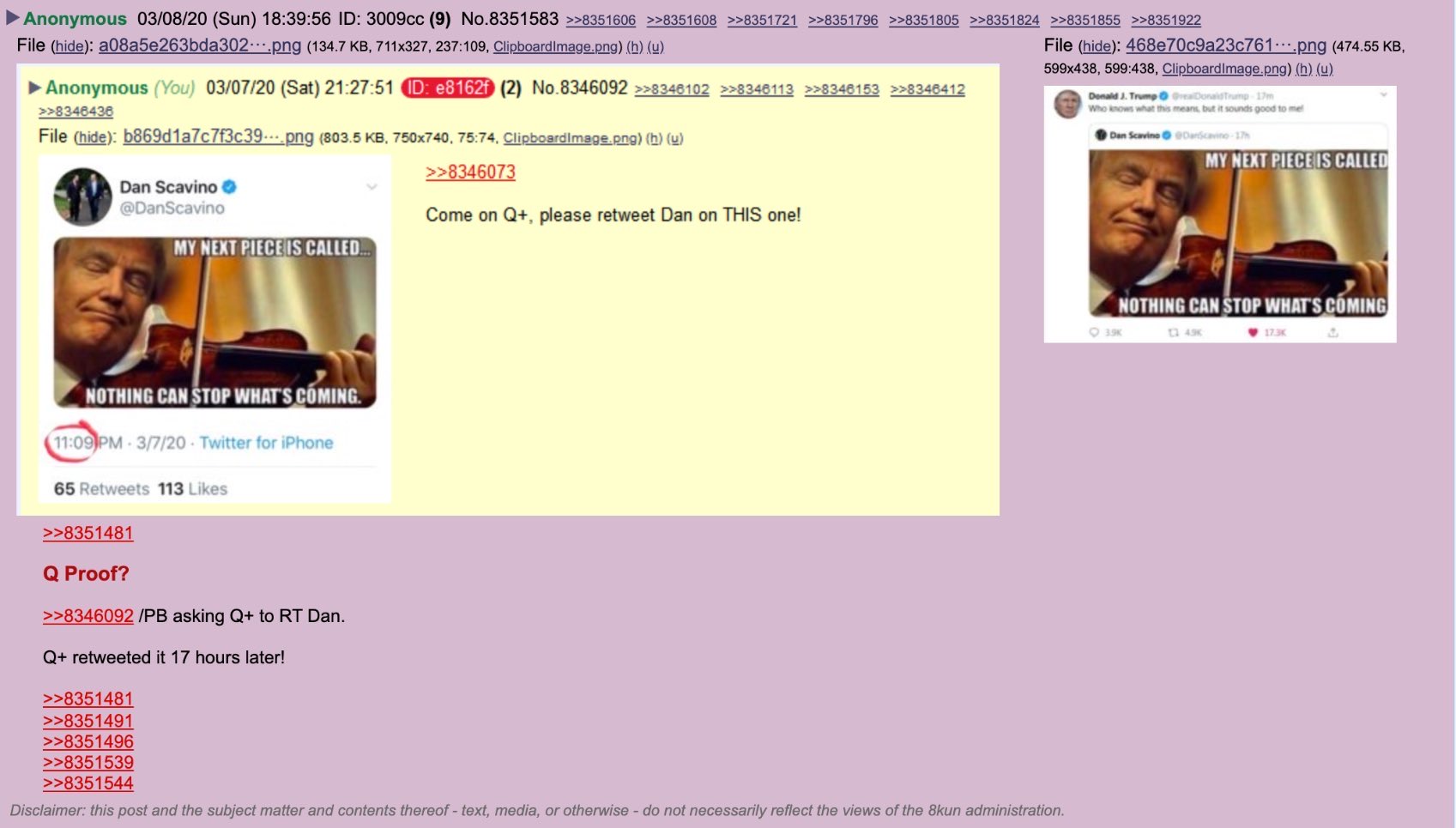 Image Name:
PainComing.jpg
Filename:
9b8e6c188f2b2bb2ed2fde303f61d867802cde64af827ae43194c890c1adb207.jpg
The documents included one study that listed CDC official Andres Velasco-Villa listed by name.
The study shows US and Ukrainian officials studying insectivorous bats in Ukraine and detection of emerging viral and baterial pathogens including coronavirus.
So it wasn't just Wuhan.
The US was also funding bat research on coronavirus in Ukraine too!
Source: thegatewaypundit.com
No one is debunking what Russia said!
The world is watching. 
Represenative of Brazil: any accusations of violations of the BWC are very serious and as such must be thoroughly substantiated and investigated by an independent investigation.  Brazil believes, that research should be kept distinct of the development of biological weapons should the BWC be kept intact.  We believe a Multilateral verifaction, as described by the BWC, be used to investigate these allegations.
BRICS is solid as rock. They want to get to the bottom of what's going in Ukraine.
Representative of China: the situtation in Ukraine is rapidly evolving. It is full of complexities.  Recently Russia and Ukraine have held many negotiations and high level peace talks.  China attaches great importance with Biological weapons and WMD's. We condemn any country participating in these programs and encourage any country to destroy these weapons should there be any. To uphold Biological Weapons Convention should be upheld and Russia's evidence should be taken serioulsy with multilateral verification
Representative of China: The US has 336 laboratories around the world. This comes directly from the US.  If they deny these allegations they need to present relevant evidence to conclude these allegations are false for all the nations at the council
The world criminals will never admit that they committed crimes, if you are expecting this, this will not happen, they will continue deny all of this until the very end. 
So are we witnessing, the drip of information, the truth is some time difficult to accept, so it has to be introduced slowly, and while the truth is being introduced you need the guilty to continually deny it, these denials will be on the record. Then you continue to drip the facts out and people start to question the denials and in the end the deniers are the liers. 
So Russia makes their case and the almost all of the UN Security Council comes out in opposition saying they have not presented any evidence. So now the UN, the Biden admin, the MSM, basically the entirety of the political establishment is on record denying that the US was doing anything nefarious with biological research in Ukraine.
859
Q
!UW.yye1fxo
03/06/2018 11:04:43
 ID: 3c553f
Archive Bread/Post Links: 567140 / 567502
Direct Link: 567502
Anonymous
03/06/2018 11:00:44
ID:9f1a01
Archive Bread/Post Links: 567140 / 567454
Direct Link: 567454
Image Name:
kobe-steel.png
Filename:
0d688fb6941033c3ba9e2b5a0241be38126373145b4784c157bcf72c38d152ec.png
 Trump said on March 10 that Russia's invasion of Ukraine "truly is a crime against humanity" that "never would have happened" if he were still in office.
"I'm looking at these scenes on television of things that are happening, and nobody can believe them," Trump told host Sean Hannity. "So something has to happen, Sean. This can't continue. This … truly is a crime against humanity. This is something that has to end, and it has to end soon.
"The problem with Putin, he's got a very big ego, and if he ends now in most forms, if he ends now, it's going to look like a big loss for him. Even if he takes a little extra territory. I'll tell you, Sean, it's a little hard for Ukraine also, because they are actually doing well, and they would like to see if they could have our country back, but also, what are they getting? They are getting all of these cities, look like they're almost completely bombed to the ground," Trump continued.
Source: theepochtimes.com
4076
Q
!!Hs1Jq13jV6
05/02/2020 18:34:06
 ID: 768ebf
Archive Bread/Post Links: 9003719 / 9004278
Direct Link: 9004278