Big Lie Is About To Be Revealed,Military Conducting Background Checks,Sleepers Removed – Ep. 2575
Watch The X22 Report On Video
The [CB]/Ds are trying to push a tax bill that will make everyone taxes increase. Trump warned the people about this. Small business are going to get hit hard, this is part of the Great Reset plan. The push to get rid of unvaccinated employees is part of the Great Reset Plan. Inflation is coming, [CB] panicking over Cryptocurrency. The patriots have the [DS] exactly where they want them, they know their next move it is all part of devolution. While the [DS] is planning their defensive events, the military has been conducting background checks to identify the sleepers. Those who have the ability to access classified information and are part of the swamp will be removed. The big lie is about to revealed and the [DS] is ready to block this information. Planned along time ago the patriots are ready to expose the [DS] to the world.
---
Economy
House Democrats seek to hike top income tax rate to nearly 40%
H

ouse Democrats have outlined plans to raise the top marginal income tax rate from 37% to 39.6% as part of a wide menu of tax increases to pay for their multitrillion-dollar spending package.
The hike would affect individuals making over $400,000 or married couples filing jointly who bring in more than $450,000 in annual income, according to materials released by Democrats on the Ways and Means Committee.
Source: washingtonexaminer.com
In releasing the framework for their $3.5 trillion spending bill, Democrats claimed their legislation would include language to "prohibit tax increases on…small businesses." But the budget Democrats passed includes no such prohibition, and it's not difficult to understand why.
President Biden—who has used questionable tactics to reduce his family's tax bills by nearly $517,000 over the past four years—has proposed raising taxes on millions of businesses, most of them small firms. And Senate Finance Committee Chairman Ron Wyden, D-Oregon, included a proposal for similar revenue hikes in a menu of potential tax increases he recently released.
Joe Biden's Tax Dodging
Both issues relate to S-corporations, in which the business' income gets passed through to the owners' federal tax returns. Under current law, S-corporation owners pay themselves salaries, and can receive profit distributions from the corporation at year's end. While the salaries are subject to full income and payroll taxes, the profit distributions are exempt from federal payroll taxes.
This policy makes sense for many small businesses—for instance, a local pizza parlor or a small manufacturer. Because these businesses face so many variables—costs for utilities and supplies, and uncertain demand, among others—these owners pay themselves salaries not knowing whether they will earn a profit at year's end or not.
Biden and his wife Jill used this system to avoid paying more than half a million dollars in payroll taxes. They each established S-corporations, the CelticCapri Corporation and the Giacoppa Corporation, to characterize more than $13.6 million in book and speech income as corporate profits rather than wages. These tactics, which Jill Biden used as recently as last year, allowed them to avoid more than $394,000 in Medicare payroll taxes, along with an additional $122,000 in payroll taxes imposed by Obamacare.
The Bidens' tactics are not per se illegal; 
Given that Biden received a reported $8 million book advance in 2017, and $9.6 million in total income, his salary that year of only $145,833 would appear to violate IRS requirements that corporate owners pay themselves "reasonable compensation" in salary, rather than receiving most or all of their income as corporate profits exempt from payroll taxes.
 
Source: thefederalist.com
Inflation is running hotter than expected amid ongoing supply chain disruptions and a shortage of semiconductors, the chief financial officer of 3M said Monday.
The company has been raising prices for its goods but "we are seeing inflation outstrip price," Patolawala said.
Source: breitbart.com
An article titled, "Welcome To 2030: I Own Nothing, Have No Privacy and Life Has Never Been Better" appeared in Forbes Magazine8 in November 2016. It was written by Ida Auken, a member of the Denmark Parliament9 and agenda contributor at the World Economic Forum (WEF).10The article was frightening in the simplistic way it describes the dissolution of society as we know it. And, as time marches forward, we see more evidence of what the WEF has proposed as "perfect sense"11 coming true.Ivan Wecke, a journalist from Open Democracy, did a deep dive into some of what lies behind the WEF's Great Reset plan and found what he called something "almost as sinister hiding in plain sight. In fact, more sinister because it's real and it's happening now. And it involves things as fundamental as our food, our data and our vaccines."15  Great Reset will use the virus to solve overpopulation and enslave the remainder of humanity as "nebulous and hard to pin down," he goes on to illustrate in detail how

the fundamental structure of the world that controls food and data, and ultimately humanity, is being upended and restructured so that private corporations have more control and influence than governments.

WEF Calls It 'Stakeholder Capitalism'

It comes down to "stakeholder capitalism," which are the magic words that Klaus Schwab, WEF chairman, has been promoting for decades, and is a central theme in the organization's Great Reset plan.16 The concept as Wecke describes it is to transform global capitalism, so corporations create value for stakeholders.17These stakeholders can be consumers, employees, communities and others. This will be carried out through multi-stakeholder partnerships of governments and private-sector businesses across the globe. As he dug deeper into the concept, it became more apparent that this means giving corporations more power and taking that influence away from democratically elected institutions.

These partners are some of the biggest companies in oil, food, technology and pharmaceuticals. 
Source: sott.net
EL SALVADOR TO EXEMPT FOREIGNER INVESTORS FROM TAX ON BITCOIN PRICE GAINS
"There will be no taxes to pay on either the capital increase or the income," the legal adviser to President Nayib Bukele said.
  "If a person has assets in bitcoin and makes high profits, there will be no tax. This (is done) obviously to encourage foreign investment.""There will be no taxes to pay on either the capital increase or the income,"
Source: bitcoinmagazine.com
Alerts and story on Walmart to accept Litecoin payments withdrawn
Alerts and story on Walmart announcing a partnership with Litecoin are wrong and have been withdrawn, after Walmart confirms to Reuters that the press release was fake.
Walmart says crypto payments announcement is fake. Litecoin tumbles after spike
Source: reuters.com
---
Political/Rights
Source: beckernews.com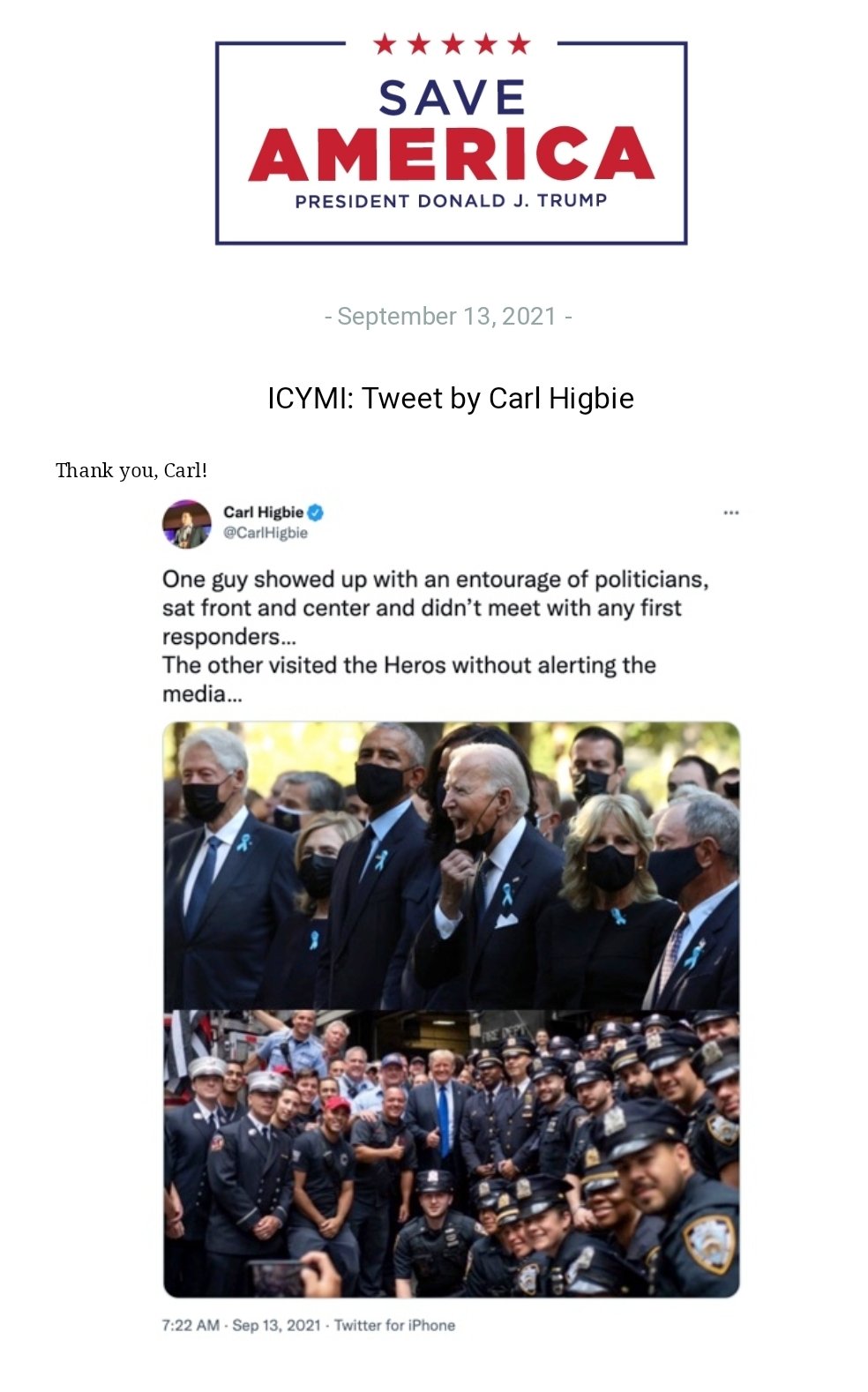 "Oh, that's a tough question," he said when asked by an officer if he would campaign for the White House again during a visit to the 17th precinct near Trump Tower in Manhattan on Saturday.
Eastlake High School in Sammamish, Washington, canceled plans for students to wear patriotic attire on 9/11 over concerns that wearing red, white and blue could be perceived as "racially insensitive."
Plans for students to dress in a Patriot's Day theme for a football game at Memorial Stadium were scrapped at the last minute over complaints by an unnamed staffer.
Though some students still dressed up, it was not endorsed or supported by the school.
In an email from Principal Chris Bede obtained by KTTH, he stated that the colors could "unintentionally cause offense to some who see it differently."
 n.
Source: thegatewaypundit.com
 Actress and activist Rose McGowan joined California Republican gubernatorial candidate Larry Elder on the campaign trail on Sunday, accusing incumbent Gov. Gavin Newsom's wife of attempts to silence McGowan over allegations against Harvey Weinstein.
McGowen said that six months before McGowan went public with charges of sexual misconduct against the disgraced Hollywood producer, Newsom's wife, Jennifer Siebel, tried to offer hush money to the actress to remain quiet in 2017.
"I finally came to a point where I am not a Democrat," McGowan said alongside Elder, "because everyone who has harassed, stalked, and stolen from me in my time in Hollywood has been a Democrat."
McGowan said Siebel tried to offer the actress payments from Weinstein attorney David Boies as a bribe for silent compliance.
Source: thefederalist.com
The Democrats are pulling out all the stops to keep California Governor Newsom in the chair after more than 1.5 million people signed a petition to boot him out of office.
Countless Republicans in the San Fernando Valley had trouble casting their recall ballots and were told they had already voted – even though they had not.
Voters were forced to fill out provisional ballots after they were told the computers showed they already cast their ballots.
Estelle Bender, 88, a Republican, told KTLA 5 that she spoke with many others in the same polling place and they were all told incorrectly that they had already voted.
The one thing all voters had in common? They are all Republicans.
Source: thegatewaypundit.com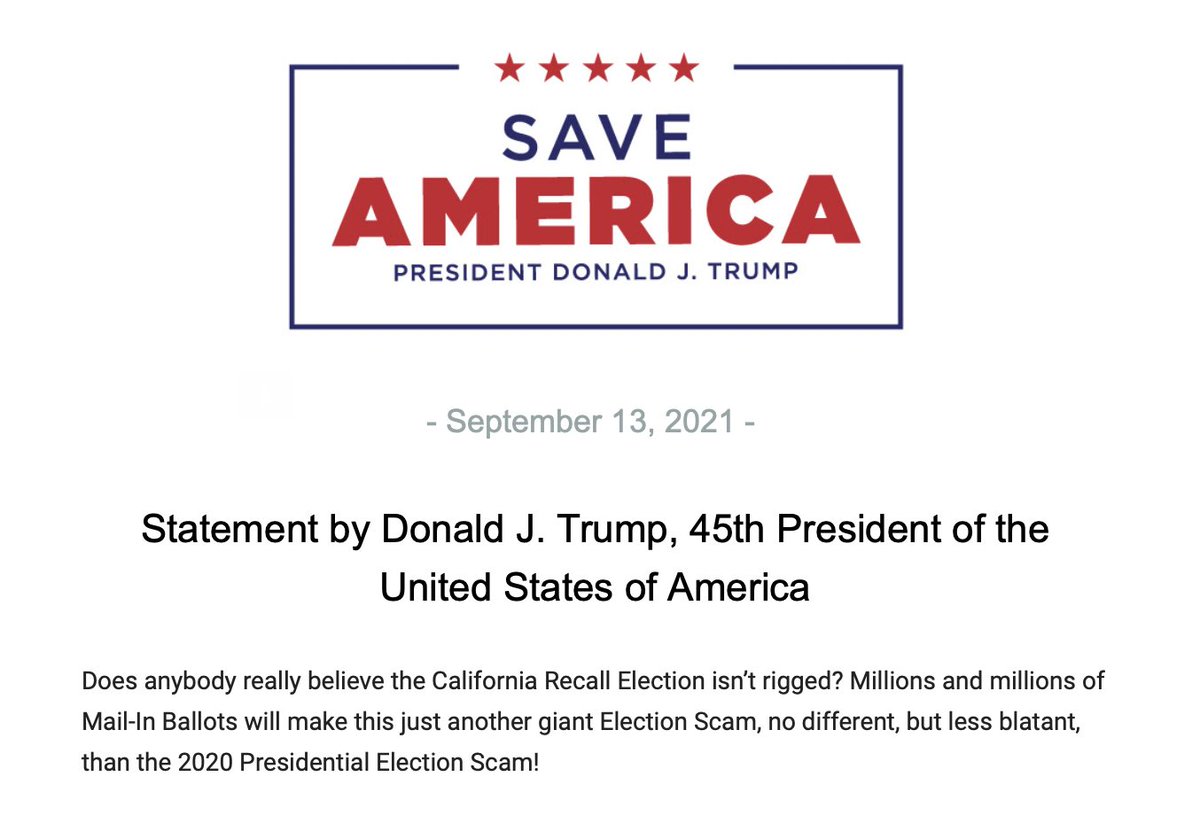 FEC Reportedly Decides Twitter Did Nothing Wrong Suppressing True Hunter Biden Laptop Story
The Federal Election Commission reportedly ruled in August that Twitter did not violate election laws by blocking users from sharing a New York Post article based on a cryptographically authentic email from Hunter Biden's laptop less than a month before the 2020 presidential election.
The FEC ruled that Twitter had "credibly explained" its move to temporarily block the New York Post story from being shared on its platform, according to The New York Times, which obtained an unreleased document outlining the commission's decision to dismiss a complaint filed by the Republican National Committee in October alleging that Twitter's censorship of the story was an "illegal in-kind contribution" to then-candidate Joe Biden's presidential campaign.
Source: dailycaller.com
---
Geopolitical/Police State
REUTERS: Stanford professors ask Justice Department to end program looking for Chinese spies in academia

— Josh Caplan (@joshdcaplan) September 13, 2021
---
War
 The U.S. has removed its most advanced missile defense system and Patriot batteries from Saudi Arabia in recent weeks, even as the kingdom faced continued air attacks from Yemen's Houthi rebels, satellite photos analyzed by The Associated Press show.
The redeployment of the defenses from Prince Sultan Air Base outside of Riyadh came as America's Gulf Arab allies nervously watched the chaotic withdrawal of U.S. troops from Afghanistan, including their last-minute evacuations from Kabul's besieged international airport.
Source: thegatewaypundit.com
---
False Flags
Biden's vaccine mandate proposal is unconstitutional. Period.

— Mike Pompeo (@mikepompeo) September 13, 2021
Mandates are not laws
Mandate is unconstitutional, the constitution is the law of the land, any "Law" repugnant to the constitution is null and void (Marbury v. Madison (1803))
If you're keeping score, the virus is so deadly, so dangerous, and the vaccine so "safe and effective", that:
• Obama had a birthday bash with hundreds of unmasked people, and they were directed not to post pics of the event.
• Members of congress and their staff are exempt from the current vaccine mandate.
• Immigrants coming through the southern border are exempt from the current vaccine mandate.
• Mask mandates, portrayed as dire, have gone into effect "in three days", "next Monday", etc.
• NSW was caught using crisis actors for their sob-fest "get the vaccine" propaganda news stories.
• Ivermectin is on the WHO's list of essential medicines, used every day for hundreds of millions of humans for other ailments, but all news outlets have labeled it "horse dewormer" and anyone who uses it a quack.
• The hospital reported as turning away gunshot victims because they're overrun with ivermectin overdoses had to release a statement as to the falsehood of that report.
• Anthony Fauci, expert on all things virus and vaccine related, won't answer the question if people who've had Covid need the vaccine.
• Boy's photo is used in multiple random stories as youngest Covid death.
• The virus is so dangerous, masks can be removed at restaurant tables, but not while walking to table.
• Despite millions of Americans being vaccinated, Covid cases are higher this year than last.
Feel free to add to the list…
If you understood or remembered only one thing from George Orwell's dystopian novel "1984," I'd hope it would be that the totalitarian government redefined the language in order to influence thought.https://t.co/KDeov0tpjE

— Thomas Massie (@RepThomasMassie) September 12, 2021
---
Q
BREAKING: North Atlanta Gwinnett County GOP Passes Resolution For Full Forensic Audit Of 2020 Election In Suspect Counties
Against GOP Establishment pressure, the Northeast Atlanta county of Gwinnett GOP passed a resolution last Thursday for an independent full forensic audit of the 2020 U.S. general election results in certain suspect Georgia counties.
Source: cdmedia.com
North Korea test-fired new long-range cruise missiles over the weekend and hit targets 1,500 km away, Yonhap reported.
The test firings took place on Saturday and Sunday in yet another provocation amid strained relations with the Biden White House.
Source: thegatewaypundit.com

Al-Qaeda leader Ayman al-Zawahiri, who took over leadership of the terrorist organization after the death of Osama bin Laden, has appeared in a video released on the 20th anniversary of the September 11 attacks.
Zawahiri was believed to be dead, but referenced events that took place after he was said to have been killed. ​​"Amid rumors of his death, Al-Qaeda leader Ayman al-Zawahiri shown in a new 60-minute video, t
Source: thegatewaypundit.com
Man arrested with bayonet and machete near DNC headquarters in D.C., police say
2381
Q
!!mG7VJxZNCI
10/09/2018 21:42:13
 ID:
Archive Bread/Post Links: 62 / 373
Direct Link: 373
3881
Q
!!Hs1Jq13jV6
02/24/2020 20:36:43
 ID: b03e04
Archive Bread/Post Links: 8238704 / 8238822
Direct Link: 8238822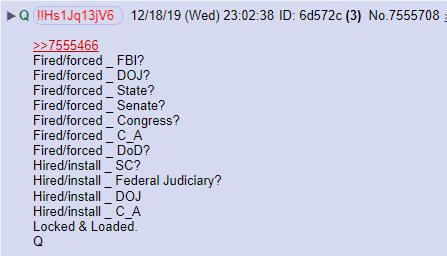 Image Name:
EMHyS2xXkAA8JrB.png
Filename:
949e3daf5c71034147661bc1294db3f17b4e3aca5419cc7358fb769c1a0f2c0a.png