Decisions Need To Be Made,Change Is Coming,What Happens When The Public Learns The Truth? – Ep. 2824
Podcast: Download (Duration: 1:04:30 — 28.2MB)
Watch The X22 Report On Video
The criminal syndicate that was put into place by the [CB] is now being dismantled which means the [CB] system is being dismantled. The Green New Deal is exposing itself and the people are beginning to realize this will not benefit them in the end. The [CB] system is coming to end. The [DS] has now failed in everything they have tried. Each lie is being exposed, the public is now learning the truth and when the people understand and see the truth it is game over for the [DS] players. They see the writing on the wall, and they only thing they have left is chaos, which they will use, but this is going to fail like everything else. Chaos does not startle the patriots. Trump mentions decisions need to be made. Change is coming.
---
Economy
Italian prime minister Mario Draghi resigns
It comes after he lost the support of his coalition party 

UPDATE – Italy's president rejects PM Draghi's resignation, asks Draghi to address parliament in order to gauge political situation.
Inflation, Inflation, Inflation, and it was all so avoidable!!!
Trade among BRICS countries soaring – data
Economic cooperation between Brazil, Russia, India, China, and South Africa has been surging, Chinese customs data shows
China's foreign trade with other BRICS member states amounted to 1.64 trillion yuan ($244 billion) in the first half of the year, up 14.1% in annual terms, according to data from the General Administration of Customs of China (GACC), as cited by the Global Times on Wednesday.
The data shows that the value of exports reached 817.18 billion yuan ($121 billion), jumping 20.6%. The value of imports was also up, by 8.3% to 825.82 billion yuan (around $123 billion).
BRICS, a five-nation economic bloc that includes Brazil, Russia, India, China, and South Africa, was established in 2006. It has more than a 16% share in global trade and represents more than 40% of the world's population.
Source: rt.com
---
Political/Rights
  Kevin Spacey made his second appearance at a court in London and pleaded not guilty to the multiple sexual-assault charges he's facing there. The offenses, which include four charges of sexual assault against three men and one charge of causing a person to nonconsensually engage in penetrative sexual activity, a
 over 30 men have come forward with accusations, ranging from nonconsensual groping to the attempted rape of minors.
Source: thecut.com
Q

 

!!Hs1Jq13jV6

 

ID: d520c5

 No.9999604

cover7.jpg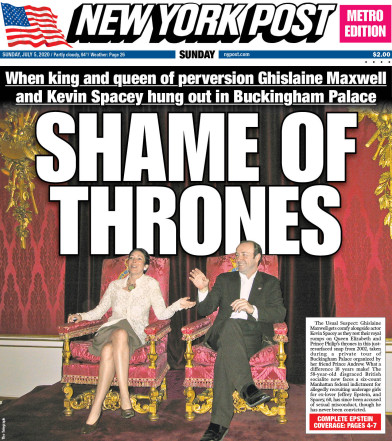 MSNBC posted a video online claiming that a Berkeley law professor "rebuked" Republican Missouri Sen. Josh Hawley during congressional hearings Tuesday, according to the news outlet's TikTok page. Users in the comments section proceeded to rebuke the professor, instead of Hawley.
During congressional hearings Tuesday, Hawley questioned University of California-Berkeley professor Khiara Bridges on whether the phrase "people with the capacity for pregnancy" referred to women. The professor proceeded to call Hawley's line of question "transphobic" because she believes "transgender men" and "non-binary people" have the ability to get pregnant.  
MSNBC posted the back-and-forth on TikTok and garnered 7.2 million views on the social media platform. MSNBC captioned the exchange, "Berkeley law professor, Khiara Bridges rebuked Sen. Josh Hawley during a Senate hearing accusing him of making transphobic remarks."
The left-leaning news outlet's comments section largely favored Hawley's position and mocked the professor's comments.
"She lost, badly," comedian Brent Pella said. Pella's comment garnered more than 25,000 likes.
"Lmao she started to attacking [sic] him knowing that she will lose," one user said.
Another user said that Hawley "owned this convo. No doubt."
Source: dailycaller.com
House Democrats appear to be unconcerned about the optics of shutting down an effort to increase penalties for child sex traffickers in an election year.
Source: beckernews.com
Ahigh-level U.S. Postal Service official appointed under President Joe Biden was caught during a child sex sting, admitting "I'm a pedophile" on camera.
Russell Rappel-Schmid, the Chief Data Officer for the U.S. Postal Regulatory Commission (PRC), was caught in San Diego, California attempting to meet a 14-year-old boy for sex.
The PRC is responsible for overseeing the U.S. Postal Service (USPS) – which deals with mail-in ballots during election season – and Rappel-Schmid was tasked with running the commission's data management and compliance with the OPEN Government Data Act.
Source: nationalpulse.com
Lets put the 10 year old abortion push into perspective.
Roe v Wade was reversed
The Ds wanted to make a point about abortion, so they needed a story to tell. They chose a 10 year old that was pregnant and lived in Ohio and she needed to Go to Indiana to get the abortion. There was one problem with the story, she was raped, not just raped, raped by an illegal.
So to keep the story and use this politically they could not reveal that she was raped by an illegal, so the instructed the AG, proscecutor, police not to reveal information on the case. They protected the rapist
People started to look into the story and there was not evidence of this, there was no information, so people were saying that this really didn't happen.
To show that it really happened they revealed that this 10 year old girl was raped, this is where their agenda failed.
Since they had to prove that this was real people saw the truth, she was raped by an illegal, the D hid the information and she did not need to go to Indiana to get the abortion, she could have done it in Ohio, because the law says if a person is raped the abortion is allowed.
  the abortion Doctor still lied- the child didnt NEED to cross state lines from Ohio to Indiana b/c state law in Ohio allows for the rape exception. The minor was trafficked across state lines to HIDE THE CRIME, .  
There entire agenda completely fell apart and now people see how sick these people are.
One of the two illegal aliens accused of plotting a mass shooting on the Fourth of July is allegedly linked to a Mexican drug cartel, court records reveal.
  52-year-old illegal alien Julio Alvardo Dubon and 38-year-old illegal alien Rolman Balacarcel Ac, both Guatemalan nationals, were arrested by the Richmond Police Department for allegedly plotting a mass shooting at the city's July 4th celebration in the Dogwood Dell Amphitheater in Richmond, Virginia.
Dubon had been awarded $15,000 bail by a judge, but that has since been revoked. Both are now in the Richmond City Jail with no bail.
Source: breitbart.com
---
Geopolitical/Police State
Twitter experienced a global outage with users encountering error messages and being unable to log in to the social media app.
The social media site was down early Thursday with a message popping suggesting an 'internal error' was to blame. Issues started with the service at around 8:05 AM ET, with many users reporting "over capacity" error messages, and errors saying "this page is down." The issues are affecting Twitter web, mobile, and the company's TweetDeck app.
Twitter has started to come back to life, with many able to tweet beginning around 8:40AM ET.
Source: thegatewaypundit.com
Uvalde officer checking 'Punisher' phone ID'ed as husband of slain teacher Eva Mireles: Texas pol https://t.co/lywW6a6SeQ pic.twitter.com/d6p79AoaED

— New York Post (@nypost) July 13, 2022
Draghi lost his colation, he resigned
Sri Lanka President fled his country
Boris Johnson was pushed out and resigned
Will Macron be next, he lost his colation
So who will replace Boris Johnson, 
The anti-critical race theory campaigner @kemibadenoch could be the next Prime Minister of the UK. Listen to her incredible speech denouncing CRT: pic.twitter.com/YSPfvT0cc2

— Christopher F. Rufo ⚔️ (@realchrisrufo) July 13, 2022
---
War
AHEAD OF A contentious final vote on the 2023 National Defense Authorization Act, or NDAA, Rep. Ilhan Omar, D-Minn., introduced an eleventh-hour amendment seeking to prevent a collapse of U.S. humanitarian aid to millions of Afghans. The amendment came in response to language in the military spending bill that prohibits Defense Department funds from being used to "transport currency or other items of value to the Taliban, the Islamic Emirate of Afghanistan, or any subsidiary, agent, or instrumentality of either the Taliban or the Islamic Emirate of Afghanistan," effectively halting American aid to the Taliban-controlled country.
While the bill's language places emphasis on banning the transport of currency, it will also block Defense Department planes from transporting nearly every conceivable good — including food and lifesaving medical supplies — to Afghanistan, where tens of millions of people currently face starvation and medicine shortages. A major earthquake last month brought in a flurry of international assistance, including humanitarian aid from the U.S. military — help that would be barred by the new legislation.
Source: theintercept.com
This should be done with Ukraine, no more more money should be sent
Biden calls Ukraine a democracy.
1. Under Martial law
2. Banned all oppositional parties
3. Banned all oppositional media
4. Tortured it's Russian minority population
5. Not allowing it's male population to leave.

If that's a democracy, so is Iran, China, Bill Nye, North Korea pic.twitter.com/CCKd3w7HFF

— Adam Townsend (@adamscrabble) July 14, 2022
---
Cyber Attacks
---
False Flags
NEW YORK CITY — Residents storm the Children's vaccine center in Times Square and find that it's largely run by Chinese personnel.
New Mask Mandate Imminent In Los Angeles County
 A reintroduction of universal forced masking in Los Angeles appears to be imminent after the county's public health director warned it may return soon, citing increasing levels of Covid-19 transmission for the rationale.
Public Health Director Barbara Ferrer reportedly told the LA County Board of Supervisors she expects transmission of the Chinese coronavirus to move into the U.S. Centers for Disease Control and Prevention's defined "high" activity category within days.
Source: bigleaguepolitics.com
According to the Department of Defense website, at least 268,858 service members as of July 13 are still not in compliance with Defense Secretary Lloyd Austin's August 2021 mandate for every member of the military to be fully vaccinated with two doses of a vaccine. That figure does not count the thousands who have not taken any doses.
Only about 20,000 of the more than 260,000 have received a temporary or permanent exemption, according to the latest statistics provided by the services. That means the rest face discharge from the military at a time the services are struggling to find new recruits.
Rep. John Rose (R-TN), who cosponsored Massie's amendment, tweeted, "The president needs to stop putting partisan, left-wing politics ahead of our military's readiness."
Source: breitbart.com
A District Court for the Southern District of Ohio on Thursday morning issued a temporary restraining order prohibiting the Air Force from enforcing the vaccine mandate against any airman who has filed a request for a religious accommodation, according to court documents.
Judge Matthew W. McFarland granted a motion brought by airmen to extend a court order from March that prohibited the Air Force from disciplining or separating plaintiffs fighting the mandate based on their religious beliefs to all airmen who filed requests for religious accommodation as a "class."
The court order is a temporary restraining order (TRO), which is an emergency measure to preserve the status quo for up to 14 days while the judge is considering granting a preliminary injunction (PI), which would in turn last through the entire litigation process. If the judge continues to believe that the mandate is illegal, then the court will convert the TRO to a PI at the end of that window, effectively protecting all of these service members while the Biden administration appeals the decision to the Sixth Circuit appellate court.
T
Source: breitbart.com