Define Insurgency? Define Counterinsurgency, Operational Confirmed – Ep. 2872
Podcast: Download (Duration: 1:06:21 — 28.6MB)
Watch The X22 Report On Video
The people are now running out of savings, they are resorting to credit, the people are being brought to the precipice. The people are not with the [CB]/[D]s, people are not going along with the loan forgiveness. Why hasn't the Ds remove the Trump tax cut, they said they were going to do it. The [DS] is panicking, they have deployed all assets, they are going after Trump with everything they have, this is exactly what the patriots want. This exposes the true agenda of the [DS], sometimes people need to see it to believe it. Trump is making countermoves and each time the [DS] fights against it, it shows how they are not following the rule of law. Scavino has now confirmed that we are operational, the [DS] is continuing their narrative of domestic terrorists. This is not going to end well for them and their foot soldiers. Define Insurgency, Define Counterinsurgency?
---
Economy
Americans added $67.1 billion in new debt during the second quarter of 2022, a new record, according to a study released Monday.
The study, based on an analysis of data from TransUnion, the Federal Reserve, and Bureau of Labor Statistics, found that the average American household has roughly $8,942 in credit card debt. This figure is just $3,000 below WalletHub's projected "breaking point" for our household finances.
The new debt increase is 3.5 times bigger than the post-Great Recession average for the second quarter of a year, according to a study conducted by WalletHub.
California ranked highest overall for total credit card debt increase, with Texas, Florida, New York, and Illinois rounding out the top five states, WalletHub noted. The study was based on an analysis of data from TransUnion, the Federal Reserve, and Bureau of Labor Statistics.
The trend follows predictions made by economic prophet Michael Burry, who said that U.S. households would exhaust all savings by Christmas 2022 as credit card balances rise because "consumers choose violence rather than [cutting] back on spending in the face of inflation. 
Source: dailycaller.com
A majority of voters are saying they are less likely to support candidates running for office if they favor the Biden administration's student loan forgiveness plan, according to a Convention of States Action poll.
More than 55% of voters are "less likely" to back a candidate who is in favor of the Biden administration's student loan forgiveness plan, with about 31% saying they are "much more likely" to support those who backed the president's plan, according to a Convention of States' Action poll. Among independent voters, 64.6% say they are "less likely" to choose candidates who back the forgiveness plan.  
Source: dailycaller.com
Trump retruthed this article
Yet one surprise about the new tax law is not yet making headlines. In passing their own version of tax reform, the Democrats left the 2017 Tax Cuts and Jobs Act completely intact, despite five years of promises to repeal it. No less than President Biden himself made a campaign promise that "on Day 1, I will move to eliminate Trump's tax cuts."
Source: nypost.com
---
Political/Rights
Seven of the 19 Islamic terrorists who hijacked commercial planes on September 11, 2001 (9/11), killing nearly 3,000 Americans, remained in the United States after overstaying their visas thanks to a wide-open loophole that continues to allow about 685,000 illegal aliens to stay in the U.S.
In total, all 19 terrorists arrived legally in the U.S. as 16 secured tourist visas and three obtained business and student visas. Eventually, on September 11, the terrorists executed attacks in New York City, New York, Washington, DC, and Pennsylvania that killed 2,977 Americans and have since left thousands more Americans dead with illnesses related to the attacks.
Seven of the 19 terrorists overstayed their visas either before the attacks or at the time of the attacks. Despite U.S. immigration law requiring their detainment and potential deportation, none were detained or deported.
Today, that visa overstay loophole used by seven of the 9/11 terrorists remains wide open and even larger than decades ago. In the Department of Homeland Security's (DHS) latest report on the loophole, officials revealed that nearly 685,000 illegal aliens are in the U.S. after overstaying their visas.
DHS continues to have little-to-no resources for deporting visa overstays despite the 9/11 Commission calling for a rigorous biometric entry/exit system to track all visa-holders in the U.S. and whether or not they have left the country at their required date of departure.
The 9/11 Commission report urged:
Source: breitbart.com
  a young mother of two was beheaded in front of horrified witnesses in San Carlos, California.
The suspect, identified as Jose Landaeta Solano, severed his ex's head with what was described as a "samurai sword."
The victim, who had not been identified at the time, had a restraining order against Solano, according to the outlet.
The killer was in the country illegally.
Source: thegatewaypundit.com
---
Geopolitical/Police State
Using a new four-digit merchant category code, credit card companies will now categorize any purchases at gun ammunition stores, regardless if those purchases are of firearms or not, as separate from other shopping. If the credit card companies deem any of those transactions suspect, they will report them to local law enforcement agencies.
Visa, Mastercard, and AmEx all adopted the new standards on Saturday shortly after the International Organization for Standardization (ISO), which is known for setting standards for Western business transactions, approved the change regarding gun store purchases on Friday.
The ISO's decision came at the behest of anti-gun activists and Democrat lawmakers, including Sen. Elizabeth Warren, who just one week prior, demanded financial CEOs be their eyes and ears when it comes to "certain types of suspicious activities including straw purchases and unlawful bulk purchases that could be used in the commission of domestic terrorist acts or gun trafficking schemes."
 New York Attorney General Letitia James, celebrated involving credit card companies in the left's push to crackdown on gun buyers and sellers as "a big victory."
Source: thefederalist.com
What has the [DS] been trying to do from the beginning ban firearms and remove the 2nd amendment
1. Obama tried with FF mass shooting to push the UN Arms treaty that would setup and database of everyperson that purchased a firearm
2. They tried passing gun laws, this has all failed.
3. Now the [DS]/[D]s are working with financial institutions just like they are working with big tech. They are now knowingly going to violate the peoples 1st and 2nd amendment
4. This is facism, the banking system can record all purchases, this data will be used to locate the people who have weapons. People will says they need a search warrant, they can't ask for this data, this is the criminal syndicate, they don't follow the rule of law
fascism 
/

ˈ

fæˌʃɪzəm/
noun
Britannica Dictionary definition of FASCISM
1 
or Fascism : a way of organizing a society in which a government ruled by a dictator controls the lives of the people and in which people are not allowed to disagree with the government
the rise of Fascism in Europe before World War II
2 
: very harsh control or authority
5. Their end goal is to go after the weapons,
---
False Flags
It's just a mask.
It's just 6 feet.
It's just a fine.
It's just a job.
It's just your business.
It's just a shot.
It's just a booster.
It's just a passport.
It's just an app.
It's just a tracking code.
It's just a mandate.
It's just a raid.
It's just a gun ban.
It's just a mail-in ballot.
It's just misinformation.
It's just the end of America.
---
Q
When Biden says unity, he means compliance and submission.

When he talks about protecting the future of democracy on 9/11, he's again confirming his regime's war on terror against the Right. https://t.co/awC2L5c5Zy

— Julie Kelly 🇺🇸 (@julie_kelly2) September 12, 2022
In honor of the 21st anniversary of the attacks on the World Trade Center, Human Events Daily's Jack Posobiec posted a photo of Donald Trump visiting Ground Zero in 2001. In response to the Instagram post, showing Trump at that horrific scene so many years ago, Instagram posted a "fact-check," reading: "Missing Context. The same information was reviewed by independent fact-checkers in another post."Posobiec's comment was "No one told him to go. He went anyway." The photo is credited to Getty Images. The fact-check was posted on the photo, despite no claims being made other than that Trump was there. Instagram's parent Meta's algorithms appear to be looking to discredit Trump, even when there is nothing to discredit.

Opening up the message brings readers to a fact-check showing two fact checks. Lead Stories says that the conclusion of their fact check is that the post has "missing context," by which they explain that there is "No evidence that Donald Trump paid hundreds of workers to help with search and rescue after 9/11." This is a fact check on a photo showing Trump at the site of the terrorist attack in 2001. It made no claims other than that he was there, which he was.

A fact-check from Snopes states that their conclusion is that the post is "partly false," giving as "more information" the question "Was Donald Trump at Ground Zero searching for survivors two days at 9/11 with workers he paid for?" This on a fact-check of a photo which made no additional claims. Snopes' rating as to whether or not Trump brought employees down to Ground Zero is recorded as "unproven."

Trump said in 2001 that "I have a lot of men down here right now. We have over 100 and we have 125 coming. So we'll have a couple of hundred people down here." He added: "We will be involved in some form helping to reconstruct."

The reconstruction efforts were led by the City of New York, and Larry Silverstein, who was the existing developer of the property.

At a 2016 speaking event in Buffalo, NY, Trump said "Everyone who helped clear the rubble — and I was there, and I watched, and I helped a little bit — but I want to tell you: Those people were amazing. Clearing the rubble. Trying to find additional lives. You didn't know what was going to come down on all of us — and they handled it."

Trump was a private citizen in 2001, a native New Yorker, and a local businessman.
Source: thepostmillenial.com
Trump hits DC golf course with son Eric and plays down indictment rumors by calling his surprise Washington trip 'a working trip': Ex-president calls FBI raid probe a 'misguided storage dispute that has spiraled out of control'
 Former President Donald Trump was photographed golfing with a large entourage on Monday morning
He appeared to be enjoying himself while four of his lawyers responded to the Justice Department's rebuttal to Trump's request for a special master to look through everything seized from Mar-a-Lago
    
Trump National Golf Club Washington D.C. | Northern Virginia Top Club

Trump National Golf Club Washington D.C is a family oriented private club offering members two world-class golf courses, a state-of-the-art Tennis Center and more.

www.trumpnationaldc.com
Source: dailymail.co.uk
"The DoJ Argues that the Intelligence Community Overrides the Judiciary"
The DoJ Argues that the Intelligence Community Overrides the Judiciary
Why is the DoJ so desperate to prevent a Special Master, even one with security clearance, to view those documents the department asserts are classified? (The parties each have offered two candidates for the position, one of Trump's candidates, in fact, sat on the FISA court. Is he less certain to do this job properly than the National Archivist?) There are several possible explanations for the desperation I can think of — none of which do credit to the attorney general. The first and most common supposition is that the documents which they claim must be kept even from the eyes of the Special Master relate to the FBI and DoJ's role in fashioning and perpetrating the phony Russian Collusion fairytale. That would be damning indeed, and frankly, I see it as the most likely explanation: It is improper to classify documents simply to prevent embarrassment to persons or agencies. And anyone who does this is subject to sanctions. Obama's Executive Order 13526 reads in relevant part:
Sec. 1.7. Classification Prohibitions and Limitations. (a) In no case shall
information be classified, continue to be maintained as classified, or fail
to be declassified in order to:

(1) conceal violations of law, inefficiency, or administrative error;
(2) prevent embarrassment to a person, organization, or agency;
(3) restrain competition; or
(4) prevent or delay the release of information that does not require protection in the interest of the national security.
This, the second of my suppositions is related to the Hail Mary effort to stay the portion of the order which temporarily enjoins the government (pending completion of the Special Master's review or further court order) from reviewing and using the seized materials for investigative purposes. The warrant was issued before the grand jury in D.C. even received or reviewed the 15 boxes of documents Trump turned over to the government. This suggests the department was eager to use whatever they could hose up at Mar-a-Lago before a further examination of the legality of their actions could be done — and not coincidentally — in time to affect the midterms.
I 
In sum, my hunch is that this latest effort by the Deep State is not going to go anywhere for a long time, if at all.
Source: americanthinker.com
President Trump's legal team filed an excellent legal brief, calling out the Biden Justice Department's political charade.

Team Trump is firing on all cylinders.

Trump clearly has the winning legal arguments.

This is going to backfire–badly–on Biden.https://t.co/w3rqw7JeW1

— 🇺🇸 Mike Davis 🇺🇸 (@mrddmia) September 12, 2022
The Trump legal team does a great job of explaining that the President of the United States has the absolute constitutional (and statutory and regulatory) power to declassify anything he wants: pic.twitter.com/M5qhC4CwLL

— 🇺🇸 Mike Davis 🇺🇸 (@mrddmia) September 12, 2022
2207  
Q
!!mG7VJxZNCI
09/18/2018 18:17:25
 ID:
8chan/patriotsfight: 260
"Now we are seeing are seeing an emerging threat … over the last several years of the domestic violent extremist," he added.
"The individual here in the United States radicalized to violence by a foreign terrorist ideology, but also an ideology of hate, anti-government sentiment, false narratives propagated on online platforms, even personal grievances."
The big picture: Mayorkas pledged to make tackling domestic violent extremism a "National Priority Area" following the Jan. 6, 2021 Capitol insurrection and announced last year the DHS was directing $77 million to state and local authorities to combat the rising problem.
The Department of Justice opened a unit to investigate acts of domestic terrorism earlier this year after the DOJ and FBI reported that the threat of and investigations into acts of domestic terrorism had risen since 2020.
 
Antifa members do not say it aloud but based on my research of the American manifestation of the violent far-left movement, this is a particular sore spot for them. Some try to make up for being so white by adopting other identities like being trans or non-binary. https://t.co/FEEl7zaB3d

— Andy Ngô 🏳️‍🌈 (@MrAndyNgo) September 11, 2022
The divisions between #Antifa & BLM-style groups in Portland during the riots eventually came head to head & split. The only black activists who still ally themselves w/Antifa are those who use them as lowly minions or cash flow. Read about it in my book: https://t.co/LJ1Wt8G7E3

— Andy Ngô 🏳️‍🌈 (@MrAndyNgo) September 11, 2022
4700  
Q
!!Hs1Jq13jV6
09/14/2020 12:34:31
 ID: a54ff9
8kun/qresearch: 10644532
4706  
Q
!!Hs1Jq13jV6
09/14/2020 19:01:31
 ID: 8c6b18
8kun/qresearch: 10648459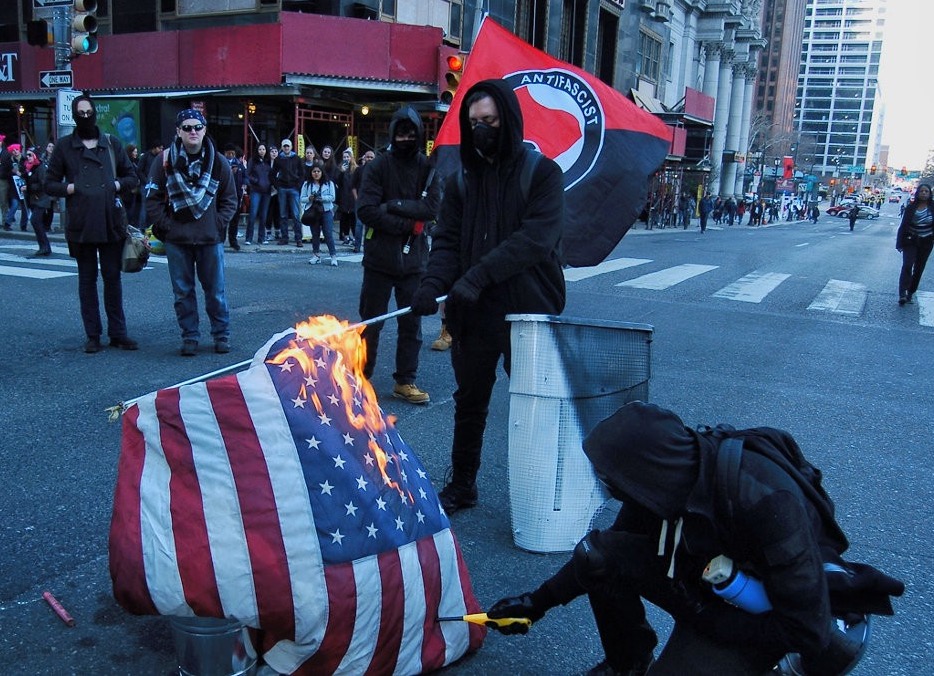 Image Name:
1600119701860.jpg
Filename:
1eea5470a0dbeb7c0a6ad3c09f8a90adfc0e3d7c9edbe6edc3efb66b8f959291.jpg