[DS] Exposed Themselves, Sacrificed Public Trust Just To Get Rid Of Trump, Down She Goes – Ep. 3011
Podcast: Download (Duration: 1:18:09 — 34.9MB)
Watch The X22 Report On Video
As the [CB]/[WEF] continually pushes their agenda their agenda is being exposed to the people and the people are losing trust in these individuals. The economy is collapsing which is waking people up and as people wake up they will not believe these people. The [DS] has pushed everything at Trump, he baited them in and they used almost all their ammunition, but in the process to get Trump they made stupid moves, the exposed their system and the people saw the truth and they have now lost trust in many of the agencies, companies and Hollywood. The people are on the side of Trump and in the process he allowed the [DS] to destroy themselves.
---
Economy
With mortgage rates half a percentage point higher over the past month, home buyers are pulling back even as the spring home buying season should be heating up.
 Mortgage applications for the purchase of a home were down 44% from a year ago and refinances are more than 70% down from last year, as a majority of homeowners have already locked in rates lower than those currently available.
---
Political/Rights
The System just took a blowtorch to every last bit of public trust in order to rid themselves of one man. I wonder if a single one of them can see it.
Most self-identified California registered voters oppose Democratic Gov. Gavin Newsom running for president in 2024, according to a Quinnipiac University poll released Wednesday.
About 70% of those surveyed said they would not like to see Newsom make a 2024 presidential bid, while roughly 20% expressed approval of the idea, the Feb. 23 to 27 poll shows. Newsom registered 44% approval for how he has handled his gubernatorial job, with 78% of Democrats and just 4% of Republicans holding that opinion. 
"A resounding thumbs down from the home team as California voters tell the Governor: if you have designs on the big job beyond Sacramento, we're not on board," Quinnipiac University Polling Analyst Tim Malloy.
Source: dailycaller.com
Corrupt Attorney General Merrick Garland had an awful day testifying before the Senate Judiciary Committee Wednesday over his department's corrupt and tyrannical practices toward faithful, conservative Americans.
We have a trio of Senate conservative patriots to thank for his epic struggles.
Lets start with Sen. Ted Cruz (R-TX) who ate Garland alive over ignoring credible threats to the safety of conservative Supreme Court Justices. Garland cannot give simple yes or no answer to this simple question:
Senator Ted Cruz: Let me try again. Has the Department of Justice brought even a single case under this statute? It's a yes-no question. It's not a give a speech on the other things you did.

Garland instead made a fool of himself by repeatedly trying to deflect blame onto the U.S. Marshals. 
Hawley starts off by blistering Garland over how the corrupt FBI raided pro-life advocate Matt Houck's house with guns drawn in front of his terrified children. The FBI arrested him over supposedly shoving an abortion clinic worker.
Houck was found not guilty of violating the Freedom of Access to Clinic Entrances (FACE) Act and now plans to sue the FBI.
The case against Houck was so frivolous that even Marxist Philadelphia District Attorney Larry Krasner declined to prosecute him. But Garland moved forward.
Hawley: You used an unbelievable show of force with guns, that I'd just note liberals usually decry…You're happy to deploy them against Catholics and innocent children!
Lee is next up and points out how Garland's department gleefully prosecutes individuals for blocking abortion clinics while turning a blind eye to attacks on pregnancy centers by pro-abortion extremists.
Notice during this exchange how Garland stammers like a clueless idiot and commits possible perjury in the process.
Garland utters so many "uhs" that he makes Joe Biden look halfway eloquent. Then Garland laughably claims the DOJ applies the law fairly.
Source: thegatewaypundit.com
Merrick Garland says that the DOJ has prosecuted more pro-lifers for peaceful protests at abortion clinics than domestic terrorists firebombing pregnancy resource centers because the pro-lifers are doing it during the day and the centers are being bombed at night. pic.twitter.com/8abeyZiHLX

— Greg Price (@greg_price11) March 1, 2023
.@SenMikeLee to Attorney General Merrick Garland- why was a pro-life activist like Mark Houk targeted by a SWAT team & the DOJ, while pro-abortion vandals have attacked dozens of pro-life resource centers & the DOJ has done almost nothing.

Garland has no answer pic.twitter.com/HK08gYrC9c

— Lila Rose (@LilaGraceRose) March 1, 2023
Garland is a liar who needs to be impeached and removed from office. https://t.co/PgfJdkGeY0

— Sean Davis (@seanmdav) March 1, 2023
It's ANTIFA all over again. Sorry, DOJ can't find them, but if you post on Twitter that you think the election was rigged we will ask Twitter for your location data and that you get banned from social media.
Senator Chuck Grassley released information yesterday that over a dozen individuals came forward with information indicating Hunter Biden was committing crimes but the corrupt DOJ has done nothing. 
The Daily Mail reported:
Senator Grassley asked Biden's corrupt DOJ AG Merrick Garland a question regarding whether it was a national security issue when there is evidence of foreign persons making unlawful payments to elected officials to influence policy decisions (i.e. bribes).
Next Grassley noted that more than a dozen whistleblowers had come forward with evidence against Hunter Biden.  AG Garland said he's not doing a damn thing about it.
Source: thegatewaypundit.com
Hunter Biden's criminal defense attorney, Joshua Levy, has quit the 'first son's' legal team amid an environment of "unease and dissent" among the 4-lawyer legal team.
Levy's departure came after the addition of Abbe Lowell, who is also on Hunter's team, and was hired in December to defend Hunter and the Biden family amid nine congressional probes which include wire fraud and money laundering.
According to the report, Levy was not pleased with Lowell's legal strategies – such as bombarding Rudy Giuliani, former Biden associate-turned-whistleblower Tony Bobulinski, and 12 others with "litigation hold" demand letters in order to preserve records from the "laptop from hell" – a strategy seen by some critics as a desperate PR stunt to change the narrative in favor of the Bidens.
According to Mike Davis, founder and president of the pro-Trump Article III Project, the letters were a "desperate, frivolous, and laughable" effort that would end up damaging the Biden family position since the lawsuit will lead to discovery, including Hunter Biden's on-camera deposition, Breitbart reports.
Lowell's involvement in Hunter's defense has not only forced the exit of Levy but has also triggered infighting with attorney Chris Clark,  
Source: zerohedge.com
"I was afraid for my own well being. I thought I could wind up in Guantanamo Bay. I think I still could."
"I'm afraid of Trump on a very personal level.. I don't know what he would do in a second term."
Now why would red shoes Maher admit to something like this?
Anons know.
rumble.com/v2bes4s-bill-maher-
Bill Maher is terrified that Trump will send him to Gitmo
Rumble.com
Q

 

!!mG7VJxZNCI

 

ID: 88670f

 No.6973189

D0MMzlYX4AMut88.jpg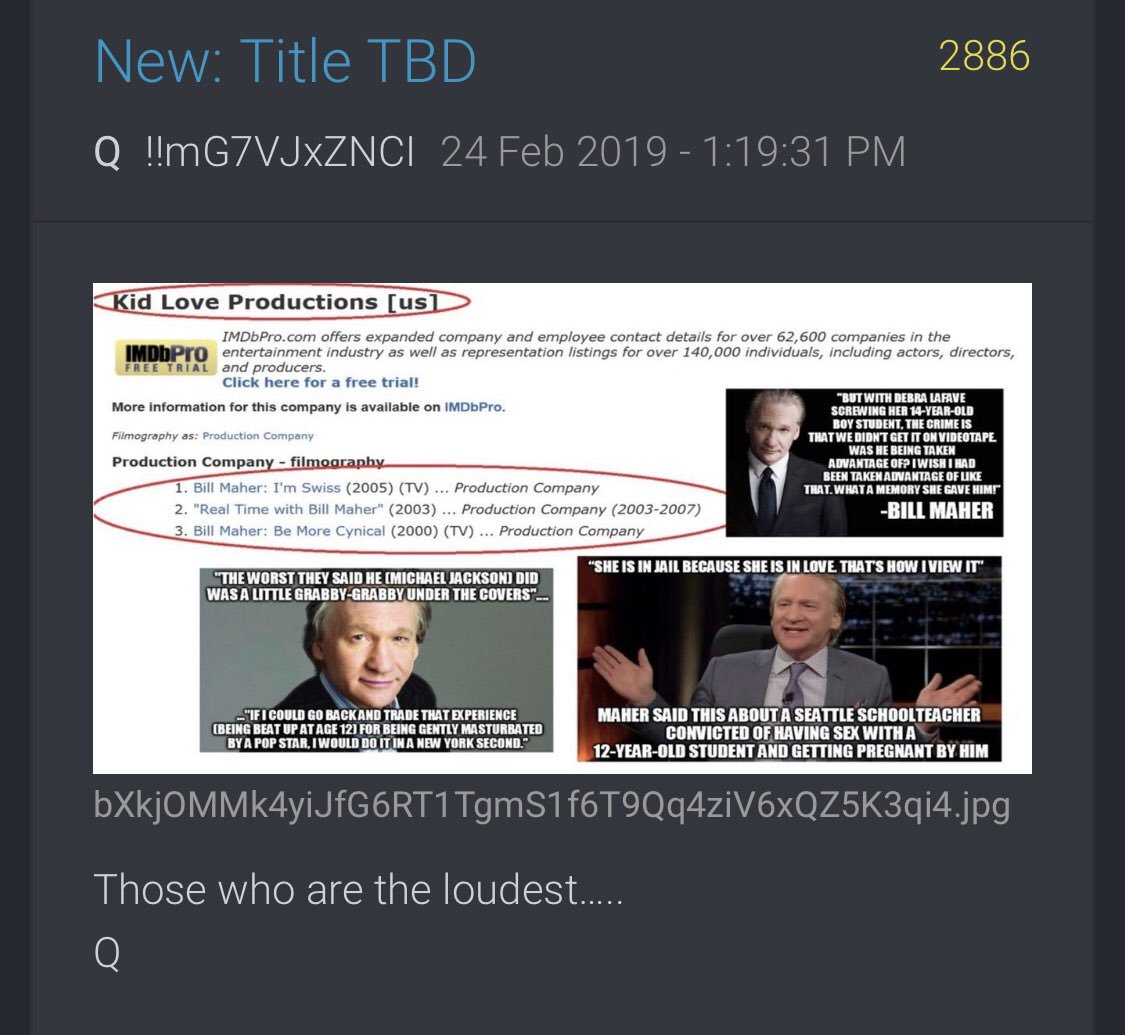 Q

 

!!mG7VJxZNCI

 

ID: 88670f

 No.6973290

Q

 

!!mG7VJxZNCI

 

ID: 88670f

 No.6973189


D0MMzlYX4AMut88.jpg

No joke and/or reference re: Epstein?
No attempt to connect back to POTUS?
Silence.
Hunted.
Q
default381938.jpg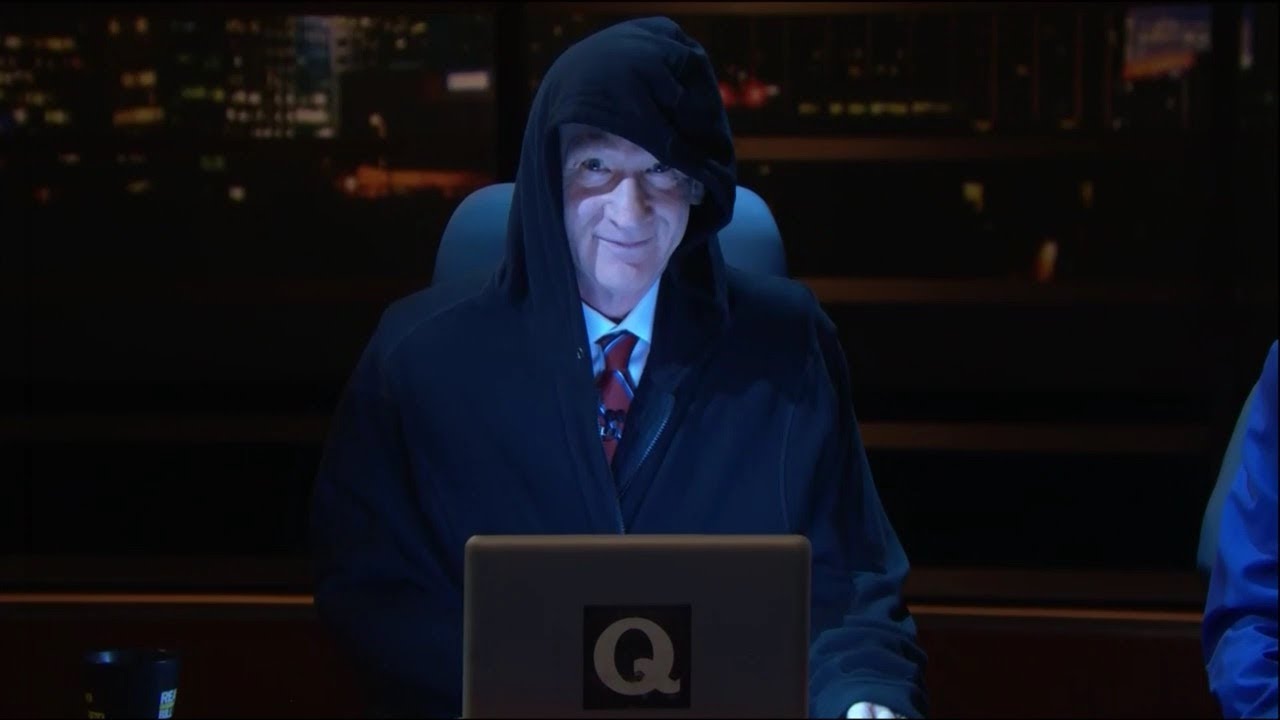 >>6973189
Not so funny now….
Q
I, Q, need your help to "Make America Great Again!" Keep posting your memes. Keep believing everything Trump tells you. And, above all, on Tuesday, November 6, stay at home.
Do you remember their names?
We do.
Do you really believe you are still safe?
Protected?
The World is WATCHING.
Q
El Salvador Is Winning the War Against Gangs While Biden Won't Even Fight Them
So while El Salvador is locking up their thugs and gang members, Joe Biden invites them to America where they are released onto the streets to terrorize, rape, and murder. Disgrace!
House Judiciary Committee Republicans have launched a probe into the alleged murder-rape of a young autistic woman by a member of the MS-13 gang who was arrested at the US-Mexico border as an unaccompanied minor."Committee Chair Jim Jordan (R-OH) asked Biden's Homeland Security Secretary Alejandro Mayorkas and Health and Human Services Secretary Xavier Becerra in letters sent late Monday to explain how a known gangbanger from El Salvador was released from custody by both departments and permitted to live in the United States," The Washington Examiner reported.

"The Biden Administration's open-border policies have created vulnerabilities that criminal aliens and gang members exploit to the detriment of American citizens," Jordan and Rep. Tom McClintock (R-CA) wrote in a letter to Becerra. "Pursuant to the Rules of the House of Representatives, the Committee on the Judiciary is authorized to conduct oversight of federal immigration policy and procedures."
Source: thepostmillenial.com
The President of El Salvador, Nayib Bukele, sends out teams of prisoners to destroy any tombstones with gang symbols.

His reforms to end violent crime in his country have been so effective that his approval sits above 80%. pic.twitter.com/cCyInbaZt3

— Charlie Kirk (@charliekirk11) March 2, 2023
All politicians lie. But this is just getting ridiculous.

Fentanyl that came over years ago has been injected and sniffed LONG ago. The amount coming over the border under him dwarfs the prior administration. https://t.co/uJGfidIXpi

— Rich Baris "The People's Pundit" (@Peoples_Pundit) March 2, 2023
The Democrat mayor of College Park, Maryland, resigned from the position one day before being arrested for possession and distribution of child pornography.
Disgraced mayor Patrick Wojahn, 47, was arrested on Thursday after stepping down on Wednesday.
Wojahn is facing a total of 56 charges related to child pornography.
Prince George's County Police Department (PGPD) wrote in a press release, "on February 17, 2023, the National Center for Missing and Exploited Children notified the PGPD that a social media account operating in the county possessed and distributed suspected child pornography. The image and videos had been uploaded to the social media account in January of 2023. Through various investigative techniques, PGPD investigators discovered the social media account belonged to Wojahn."
Eleven days later, on February 28, PGPD detectives served a search warrant at Wojahn's home. They seized multiple cell phones, a hard drive, a tablet, and a computer.
Source: thegatewaypundit.com
---
Geopolitical/Police State
EXCLUSIVE: House Weaponization Committee To Focus On The 'Twitter Files' In Second Hearing

More here in @FDRLST: https://t.co/0TGEWjxs8x

— Tristan Justice (@JusticeTristan) March 1, 2023
1. TWITTER FILES #17
New Knowledge, the Global Engagement Center, and State-Sponsored Blacklists pic.twitter.com/8LuoKY9zzA

— Matt Taibbi (@mtaibbi) March 2, 2023
3. DFRLab said it suspected 40,000 accounts of being "paid employees or possibly volunteers" of India's Bharatiya Janata Party (BJP).

But the list was full of ordinary Americans, many with no connection to India and no clue about Indian politics. https://t.co/B5L8KsY6ZH pic.twitter.com/vqijzp9BR2

— Matt Taibbi (@mtaibbi) March 2, 2023
5. Twitter agreed, one reason many of the accounts remain active. "Thanks, Andy," replied Trust and Safety chief Yoel Roth. "I spot-checked a number of these accounts, and virtually all appear to be real people." pic.twitter.com/HCf1YPjpFa

— Matt Taibbi (@mtaibbi) March 2, 2023
The establishment is trying a new way to infringe on the rights of law-abiding Americans.
Discover credit card company is going to start tracking purchases at gun retailers – the tracking will begin in April.
57 million Discover credit cards are in existence.
Visa, Mastercard, and AmEx previously announced they would track gun sales separately.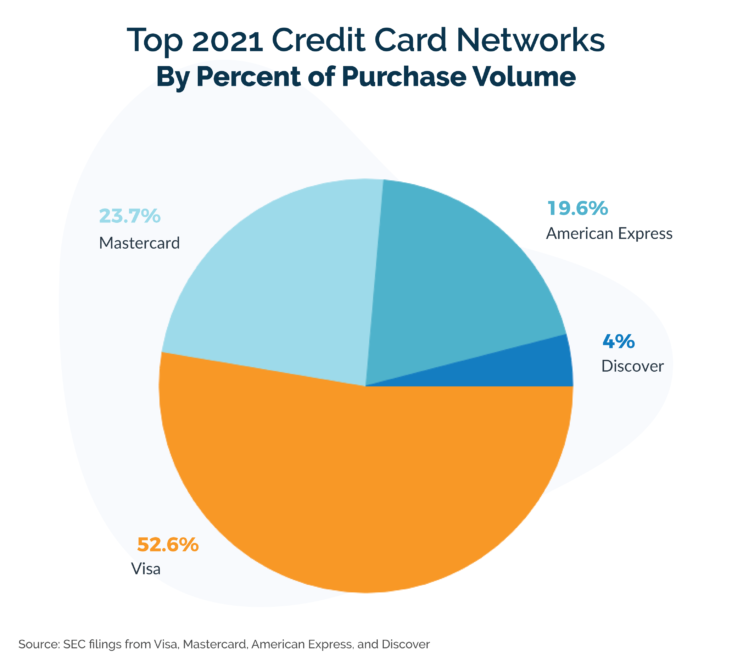 Source: thegatewaypundit.com
How many Americans know the ATF was secretly using a loophole to building a database of law-abiding gun owners?

My bill will dismantle ATF's record keeping, restore privacy, and stop dead in its tracks any attempt to build a federal firearms registry.https://t.co/1sWoiAbksd

— Congressman Michael Cloud (@RepCloudTX) March 1, 2023
Most likely voters believe the U.S. should put a freeze on construction of China-owned property located near U.S. military installations in the wake of the spy balloon making its way across the country, a Convention of States Action/Trafalgar Group survey released this week found.
The survey asked, "In light of the Chinese spy balloon, do you think the United States should put a freeze on any construction on or deliveries to/from Chinese owned property near U.S. military installations?"
Most, 76.3 percent, said yes, there should be a freeze on both, compared to 23.7 percent who said no.

 

There appears to be bipartisan support of a freeze on construction of or deliveries to China-owned property near military installations, as 89 percent of Republicans, 64 percent of Democrats, and 75 percent of independents are in support of a freeze.

 
Source: breitbart.com
---
War
BREAKING: The Pentagon's inspector general for Afghanistan complains in a new report the Biden administration is hiding classified annexes detailing side deals it made with the Taliban before the withdrawal, including restrictions on US fighting and Taliban counterterror efforts

— Paul Sperry (@paulsperry_) March 1, 2023
---
Cyber Attacks
---
False Flags
On January 31, 2020, Danish-born and British-educated scientist Kristian Andersen, emailed Dr. Tony Fauci saying the virus looks lab-made.
Kristian Anderson, "Some of the features look engineered" and the "genome looks inconsistent with evolutionary theory."
Then on February 4, 2020, after a call with Dr. Tony Fauci, British scientist Kristian Anderson wrote that the lab leak theory was a conspiracy theory.
Kristian Anderson, "The main crackpot theories going around at the moment related to this virus being somehow engineered… and that is demonstrably false."
So what happened between January 31, 2020 and February 4, 2020?
Dr. Tony Fauci called Dr. Kristian Anderson and ordered him to publicly say the COVID virus was NOT lab-made.
The New York Times reported on Anderson's early email to Dr. Fauci in an article published in June 2021.
But, The New York Times conveniently omitted that after his call with Dr. Fauci on February 1, 2020, Dr. Anderson was given a $1.88 million grant and $16.5 million in funding from NIAID, Dr. Fauci's personal piggy bank.
 
(page 56)
This was tweeted out today by Mises Caucus.
Source: thegatewaypundit.com
Mike drop. Fauci cover up. WIV was the source. pic.twitter.com/vfulMG04n9

— Robert W Malone, MD (@RWMaloneMD) March 1, 2023
Cover up always gets you in then
BREAKING: Senate passes bill calling to declassify all intelligence related to the origins of COVID-19.

Fauci must be sweating bullets.

— Collin Rugg (@CollinRugg) March 2, 2023
Queue Fauci Files., in 321
I'd love to see Joe Biden try to explain why he vetoed a bill allowing the American people to see the truth
We have gone from not being able to vote, to being completely negated altogether.
This is "progress." 🥴

Thanks for slapping women in the face with this one @Hersheys.
This is Hershey's way of saying men can do everything better, including womanhood.

— Conservative Momma (@conmomma) March 2, 2023
It is time to eradicate Joe Biden's sinister "equity" Executive Order that has led to the woke takeover of the U.S. Government! #AGENDA47
---
Q
The video begins by explaining how the US Department of Justice obtained the surveillance video and that the subjects are being recorded in the doors and hallway of the "Upper West Terrace doors of the US Capitol on January 6, 2021."
Capitol Police can be seen casually walking in the opposite direction of protesters who are freely entering the Upper West Terrace doors into the hallway that leads to a set of double doors where more police officers are standing and watching or, in some cases, holding the doors open for the protesters to enter inside.
A series of screenshots from the video below shows over 250 protesters entering the Capitol with no resistance from Capitol Police officers. Notice how the protesters are all very orderly and respectful of the police officers, who don't appear to be the least bit concerned about their safety from the "dangerous insurrectionists."
At 2:33 pm on Jan. 6,  Capitol Police allowed five unidentified men (federal agents) to exit through the double doors inside the Capitol to the hallway of the Upper West Terrace doors to the outside. The men walk in an orderly fashion through the hallway and exit.
A gentleman wearing a red hat just happens to be outside the door when the last of the five unidentified men leave the Capitol building. He catches the door and holds it open for more protesters to enter.
Inside the Capitol, at least one police officer is standing by the double doors watching and helping to prop open the door for more protesters to enter.
Is this how Capitol Police are trained to behave when they are "under attack" by a "dangerous mob?"
An estimated 250 protesters entered through the Upper West Terrace doors that day. Many of them have been charged with felony obstruction for entering a building undiscouraged, even though Capitol Police officers can clearly be seen assisting them and even encouraging them to come inside.
Capitol Police officers walked in the opposite direction of the incoming protesters through the hallway to the outside exit. At no time in the video do they attempt to stop the flow of protesters from entering the Capitol.
The Capitol Police officer walks back into the Capitol with his back toward the large crowd of protesters. He doesn't appear to have any concerns about turning his back on the "dangerous mob."
The crowd in the hallway begins to swell. Capitol Police do not attempt to prevent them from entering.
A woman can clearly be seen videotaping the police as they allow large crowds of protesters to enter the Capitol. Still, the police officers curiously do not attempt to stop the protesters.
Watch the incredible video here:
Source: thegatewaypundit.com
Americans want the truth about Jan 6 because the majority of Americans believe that government agents were responsible for the riots on that day.
 
Voters overwhelmingly support releasing all videos of the January 6, 2021, riot at the U.S. Capitol, and a majority think it's likely that government agents helped provoke the riot according to the latest polling from Rasmussen reports. 
Eighty percent (80%) of Likely U.S. Voters believe it is important that the public be able to view all the videos of the Capitol riot, including 58% who think it's Very Important. Only 17% don't think it's important for the public to be able to see all the riot videos.
 Eighty-six percent (86%) of Republicans, 78% of Democrats, and 75% of voters not affiliated with either major party believe it is important that the public be able to view all the videos of the Capitol riot.  
Sixty-one percent (61%) of voters believe it is likely that undercover government agents helped provoke the Capitol riot, including 39% who think it's Very Likely. Thirty percent (30%) don't think it's likely undercover agents helped provoke the riot, including 18% who say it is Not At All Likely.
Here are the overall results:
Fact check True
Fact Check: True

and 57% of Democrats join the majority in question # 3 https://t.co/YBJjRTtAUO pic.twitter.com/FOipkBm1Z3

— Rasmussen Reports (@Rasmussen_Poll) March 2, 2023
Americans just want the truth.  Something our government is keeping from us to cover up its crimes. 
Source: thegatewaypundit.com
Senate Majority Leader Chuck Schumer (NY) on Wednesday demanded Rupert Murdoch silence Tucker Carlson and other Fox News hosts.
"Order Tucker Carlson and other hosts on Fox News to stop spreading the Big Lie." Schumer said.
The Democrats complained about Speaker McCarthy's decision to give Tucker Carlson access to the January 6 tapes.
Schumer and Jeffries demanded Tucker Carlson and others participate in a Mao struggle session and publicly apologize for saying words they don't approve of.
"We demand that you direct Tucker Carlson and other hosts on your network to stop spreading false election narratives and admit on air that they were wrong to engage in such negligent behavior," the Democrats wrote.
Source: thegatewaypundit.com
Q 

!UW.yye1fxo

 

ID: ee2415

 No.97777

Anonymous

 

ID: 6ac131

 No.97752


137F7BD8-BF28-40B0-ACDE-B….jpeg
>>97752
He has to use the bathroom prior to leaving.
Q
If Rupert Murdoch honestly believes that the Presidential Election of 2020, despite MASSIVE amounts of proof to the contrary, was not Rigged & Stolen, then he & his group of MAGA Hating Globalist RINOS should get out of the News Business as soon as possible, because they are aiding & abetting the DESTRUCTION OF AMERICA with FAKE NEWS. Certain BRAVE & PATRIOTIC FoxNews Hosts, who he scorns and ridicules, got it right. He got it wrong. THEY SHOULD BE ADMIRED & PRAISED, NOT REBUKED & FORSAKEN!!!
Aug 26, 2020 1:23:33 PM EDT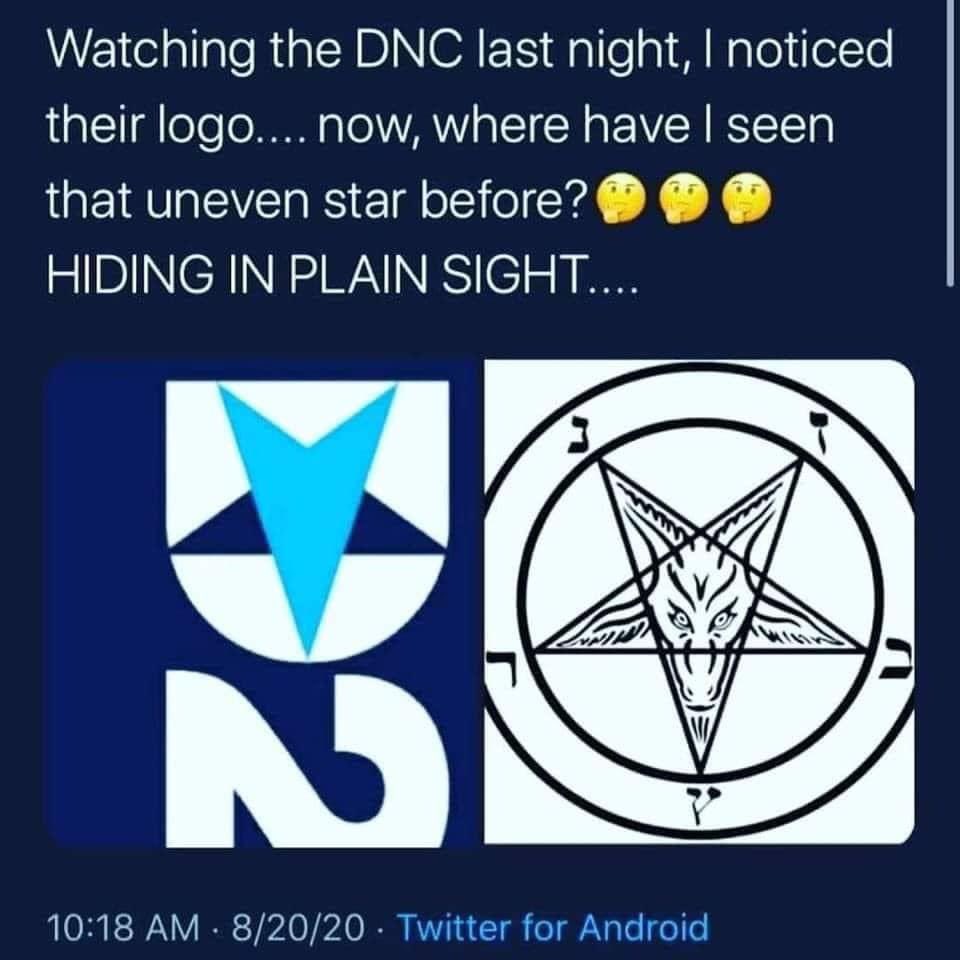 One party discusses Darkness.
One party promotes God.
One party eliminates God.
Symbolism will be their downfall.
The Great Deceiver(s).
When was the last time you witnessed a [D] party leader being Patriotic [exhibiting National Pride (love of Country)]?
When was the last time you witnessed a [D] party leader 'speak out against' the riots [violence in the streets]?
When was the last time you witnessed a [D] party leader support those who took an oath to protect and defend?
When was the last time you witnessed a [D] party leader support and call for UNITY across our Nation?
ALL ASSETS DEPLOYED.
INFORMATION WARFARE.
INFILTRATION.
Have Faith in Humanity.
Have Faith in Yourself.
UNITED WE STAND.
GOD WINS.
Q
·

We filed our Historic Election Integrity case with the Arizona Supreme Court.
Pray for our Attorneys.
Pray for the Judges.
Pray for Justice.
Pray for America.
Kari Lake filed new paperwork and 779 pages of evidence in the Arizona Supreme Court today, appealing the lower courts' decisions to dismiss her lawsuit contesting the rigged 2022 Election.
Lake also filed a 'Motion To Expedite' her case, arguing that "expeditious action to resolve these issues is needed to safeguard Arizona voters' right to free and equal elections."
    
The court must allow Lake's team to inspect the 2022 ballot signatures!
The Petition states in part,

The consequences of Maricopa's violations are stark:

 Maricopa's COC violations include the injection of 35,563 unaccounted-forballots by Maricopa's third-party ballot processor, Runbeck Election Services, before Runbeck returned ballots to the Maricopa County Tabulation and Election Center ("MCTEC") for tabulation.

 Maricopa's failure to perform mandated L&A testing led to tabulators rejecting ballots at nearly two-thirds of Maricopa's 223 vote centers over 7,000 times every thirty minutes, beginning at 6:00 am and continuing past 8:00 pm—causing massive disruptions, hours-long lines and disenfranchising thousands of predominantly Republican voters on Election Day.

Maricopa County clearly disenfranchised tens of thousands of voters on election day with deliberate machine failures targeting Republican voters. Lake recently revealed new findings that Maricopa County kept a map of Republican voters on the wall, which lined up almost perfectly with the locations of election day machine failures.

According to Findley v. Sorenson (1929), these errors, even if not intentional, can nullify an election if "they affect the result, or at least render it uncertain." This is further confirmed by the opinion in Hunt v. Campbell (1917), which states, "wherever such practices or influences are shown to have prevailed, not slightly and in individual cases, but generally, so as to render the result uncertain, the entire vote so affected must be rejected."

This election must be thrown out on the machine failure issue alone.

Lake filed a 'Petition For Review Of A Special Action Decision Of The Court Of Appeals,' supplementary appendixes, and a 'Motion To Expedite Review' on Friday, March 1 in the Arizona Supreme Court.
Source: thegatewaypundit.com
The only reason certain "candidates" won't be going to CPAC is because the crowds have no interest in anything they have to say. They've heard it all before, and don't want to hear it again. But my speech, on Saturday night, is already a sold out "monster." They are trying to expand the room and space. We'll have a great time at CPAC, we always do. See you there, and don't forget to vote in the important Straw Poll!
Club for No Growth is having a hard time generating any interest. I cut ties with them when they wouldn't support certain very good candidates in Ohio, Alabama, and other places, who all ended up winning with my Endorsement. Except when they worked with me, their track record is awful. They need new "Leadership."
Those who don't learn their history are doomed to repeat it! https://t.co/bEqhJi8Dk8 pic.twitter.com/cBcVhOuGl0

— Trump War Room (@TrumpWarRoom) March 2, 2023
Long read here, but many top FBI agents did not believe a raid on Mar-a-Lago was necessary and they opposed it. The Department of Justice demanded it. This is ugly for AG Merrick Garland, naked politics fueling a partisan war on Trump. https://t.co/mcI9r42LyE

— Clay Travis (@ClayTravis) March 1, 2023
It's wild how much of the corruption we've seen the last few years began with an effort to get rid of Trump. The System just took a blowtorch to every last bit of public trust in order to rid themselves of one man. I wonder if a single one of them can see it.
Are you following the news today? WHAT A BIG NEWS DAY. These people are REALLY stupid. This will be the END of the D party. This will be the path forward (w/ public outrage) to JAIL many so-called 'untouchables'. You, THE PEOPLE, have the POWER.
DOWN SHE GOES
. Q