Planned Long Ago, [DS] Stronghold & Bio Weapons Destroyed, Trump Never Telegraphs His Moves – Ep. 2711
Watch The X22 Report On Video
The [CB] played their hand too soon, now the people realize the plan of the [CB].  They needed to quickly reverse their decision, but it is too late. The [CB] is trapped, they want to punish Putin but if they severe the SWIFT system their economy falls apart. The [DS] is trouble, Ukraine is/was their base of operation. The [DS] was planning another pandemic and developing viruses in Ukraine, Putin took action to shut it all down and to destroy the [DS] stronghold. He is now removing the neo nazis. Trump will never telegraph his moves, but it seems that this was planned long ago. The [DS] is becoming desperate and they are panicking, they are now preparing for a cyber pandemic to shut it all down. They are fighting for their lives and they know they are now cornered.
---
Economy
  When Prime Minister Justin Trudeau announced he was invoking the Emergency War Measures Act to seize bank accounts and block access to the financial system for people who were arbitrarily deemed as terrorists to the interest of the Canadian government, i.e. the Freedom Protest group writ large, many people immediately thought about the consequences of a government taking such action.
♦ Shortly after that very awkward performance, Finance Minister Freeland's assistant deputy, Isabelle Jacques, informed a parliamentary committee that all bank accounts frozen by the federal government's use of the Emergency Act, were immediately being unfrozen.
( VIA CBC ) – […] More than 200 bank accounts worth nearly $8 million were frozen when the federal government used emergency powers to end a massive protest occupation of downtown Ottawa.  Federal officials report most of the accounts are now in the process of being released, a parliamentary committee heard Tuesday.
 .
Is the Canadian government now experiencing a serious financial problem as the result of Trudeau and Freeland's  
Source: theconservativetreehouse.com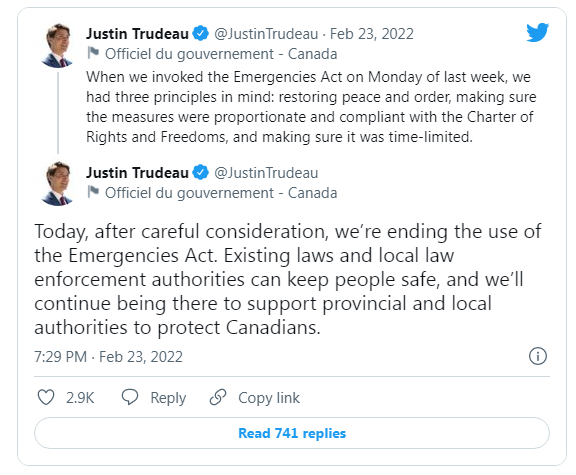 Canadians began withdrawing all of their money from their bank accounts with most turning to cash, others to gold, and some to BitCoin. The demand for US dollars more than tripled in the past week.
The sheer amount of money withdrawals from Canadian banks was massive. There appears to have been a 500% increase just in the previous 24 hours. 
Source: armstrongeconomics.com
Manchin said, [relevant remarks begin around 17:05] "Putin is using energy as a weapon. It's a political weapon. It's more than a political weapon. It's becoming a geopolitical weapon. And he's using it to his advantage. And for the United States of America not to develop all the energy and basically use the energy that the good Lord has given us so that we can not only keep ourselves independent, but be able to assist our allies around the world, that's how you offset this. That's how you checkmate this. And right now, I'm very much concerned about people wanting to withdraw back and do nothing by using our fossils in the cleanest way. I'm not saying throwing caution to the wind with our climate. I think that's the most important thing that we can do. But we can do it by utilizing the things that we have, the resources, the oil, the natural gas, and we can provide the stability the world needs from us backing up their energy needs." 
Source: breitbart.com
---
---
War
None of this would've happened without:

-Biden and Nuland instigating the 2014 coup
-Hillary instigating the Russia collusion hoax
-Democrats using Ukraine as a wedge
-Bidens getting themselves compromised
-media and Big Tech covering up Biden corruption before the 2020 election

— Hans Mahncke (@HansMahncke) February 24, 2022
Headline from early 2014 when Kerry was Secretary of State.
😂😂They think we are fools. pic.twitter.com/HoLWQYAOye

— NadiaInBC (@NadiaInBC) February 24, 2022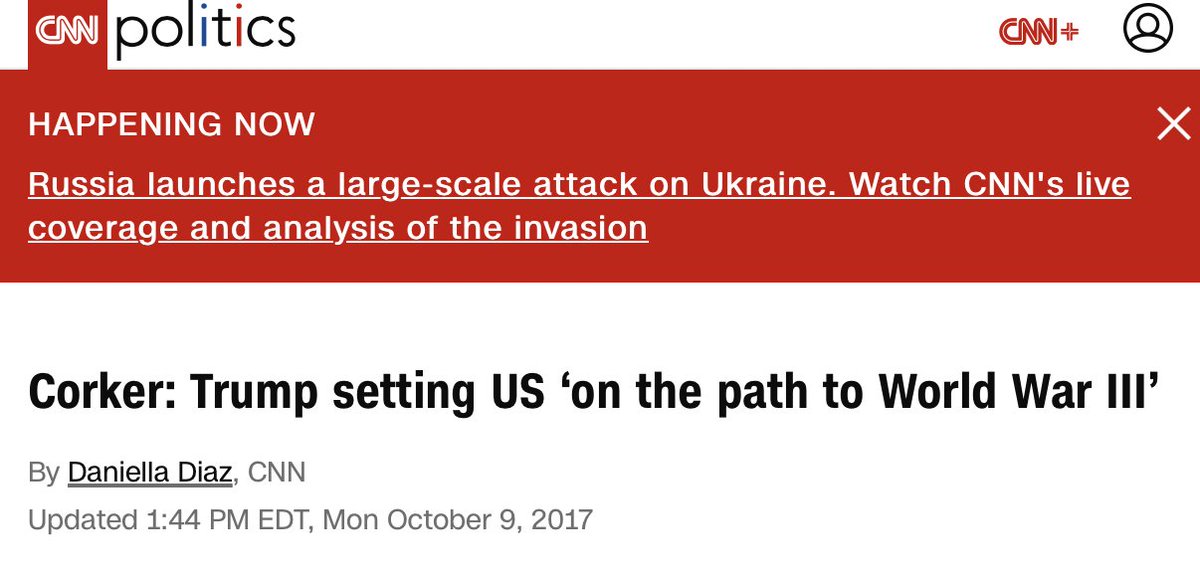 White House deputy press secretary calls Trump a 'nauseating, fearful pig' who with Putin is 'rubbing their snouts together and celebrating as innocent people lose their lives'
White House deputy press secretary Andrew Bates hammered former President Donald Trump for heaping praise for days on Russian President Vladimir Putin 
'Two nauseating, fearful pigs who hate what America stands for and whose every action is driven by their their own weakness and insecurity,' he began 
'Rubbing their snouts together and celebrating as innocent people lose their lives,' he said of Trump and Putin 
Bates shared an article about Trump telling a crowd at Mar-a-Lago Wednesday night that the Russian leader was 'pretty smart' 
'He's taking over a country for $2 worth of sanctions. I'd say that's pretty smart,' the ex-president said at his Florida resort 
Source: dailymail.co.uk
NBC NEWS: US President Joe Biden has been presented with options for massive, unprecedented cyberattacks against Russia.

— Election Wizard 🇺🇸 (@ElectionWiz) February 24, 2022
Is the [DS] preparing to explain why the power/internet will be shutdown when the facts and truth are released
Is this Red 2 Central communications blackout [continental US] about to be crossed
Playbook known
The operation "has its goals and they need to be achieved," Kremlin spokesman Dmitry Peskov told Russian state-run media when asked when the operation would end. He did not provide a timetable.
Moscow is determined to "neutralize the [Ukrainian] military potential, which was boosted considerably lately, including with the active assistance of foreign nations," Peskov continued to say, without elaborating or providing details.
Peskov claimed that Russia will not attempt to occupy Ukraine, a country of more than 40 million people, and said the invasion was intended to have limited goals in protecting Moscow's interests.  
The Russian Defense Ministry said it was not targeting cities, but using precision weapons and claimed that "there is no threat to civilian population."
Source: rt.com
The CIA May Be Breeding Nazi Terror in Ukraine
The CIA has been secretly training anti-Russian groups in Ukraine since 2015. Everything we know points to the likelihood that includes neo-Nazis inspiring far-right terrorists across the world.
Based on a new report, it looks like we may soon be able to add another to that list of fatally unlearned lessons: Ukrainian neo-Nazis.
According to a recent Yahoo! News report, since 2015, the CIA has been secretly training forces in Ukraine to serve as "insurgent leaders," in the words of one former intelligence official, in case Russia ends up invading the country. Current officials are claiming the training is purely for intelligence collection, but the former officials Yahoo! spoke to said the program involved training in firearms, "cover and move," and camouflage, among other things.
Given the facts, there's a good chance that the CIA is training actual, literal Nazis as part of this effort. The year the program started, 2015, also happened to be the same year that Congress passed a spending bill that featured hundreds of millions of dollars' worth of economic and military support for Ukraine, one that was expressly modified to allow that support to flow to the country's resident neo-Nazi militia, the Azov Regiment.
A top Kremlin spokesman told reporters on Thursday that Russia would consider ending its unprovoked military assault on Ukraine if the Ukrainian government accepted terms of surrender, which included the removal of all "weapons" from the country.
  Putin spokesman Dmitry Peskov said the regime that he served was willing to end its violence against Ukraine if the government of President Volodymyr Zelensky accepted Russia's "terms of surrender," according to Russian government propaganda outlet RT.
"According to Peskov, Russian President Vladimir Putin has expressed his preparedness to engage in discussions with his Ukrainian counterpart, with a focus on obtaining a guarantee of neutral status and the promise of no weapons on its territory," RT reported. "These are terms that, according to Peskov, would enable the achievement of the demilitarization and denazification of Ukraine, and eliminate what Russia currently views as a threat to the security of its state and people."
Putin has branded the invasion of Ukraine a "denazification," claiming the current government in Kyiv is a Nazi imposter regime imposed after popular protests resulted in the resignation of Putin ally former President Viktor Yanukovych in 2014. Zelensky defeated Yanukovych's successor, Petro Poroshenko, in a free and fair election in 2019 unrelated to the 2014 protests. Zelensky is Jewish and the grandson of World War II veterans who fought against Nazi Germany – a fact he emphasized in a speech to the Russian people on Wednesday.
"
Source: breibart.com