Shadow Players Are The Deadliest,Optics Are Important, Declas Brings Down The House – Ep. 2869
Podcast: Download (Duration: 1:20:33 — 34.9MB)
Watch The X22 Report On Video
The recession is here to stay, the GDPNow model is showing 3 negative quarters. The European countries are bracing for power outages, California is bracing for power outages. The people know who is responsible. El Salvador continues to push against the [CBDC]. The [DS] is now in position. Trump and the patriots have set the stage. The trap is now set, the [DS] believes they are in control, they believe that they are going to unleash chaos, riots like they did in 2020. This time around they will be pushing for the civil war, this they will not get. Shadow players are the deadliest. Optics are important. How do you get the [DS] to do what you want? How do you get the [DS] to believe they are in control and their plan is going to work? Stealth Bomber, Declas brings down the house.
---
Economy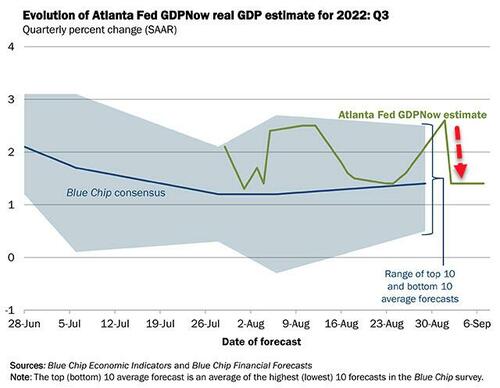 So to summarize – we are a third of the way to a 3rd negative quarterly GDP print with only one month left in the quarter.
But of course, 3 negative quarters of GDP would absolutely, definitely not be a recession remember.
Source: zerohedge.com
CALIFORNIA: We're now in a Flex Alert.

What does that mean? We all need to conserve as much energy as possible during this record breaking heatwave.

Here's what to do until 9pm tonight:
– Set thermostats to 78
– Turn off unnecessary lights
– Avoid using large appliances

— Gavin Newsom (@GavinNewsom) September 7, 2022
What's crazy…I covered brown outs 22 years ago in California when I first started in news…and in 22 years our state didn't to crap to fix it. They just paid off the unions and spent cash and didn't do enough to address mental health, infrastructure, high taxes ect..

— Adam Housley (@adamhousley) September 7, 2022
El Salvador made history by becoming the first state to use bitcoin as legal tender when it was officially announced by their president in June 2021.
The Salvadoran government approved bitcoin as legal tender in a country with almost 70% of people outside of the banking system and a large portion of their productive population living abroad since 2006. Bitcoin as legal tender addresses these two issues.
Before we start talking about the financial solutions bitcoin gives to El Salvador, we need to remember what Legal tender means and how it is applied:
"Legal to tender is a form of money that courts of law are required to recognize as satisfactory payment for any monetary debt. Each jurisdiction determines what is legal tender, but essentially it is anything which when offered ("tendered") in payment of a debt extinguishes the debt. There is no obligation on the creditor to accept the tendered payment, but the act of tendering the payment in legal tender discharges the debt"
LONG TERM PLAN FOR BUILDING OUT THE INFRASTRUCTURE OF THE COUNTRY.
In September 2021, El Salvador began requiring all businesses to accept bitcoin and follow Article 102 of the Constitution of the Republic: "The State is under the obligation to promote and protect private enterprise, generating the necessary conditions to increase national wealth."
It is believed by many in the bitcoin community that by 2025 several other nation states will adopt bitcoin. El Salvador in 2021 wanted to ensure that their citizens and future investors would have an advantage as other countries acquire bitcoin. This enables them to build out the country's infrastructure prior to that coming adoption.
In the last year, El Salvador has seen foreigners promoting international projects that have a positive impact on the economy. These projects include medical institutions, tourism and other investments that have created job opportunities for Salvadorans. They have also instituted security measures to encourage people to visit El Salvador and invest. El Salvador continues to look for investments to continue to build out the local infrastructure.
Other countries in Latin America are already attempting to replicate the Salvadoran model. Leaders from the central banks of Paraguay, Haiti, Honduras, Ecuador, Costa Rica and Dominican Republic have already had meetings with Bukele.
According to the World Tourism Organization. El Salvador is now ranked 13th out of the 15 countries listed, showing up amongst the top-performing destinations in terms of revenue in the first five months of 2022.
According to Bitcoin Magazine, the country is on track to earn $99 million more from tourism this year compared to 2019.
Source: bitcoinmagazine.com
---
Political/Rights
Todd Soper, a grade K-4 Assistant Principal at Neighborhood Charter Schools for the NYC Department of Education, was caught on undercover video admitting to discriminating against hiring conservatives.
Soper said conservatives applying for jobs are just an automatic non-hire.
Soper admitted the school grooms children and pushes the 'gender' conversation on 4th graders.
"It's delicate, right? So, in kindergarten and first grade, they [students] are five and six [years old] — but I think we start with the umbrella theme of, 'Embrace who you are. You have to love who you are, and each part of you is beautiful, whatever you feel.' As kids get older and the idea of gender becomes more salient, which happens more towards fourth grade…the conversations deepen as the kids get older," he said.
Via Project Veritas:
 Source: thegatewaypundit.com
The longtime counselor to Chief Justice John Roberts announced on Sept. 6 that he is leaving his post at the end of the month.
Jeffrey P. Minear will retire as of Sept. 30 after serving as Roberts' chief of staff since 2006. Minear previously worked for the U.S. solicitor general's office, where he argued 56 cases before the Supreme Court. As chief justice, Roberts is head of the federal judiciary as well as presiding officer of the Supreme Court.
Minear's successor has yet to be named.