Sometimes It's The People In The Background That Are Significant,Other Investigations – Ep. 2811
Podcast: Download (Duration: 1:04:18 — 32.8MB)
Watch The X22 Report On Video
The patriots trapped the [CB]/[JB] in their agenda, they were hoping they could get another country to fill the oil void, now they can either continue down the path or restart oil production in the US. Brazil bank now allows customers to purchase Bitcoin. The [DS] is afraid, they have lost and they are fighting for their lives. They are trying everything, but it is failing. The J6 hoax broadcast is falling flat and the people are not believing the propaganda. The people see it as joke. [GM] was just sentenced to 20 years, low man on the pole. One leads to another which leads to another. Sometimes it's the people in the background that are of greater significance. Some investigations have not been made public. The [DS] system is collapsing right in front of their eyes.
---
Economy
Hollywood went all in for Joe Biden in 2020. And now they are paying the price, literally, as the cost of movie and TV production soars to levels that are giving entertainment executives sticker shock.
Industry leaders told The Hollywood Reporter that inflation has impacted virtually every aspect of physical production, including fuel, electrical equipment, and even small items like gaffer tape.
"The accessibility of steel and lumber due to supply chain issues have driven up the cost of materials by at least 25 to 30 percent," Herb Gains, executive vice president of physical production at Legendary — the studio behind Christopher Nolan's Batman movies — reportedly said.
"All across the board, we're facing increased costs," said Brian Cooper, a partner at soundstage company S2CO. "Where I could build a $3 million stage five years ago, that's $8 million now."
Source: breitbart.com
An earnings recession is coming as the Fed hikes rates which accelerates an economic recession. Such should be no surprise given earnings are derived from economic activity.
The Fed Will Cause An Earnings Recession
As noted, with inflation already running at 40-year highs, the risk of an economic recession has risen markedly in 2022. Historically, when inflation rises by more than 5% annually, such has triggered an economic contraction.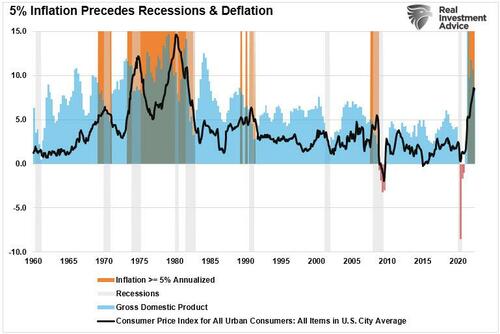 Source: zerohedge.com
BRICS Summit Reaffirms That Russia Not As Isolated As NATO Suggests
The recent BRICS summit managed to run its course this past week with very little fanfare, despite the fact that Russia is in the midst of a conflict with Ukraine that has led to a worldwide economic war. China is edging towards a potential invasion of Taiwan, and much of the planet is in the middle of a stagflationary crisis in the meantime.
The one major takeaway from the summit was the reaffirmed stance of the BRICS that they would continue to work closely with Russia in economic terms.
Source: zerohedge.com
NUBANK NOW ALLOWS 53 MILLION BRAZILIANS TO BUY BITCOIN
Over 53 million Brazilian customers can now buy bitcoin through the country's largest digital bank, Warren Buffett-backed Nubank.
Brazil's largest digital bank, Nubank, has rolled out bitcoin buying capabilities to all its 53.9 million customers.
The Warren Buffett-backed fintech had announced the feature in May through a blog post, mentioning how the option would be rolled out in phases. At the time, the company also made a treasury allocation to bitcoin.
"The option to buy cryptocurrencies through Nubank is now available to all our customers. Update your app," the updated blog post reads.
Users can buy and sell bitcoin instantly through the Nubank Crypto section of Nubank's app, the banking platform most widely used by Brazilians in 2021. Even though customers now have the option to acquire BTC, the ability to withdraw purchased coins to an external wallet is not yet available.
Bitcoin Magazine tested the new feature on Tuesday.
Source:  bitcoinmagazine.com
---
Political/Rights
BREAKING: Registered nurse Shawna Harris, who said she prescribes meds based on the political affiliation of her patients, has resigned. https://t.co/5MZRttNtzt

— Libs of TikTok (@libsoftiktok) June 27, 2022
A diverse and historic London state-funded school in London is refusing to release details of lessons on gender and far-left  
The parents also say pupils were lectured on so-called "white privilege" and "discriminatory systems of power", according to The Times, and that sexual education lessons sourced from a company that linked to for-profit website promoting pornography until recently.
The school is refusing to show parents some of the teaching materials it is using, however, claiming they are "commercially sensitive" and thus not subject to the Freedom of Information (FOI/FOIA) Act.
"It is unacceptable for schools to hide behind commercial confidentiality in refusing to disclose curriculum resources. There is a clear public interest in parents knowing what their children are taught," lawyer Paul Conrathe has said of the refusal, which is being appealed to the Information Commissioner, who regulated FOIA requests.
 Source: breitbart.com
Fact check update: Biden now responsible for 50 horrific deaths in the truck. https://t.co/bzE5GhEQNX

— Tom Fitton (@TomFitton) June 28, 2022
There's nothing white leftists hate more than a black man who thinks for himself. https://t.co/CCGvJ0a8eq

— Sean Davis (@seanmdav) June 28, 2022
A HUGE WIN for Religious Liberty in the U.S. Supreme Court. Thank you!
Judge Nathan: That is 20 years. Then five years of supervised release. I impose a fine of $750,000. She has received a $10 million bequest from Epstein.

— Inner City Press (@innercitypress) June 28, 2022
Judge Nathan recommends Maxwell be sent to the women's prison at Danbury, Connecticut.
That's the low-security federal prison known for housing "Orange Is the New Black" author Piper Kerman and reality television star Teresa Giudice.
Ghislaine Maxwell has been sentenced to 20 years in prison.

Will others be brought to justice?

After Maxwell was charged, there was ANOTHER ongoing grand jury investigation into "other possible co-conspirators of Jeffrey Epstein.

That investigation has not been made public. pic.twitter.com/jDW32iGAVy

— Techno Fog (@Techno_Fog) June 28, 2022
3428
Q
!!mG7VJxZNCI
07/14/2019 15:41:11
 ID: 0e811b
8chan/qresearch: 7039475
4565
Q
!!Hs1Jq13jV6
07/02/2020 13:53:00
 ID: e67d38
8kun/qresearch: 9827385
---
Geopolitical/Police State
Subpoenas issued to directors of SPAC taking Trump's social network public
A federal grand jury in New York has issued subpoenas to each board director of the blank check company that has agreed to take public Donald Trump's social media startup, Truth Social.
Why it matters: This is in addition to previously disclosed investigations into the blank-check company by both the SEC and Justice Department, thus intensifying questions about Truth Social's financial future.
Details: Digital World Acquisition Corp. on Monday disclosed the subpoenas, adding that some of the information requested was about communications with a Miami-based investment firm called Rocket One Capital.
It also said Bruce Garelick, chief strategy officer at Rocket One, is resigning from Digital World Acquisition's board of directors.
Source: axios.com
BREAKING: "California gun owners have been put at risk by the Attorney General's office after a new dashboard leaked their personal information." https://t.co/OGFOpgEWa7

— Tom Fitton (@TomFitton) June 28, 2022
---
War
Nato's secretary general has said this week's Madrid summit will agree the alliance's most significant transformation for a generation, putting 300,000 troops at high readiness in response to Russia's invasion of Ukraine.
---
Cyber Attacks
---
False Flags
The Left using vaccine mandate to decimate our miltary. https://t.co/v2v1P8kfnG

— Tom Fitton (@TomFitton) June 28, 2022
---
Q
An incredible new video has emerged that exonerates the members of the Proud Boy fraternity from the ridiculous seditious conspiracy charges that the Biden Regime launched against them in their War On Trump and his supporters.
*SEE THE FULL NEVER BEFORE SEEN VIDEO BELOW!!
This Proud Boy leadership meeting was recorded back on December 30th, 2020- one week before the January 6th protest.
This video unquestionably proves that the Proud Boys never planned on going inside the Capitol on January 6th, let alone commit "seditious conspiracy".
Watch it here: 
Five of these indicted men currently sit in pre-trial detention. They include Proud Boy Chairman Enrique Tarrio and his pals Joseph Biggs, Ethan Nordean, Dominic Pezzola and Zachary Rehl.
This recorded Zoom meeting was leaked by an Indicted Proud Boy that had viewed it live.
The Department of Justice had confiscated this video from the phone of Proud Boy Chairman Enrique Tarrio and hidden it from the public.
Luckily, these DOJ geniuses did not realize it still lived on a hidden YouTube link or they surely would have forced their minions at YouTube to take it down.
In the video, Proud Boy Chairman Enrique Tarrio said:
"We are never going to be the ones to cross the police barrier, or to cross something in order to get to somebody… We're always going to be the ones standing back, right? We are always going to be the ones to f**king defend."
Source: thegatewaypundit.com
  Michael Stenger, the Senate Sergeant-at-Arms during the January 6, 2021 Capitol riot that saw the Senate chamber occupied by protesters, is reported by Hill reporters to have died.
Then Senate Majority Leader Mitch McConnell (R-KY) asked for and received Stenger's resignation the day after the riot.
 Stenger later testified on the January 6 protests and riot.
He told investigators that "paid professional agitators" were operating on January 6th in Washington DC.
  Source: thegatewaypundit.com
Source: beckernews.com
Michael Stenger, Senate Sergeant at Arms on January 6th, was found dead today..

— Rep. Marjorie Taylor Greene🇺🇸 (@RepMTG) June 28, 2022
TAKE A LISTEN
The network executive producing the J6 hearings is so distraught by the low ratings that he is unveiling "surprise" performances. It's like a Hollywood award show.

Only in DC is this normal.

— Richard Grenell (@RichardGrenell) June 28, 2022
Kinda like The NY Times Anonymous who turned out to be a doofus junior staffer who was nowhere near any decision making authority. https://t.co/GzWSDjrwfl

— Ned Ryun (@nedryun) June 28, 2022
The corrupt J6 committee's new SURPRISE WITNESS was so appalled by Trump and J6 that she…was planning to go work for Trump at his FL residence eight days *after* January 6 (article was published on January 14, 2021).

This Soviet show trial is a joke. https://t.co/tkj7IqflwG pic.twitter.com/YdcYTGJyJH

— Sean Davis (@seanmdav) June 28, 2022
I hardly know who this person, Cassidy Hutchinson, is, other than I heard very negative things about her (a total phony and "leaker"), and when she requested to go with certain others of the team to Florida after my having served a full term in office, I personally turned her request down. Why did she want to go with us if she felt we were so terrible? I understand that she was very upset and angry that I didn't want her to go, or be a member of the team. She is bad news!
Donald J. Trump@realDonaldTrump
Her Fake story that I tried to grab the steering wheel of the White House Limousine in order to steer it to the Capitol Building is "sick" and fraudulent, very much like the Unselect Committee itself – Wouldn't even have been possible to do such a ridiculous thing. Her story of me throwing food is also false…and why would SHE have to clean it up, I hardly knew who she was?
Cassidy Hutchinson wasn't even in the limo
Cassidy Hutchinson, who served as a senior aide to former White House chief of staff Mark Meadows testified against Trump.
Ms. Hutchinson on Tuesday testified that Trump was aware January 6 rally attendees had weapons and were wearing body armor.
Liz Cheney once again played a clip omitting Trump's statement from the Ellipse to 'peacefully and patriotically' protest on January 6.
 Hutchinson claimed Trump was told rally attendees had weapons.
Source: thegatewaypundit.com
·

Never complained about the crowd, it was massive. I didn't want or request that we make room for people with guns to watch my speech. Who would ever want that? Not me! Besides, there were no guns found or brought into the Capitol Building…So where were all of these guns? But sadly, a gun was used on Ashli Babbitt, with no price to pay against the person who used it!