The 'How' Will Be Hard To Understand For Most, Focus On The 'Why', The 'When' Is Now – Ep. 2794
Watch The X22 Report On Video
The entire economic system is falling apart on [JB] watch, the process was accelerated, the [CB] never expected this to be this fast. The people know there is no recovery, they realize they have been lied to. The problem is going to get worse and the people will decide in the end. Trump and the patriots are building the offensive, the process  is almost complete, the latest piece will be the midterms. Sometime you need to show the people that a trial that follows the rule of law can only happen if you remove the corruption. People do not need to understand the how, they need to focus on the why and the when is now. Trump sends a message about 11.3, is he letting us know that this is coming into play right now. It's almost time to expose and bring down the entire [DS] system.
---
Economy
Another week, another collapse in the pace of mortgage applications as the Mortgage Bankers Association (MBA) reports a 6.5% week-over-week drop in mortgage applications – the fourth straight weekly drop – to its lowest since 2000. Purchases fell more than refis, tumbling 6.1% WoW (refis fell 5.6% WoW)…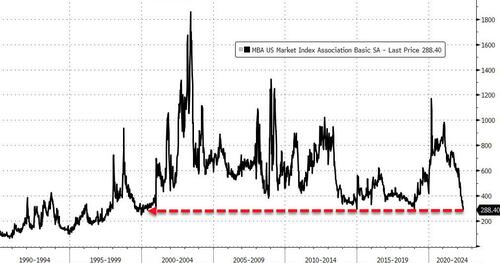 Source: zerohedge.com
Consumers are being squeezed by negative real wage growth and inflation at 40-year highs. As a result, consumer sentiment is declining, and personal consumption habits are changing as people struggle to help make ends meet.
With GDP running at -1.5% in the first quarter, a second consecutive quarter of negative growth will signify a recession. Personal consumption accounts for two-thirds of economic activity. As such, we must ask, will the plight of consumers drag GDP lower in the second quarter, resulting in a recession?
Declining Real Wages
  Consumers are essentially getting pay cuts whether they know it or not.
The two spikes in the graph result from the direct pandemic-related government payments to citizens.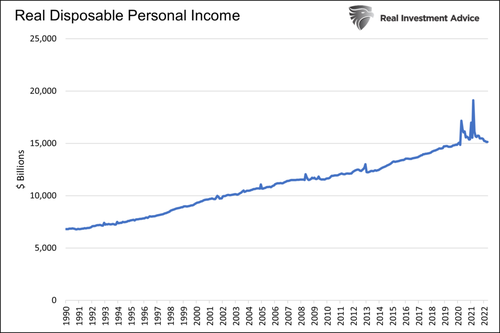 The trend in real wages does not bode well for personal consumption. With inflation remaining in the 8% range and wages growing at about 5%, many consumers are losing. The data is worse for the lower and middle classes, which spend most of their money on food, energy, and rent. The prices of which are rising faster than the inflation rate.
The table below shows the difficult choices consumers are being forced to make.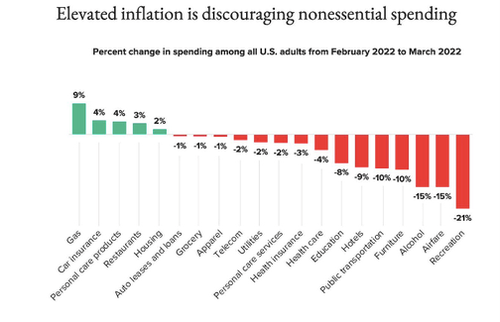 Savings
When in need, people draw down on their savings to help. The graph below shows that is exactly what is occurring today. Personal savings are down to eight-year lows as consumers become increasingly reliant on additional sources of funds. Now consider the graph below is not inflation-adjusted. A dollar of savings indeed went a lot further in 2014 than today!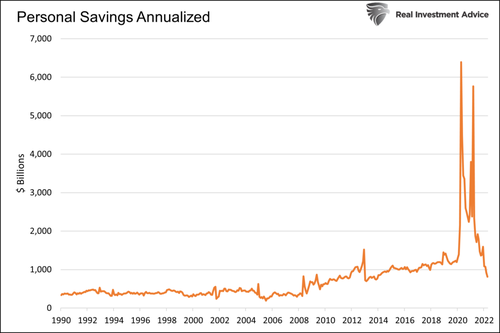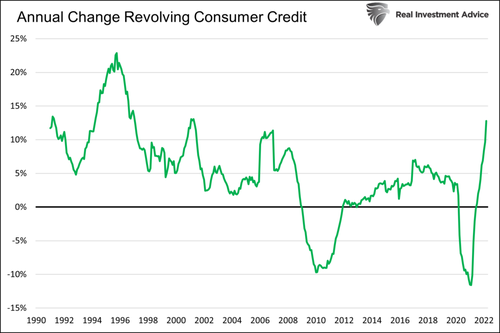 Summary
Falling consumer sentiment.
Crushing inflation.
Declining real wages.
Savings are being drawn down rapidly.
Credit card usage is soaring.
Mortgage cash-out refinancing is not economical.
Fiscal stimulus is unlikely.
Excepting a sharp decline in inflation or a gap higher in wages, it appears the consumer is in a bind. 70% of the economy is tied to the fate of the consumer. Such does not mean a recession is probable, but given the consumer's predicament, we must assume it's a distinct possibility.
Source: zerohedge.com
Credit card debt soared by $17.8 billion in April, the second highest amount ever. The highest was March, when it soared by a staggering $25.6 billion. Consumers are completely tapped out. They're using their credit cards to buy food and pay for other essentials. #Stagflation.

— Peter Schiff (@PeterSchiff) June 7, 2022
Gas is unaffordable, groceries are too expensive, and moms can't buy baby formula. With all due respect, Mr. President, what "strong economy" are you referring to? https://t.co/gV2BvXKYEN

— Herschel Walker (@HerschelWalker) June 8, 2022
Sen. Debbie Stabenow (D-MI):

"On the issue of gas prices, I drove my electric vehicle from Michigan to here last weekend and went by every gas station and it didn't matter how high it was."
pic.twitter.com/VWSd9BJ3kk

— Greg Price (@greg_price11) June 7, 2022
Are they predicting rolling blackouts this summer, this should be interesting
A key Texas petroleum refinery that produces more than 200,000 barrels of fuel per day is facing a premature shutdown that could increase pressure on domestic fuel supplies.
The Houston, Texas, facility — which is operated by LyondellBasell Industries, spans 700 acres and was built in 1918 — is scheduled to permanently close by the end of 2023, but could shut down earlier if a "major equipment failure" spreads to major units, two people familiar with the issues told Reuters. The refinery processes 268,000 barrels per day (bpd) of oil and produces 92,600 bpd of diesel fuel, 89,000 bpd of gasoline and 44,500 bpd of jet fuel.
Source: dailycaller.com
According to the World Bank's latest global economic forecast released on Tuesday, global economic growth is expected to slow down before the end of the year, and most countries should begin preparing for a recession.
In the newly released report, the World Bank cut its forecast for global growth this year to 2.9%, down from the 4.1% forecast published in January. The report also warns that several years of above-average inflation lie ahead. 
The World Bank report cautioned that if geopolitical conditions do not begin to improve, "global growth could be substantially weaker."
Source: thegatewaypundit.com
---
Political/Rights
A large majority of Americans disapprove of the Department of Education's plan to expand the definition of "sex" to include "gender identity," according to new polling.
The Education Department's move comes as the Biden administration is using heavy-handed measures to enshrine gender ideology into federal law.
Nearly two-thirds of Americans (63 percent) oppose the Education Department's plan, according to a YouGov poll done for SAVE released Monday. The proposed changes would amend Title IX's definition of "sex" to include "sex stereotypes, sex-related characteristics (including intersex traits), pregnancy or related conditions, sexual orientation, and gender identity." Only 37 percent of Americans were for the redefinition.
In addition to the redefinition opposition, 71 percent of Americans also believe biological males should not be allowed to compete in women's sports, compared to 29 percent supporting the move.
Source: breitbart.com
https://twitter.com/Liz_Wheeler/status/1534401421872857088?s=20
George Soros-backed groups have spent $40 million to elect 75 progressive prosecutors over the last decade – meaning one in FIVE Americans now live in areas covered by his criminal justice reformers
The 91-year-old billionaire philanthropist has for the last 30 years given away huge chunks of his fortune through his Open Society Foundations
Soros's networks have worked to support left-leaning district attorneys across the country, pouring significant funds into the races
Among the major recipients are the Los Angeles district attorney, George Gascon, and the Philadelphia DA, Larry Krasner
Jason Johnson, president of the pro-police action group Law Enforcement Legal Defense Fund (LELDF), accused Soros in a new report of harming the country
He said the DAs were working 'to quietly transform the criminal justice system for the worse, promoting dangerous policies and anti-police narratives'
source: dailymail.co.uk
---
Geopolitical/Police State
Far more bots and fake accounts on Twitter than originally thought. That place is a disaster (and boring!). I will never go back!
Project Veritas  released undercover video of a CBS broadcast associate discussing his network's way of fact-checking their own reporting.
Mike Mulford, the Documentary Broadcast Associate at CBS revealed how the network gets around journalism procedures and standards by "using sources from his own network to verify information in their reporting."
CBS uses their own CBS articles to verify and fact-check information.
Source: thegatewaypundit.com
Single Action Army Revolver (Lone Star, The Newton Boys, Free State of Jones)
Browning Auto-5 semiautomatic shotgun (The Newton Boys)
M1911A1 semiautomatic pistol (U-571)
Thompson M1928A1 submachine gun (U-571)
Mossberg 500 shotgun (Reign of Fire)
Ultimax 100 light machine gun (Reign of Fire)
Browning Hi-Power semiautomatic pistol (Sahara)
AKM assault rifle (Sahara)
AK-47 assault rifle (Sahara)
Smith & Wesson 659 semiautomatic pistol (The Lincoln Lawyer)
Glock 17 semiautomatic pistol (Killer Joe)
Colt MK IV Series 70 semiautomatic pistol (Mud)
Remington Model 1100 semiautomatic shotgun (Mud)
Beretta 92FS semiautomatic pistol (The Dallas Buyers Club)
Winchester Model 1912 pump-action shotgun (The Dallas Buyers Club)
Colt 1860 Army revolver (Free State of Jones)
12 Gauge Double Barreled Shotgun (Free State of Jones)
Heckler & Koch USP Compact semiautomatic pistol (The Gentlemen)
Source: breitbart.com
I hate to be that person, but I'm gonna be. Those shoes are brand fucking new. Those aren't kid's shoes. This is propaganda. She's wearing them in the 3rd photo. Don't lie. pic.twitter.com/ugbLlSJBnx

— Rocky (@wavechaser2024) June 7, 2022
Why lie about these things? It's terrible. pic.twitter.com/4FxhKZHh3i

— Rosie Memos (@almostjingo) June 8, 2022
They investigated the president of the United States for 4 straight years based on a fake document, completely made up charges and a smear campaign that was unprecedented in history.
What do you think the DOJ does to political dissidents once they get to use red flag laws?

— Rising serpent 🇺🇸 (@rising_serpent) June 8, 2022
---
War
The FBI seized electronic data of a retired four-star general related to his role in a lobbying campaign on behalf of Qatar.
The feds are investigating former Marine Gen. John R. Allen for FARA violations and accused him of giving the FBI a "false version of events" about his work for Qatar.
In 2017, Allen was chosen to lead the Brookings Institution, a highly powerful think tank that was financially backed by Qatar for years.
Source: thegatewaypundit.com
---
Cyber Attacks
---
False Flags
Healthy young people are dying suddenly and unexpectedly from a mysterious syndrome – as doctors seek answers through a new national register
People aged under the age of 40 being urged to go and get their hearts checked 
May potentially be at risk of having Sudden Adult Death Syndrome (SADS)
SADS is an 'umbrella term to describe unexpected deaths in young people'
A 31-year-old woman who died in her sleep last year may have had SADs 
People aged under 40 are being urged to have their hearts checked because they may potentially be at risk of Sudden Adult Death Syndrome.
The syndrome, known as SADS, has been fatal for all kinds of people regardless of whether they maintain a fit and healthy lifestyle.
SADS is an 'umbrella term to describe unexpected deaths in young people', said The Royal Australian College of General Practitioners, most commonly occurring in people under 40 years of age.People aged under 40 are being urged to have their hearts checked, because they may potentially be at risk of Sudden Adult Death Syndrome (SADS) (pictured, woman experiencing chest pain while running)
Source: dailymail.co.uk
---
Q
Kelly pointed out that neither the members of the Proud Boys nor the Oath Keepers face weapons charges.
"How does one overthrow the government with cell phones and costumes?" she asked.
The Times confirmed in September, as Kelly noted, that at least two FBI informants embedded with the Proud Boys on Jan. 6, 2021, were in close contact with their FBI handlers that day.
In its report Tuesday, the Times said a "significant portion of the first hearing on Thursday evening will focus on the Proud Boys," citing two people familiar with the matter who spoke on the condition of anonymity.
"It is scheduled to include testimony from a documentary filmmaker, Nick Quested, who was embedded with the group during the storming of the building, and a Capitol Police officer, Caroline Edwards, who was injured in an assault said to be triggered by the Proud Boys," the paper said.
'Stand back and stand by'
After the Sept. 29, 2020, debate, establishment media took Trump's use of the term "stand by" to mean the Proud Boys should wait for his command to attack. But Trump clearly meant "stand down," as he explained to reporters the next day. It was the term moderator Chris Wallace used in his question. And it was Wallace who invoked the Proud Boys as he prodded Trump to denounce white supremacists – which the president had done many times before and which he did at that time during the debate, contrary to the media's headlines.
Source: wnd.com
Where is the primetime congressional hearing over the Biden Afghanistan Withdrawal that left 13 American soldiers dead?

Or the drone strike on the Afghan toddlers our military thought were ISIS leaders?

Or the $85,000,000,000 in weapons of war handed over to the Taliban?

🤔

— Charlie Kirk (@charliekirk11) June 8, 2022
Did they already do this and lost, remember the 2nd impeachment, they thought they had him, nobody would want to be associated with him, this completely backfired on them, he has more leverage and the people are behind him.  
Do you think this will wake up more people, do you think Trumps popularity will increase?
The January 6 Committee is ILLEGITIMATE!

— Rep. Matt Gaetz (@RepMattGaetz) June 7, 2022
An armed man who planned to kill Brett Kavanaugh was arrested  outside the Supreme Court Justice's house.
 initial evidence indicates that the man was angry about the leaked Roe v. Wade decision overturning the constitutional right to abortion. He was also angry about recent mass shootings, 
At least one person, Congressional candidate Vernon Jones, suggested that Chuck Schumer's rhetoric was a factor.
Last night, a deranged man sought to murder Brett Kavanaugh at his family's home.

Following this CLEAR incitement of violence by @chuckschumer, he should be charged as well.

This not acceptable in any civil society. pic.twitter.com/9htw4RQh9H

— Vernon Jones For Congress (@VernonForGA) June 8, 2022
TAKE A LISTEN
Source: zerohedge.com
Remember When Jen Psaki said the White House encourages people to protest outside the homes of Supreme Court justices. Less than a month later, somebody was arrested outside Brett Kavanaugh's home with a gun  . Does President Biden still stand by it?
Thanks for providing the transcript where Psaki explicitly says the White House encourages left-wing nutjobs to protest outside of justices' homes.

Are you illiterate, or just really dumb and dishonest? Or all of them? I'm leaning towards dumb, illiterate, and dishonest. https://t.co/IRm7MPlvPL

— Sean Davis (@seanmdav) June 8, 2022
Supreme Court Justice(s) to receive FULL TIME security detail(s) – (pending).
Q
A San Diego grand jury indicted 11 Antifa and BLM militants for attacking Trump supporters during a "Patriot March" demonstration in Pacific Beach last year.
In January 2021, a mob of Antifa terrorists assaulted a small group of Trump supporters in San Diego, California.
Antifa goons attacked the Trump supporters with pepper-spray after a verbal confrontation escalated on the boardwalk in Pacific Beach.
The indictment actually calls out Antifa by name and alleges all defendants "are all affiliated with Antifa" and used "force, fear, and violence to further their interests and suppress the interests of others."
The grand jury brought 29 felony counts, including conspiracy.
Source: thegatewaypundit.com
Judicial Watch   forced the release of a DOJ memo declining the criminal prosecution for Ashli Babbitt's killer Michael Byrd.
Ashli Babbitt, a 14-year veteran from San Diego who served 4 tours with the US Air Force as a high-level security officer was shot and killed by Capitol Police Lt. Michael Byrd on January 6, 2021.
Judicial Watch received a memo on the Jan 6 shooting recommending "that the United States Attorney's Office for the District of Columbia decline for criminal prosecution the fatal shooting of Ashli McEntee [Babbitt]," also noting that the shooter, U.S. Capitol Police Lt. Michael Byrd, "did not create a police report or documents" related to the shooting of Babbitt." the watchdog reported.
"The documents also reveal that in the press release announcing the decision not to prosecute Byrd for the killing of Babbitt, the DOJ replaced the words "group" and "crowd" with the word "mob" several times."
"There are several USCP operated Closed-Circuit Television Video (CCTV) cameras inside of the United States Capitol Building. However, there were no CCTV cameras observed or located in the Speaker's Lobby area."  the memo states.
Judicial Watch reported:
"These records show that Lt. Byrd was given special treatment by the Biden DOJ and that there was a miscarriage of justice in the half-baked shooting death investigation of Ashli Babbitt," said Judicial Watch President Tom Fitton. "Lt. Byrd, who works for Congress, shot an unarmed woman for no good reason. I suspect that this unjustified shooting isn't of much interest to the Pelosi rump January 6 committee."
Source: thegatewaypundit.com
According to House Judiciary Committee Republicans, multiple former FBI officials have suggested the bureau is "purging" employees with conservative viewpoints.
Congressman Jim Jordan, a ranking member of the panel, sent a letter to Director Christopher Wray on Tuesday detailing the allegations related to the events of January 6.
"In one such example, the FBI targeted and suspended the security clearance of a retired war servicemember who had disclosed personal views that the FBI was not being entirely forthcoming about the events of January 6. The FBI questioned the whistleblower's allegiance to the United States despite the fact that the whistleblower honorably served in the United States military for several years — including deployments in Kuwait and Iraq — valiantly earning multiple military commendation medals," a press release for the letter states.
"In addition, another whistleblower, who has since left the FBI, has informed us that [REDACTED] faced retaliation for criticizing the FBI in an anonymous survey circulated by the [REDACTED] to employees following January 6," the letter reads. "We are conducting oversight to ensure the FBI is not retaliating against FBI employees for exercising their First Amendment rights and engaging in disfavored political speech," he wrote in the new letter.
Source: thegatewaypundit.com
·

All roads (and patterns of life of 242 mules) led to Georgia in 2020.
Former U.S. Congressman and Philadelphia Political Operative Pleads Guilty to Election Fraud Charges
 United States Attorney Jennifer Arbittier Williams announced today that former U.S. Congressman Michael "Ozzie" Myers, 79, of Philadelphia, PA, pleaded guilty today to conspiracy to deprive voters of civil rights, bribery, obstruction of justice, falsification of voting records, and conspiring to illegally vote in a federal election for orchestrating schemes to fraudulently stuff the ballot boxes for specific Democratic candidates in the 2014, 2015, 2016, 2017, and 2018 Pennsylvania elections.
39th Ward, 36th Division
Specifically, Myers admitted in court to bribing the Judge of Elections for the 39th Ward, 36th Division in South Philadelphia, Domenick J. Demuro, in a fraudulent scheme over several years. Demuro, who was charged separately and pleaded guilty in May 2020, was responsible for overseeing the entire election process and all voter activities of his Division in accord with federal and state election laws.
Source: justice.gov
It's almost like @realDonaldTrump is saying
"That proof began on 11.3"
"Once 11.3 verifies the military will be the only way forward"
It is being stated by almost all that Joe Biden is the worst President in history. If inflation is not quickly rained in, he may go down as an equal combination of Herbert Hoover and Jimmy Carter, with Jimmy's only words of wisdom being that our Country SHOULD NOT USE MAIL-IN BALLOTS FOR VOTING BECAUSE THEY WILL LEAD TO VERY CORRUPT ELECTIONS!!!
·

One day voting, all paper ballots, voter ID. Mail-In ballots only for distant military and people who are "legitimately" sick…And our CORRUPT AND LAUGHED AT VOTING SYSTEM IN AMERICA IS FIXED!!!
Q

 

!!Hs1Jq13jV6

 

ID: 9b5e5d

 No.9599109

Q

 

!!Hs1Jq13jV6

 

ID: c7e053

 No.9599384

EZlRSs1WoAAZ7lS.jpg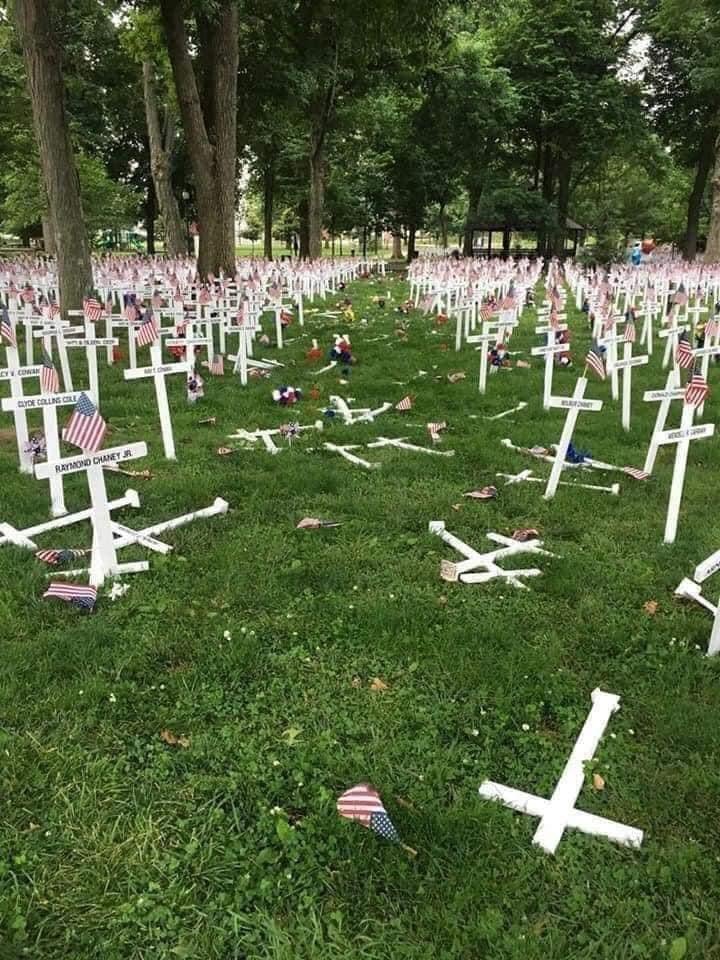 Only when evil is forced into the light can we defeat it.
Only when they can no longer operate in the [shadows] can people see the truth for themselves.
Only when people see the truth [for themselves] will people understand the true nature of their deception.
Seeing is Believing.
Sometimes you can't tell the public the truth.
YOU MUST SHOW THEM.
ONLY THEN WILL PEOPLE FIND THE WILL TO CHANGE.
It had to be this way.
This is not another 4-year election.
GOD WINS.
Q

 

!!Hs1Jq13jV6

 

ID: 4b50f0

 No.9600426

YOUR VOICE MATTERS.
YOUR VOTE MATTERS.
Everything you see today is an attempt to eliminate that.
To remain silent _living in fear
[controlled]
is to remain powerless.
https://dictionary.cambridge.org/dictionary/english/powerless
A Moment In Time.
History has taught us that People Will Rise [Judgement
[Revolution] Day]
against the Rulers.
From Pharaohs to Kings to Elected Officials.
A rigged system of control and corruption
[evil]
.
[on the backs of people]
Modern day slavery.
People Will Rise Again.
Put on the full armor of God so that you can take your stand against the devil's schemes. For our struggle is not against flesh and blood, but against the rulers, against the authorities, against the powers of this dark world and against the spiritual forces of evil in the heavenly realms.
Q