The Jackals Are Making Their Move, Every Once In While Trump Has To Show Them Who He Is – Ep. 2898
Podcast: Download (Duration: 1:21:22 — 36.5MB)
Watch The X22 Report On Video
The [CB] unleashed and energy crisis back in the 70's and we are seeing the same energy crisis, same playbook. The economy is falling apart, Trump sends a message showing the people the difference with him and Biden. Crisis is coming and the people will not be on the side of the [CB]/[WEF] or the corrupt leaders. The [DS] is now pushing everything they have at Trump. The jackals are making their move. They are pushing the lawsuits, pushing subpoenas, they know that Durham is exposing their treasonous crimes and they know Trump has all the dirt on them. FISA (Full) will bring down the house, and this will lead to another and another. Trump has them exactly where he wants them, sometimes Trump (lion) has to show the jackals who he really is.
---
Economy
Saboteurs attempted to blow up the Turkstream Pipeline from Russia through Turkey to Europe.
Reuters reported:
The Kremlin said on Thursday that several people had been arrested during a foiled attack on the TurkStream gas pipeline on Russian territory, Interfax news agency reported.
Russia has said it is stepping up security on the TurkStream pipeline, which carries Russian gas to Turkey, amid unexplained ruptures on the Nord Stream gas pipelines in the Baltic Sea and an oil leak on the Druzhba pipeline in Poland. 
Source: thegatewaypundit.com
Core U.S. inflation comes in hotter than expected, at the highest levels since 1982. Stocks and bonds tank. pic.twitter.com/Dm40NAnthR

— Lisa Abramowicz (@lisaabramowicz1) October 13, 2022
US rents rose 7.8% in September – and are still up 25% since before the pandemic https://t.co/ukUw9JlEGv

— Daily Mail US (@DailyMail) October 12, 2022
From the awful just-released #CPI report: Inflation rates for the necessities of life.

These kinds of price spikes are crushing middle and lower income Americans. They're struggling to survive Biden's Inflation. pic.twitter.com/zISChtxaIV

— Steve Cortes (@CortesSteve) October 13, 2022
Annual inflation via BLS just out:

42.9% airline fares
33.1% utility gas
30.5% eggs
18.2% gasoline
17.2% chicken
15.7% coffee
15.2% milk
14.7% bread
10.1% furniture
9.2% vegetables
8.2% all items
8.2% fruit
8.1% ham
7.6% women apparel
7.2% used cars
6.7% rent
3.7% men apparel

— Ryan Struyk (@ryanstruyk) October 13, 2022
The US annual inflation rate was 8.2% in September – this is higher than the expected 8.1%.
The consumer price index rose 0.4%.
As Americans' cost of living increases, Social Security has to keep up.
Social Security announced an 8.7% cost of living adjustment for retirees  – this is the highest in 40 years.
The increase is based on the latest government inflation figures.
The adjustment will be applied in January.
Source: thegatewaypundit.com
Only 32 percent of Americans approve of President Joe Biden's handling of inflation, the top midterm issue in every Senate battleground state, a CNN poll found Wednesday.
Fifty percent of respondents said Democrat policies have worsened economic conditions, while 24 percent said they have had no impact. Just 26 percent said they have improved the nation's economy.
Seventy-two percent said Democrats are not doing enough to prevent the recession. Another 73 percent said he is not doing enough to reduce inflation.
The poll sampled 1,982 Americans by telephone or live interviewer from October 3-5 with a 3.1 margin of error.
Source: breitbart.com
It appears US Treasury Secretary Janet Yellen has some very concerning short-term memory problems, just like her boss.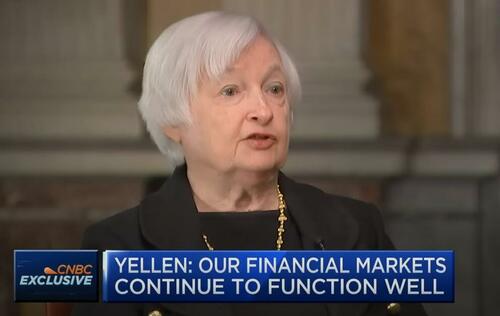 Yesterday, during an interview with CNBC, she offered the following reassuring comments about the state of US financial markets… "… we really haven't seen any of these signs of financial instability in the United States financial markets…"
Today, answering questions following a speech in Washington, she said:
"We are worried about a loss of adequate liquidity in the market," adding that the balance-sheet capacity of broker-dealers to engage in Treasuries market-making hasn't expanded much, while the overall supply of Treasuries has climbed.
1638ET Today: YELLEN: WORRIED ABOUT LOSS OF ADEQUATE LIQUIDITY IN TREASURIES
1623ET Yesterday: YELLEN: NOT CONCERNED ABOUT LIQUIDITY IN MARKETS
And in case you were wondering which Janet Yellen is right, it's simple…
Bloomberg's measure of prevailing liquidity conditions in the US Treasury market is at its most stressed since the peak of the COVID lockdown crisis.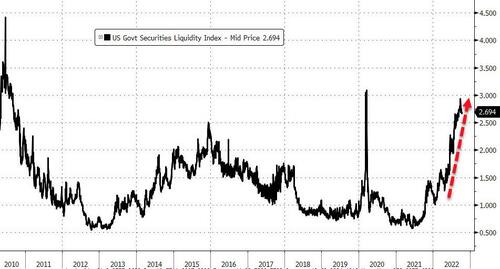 The last time Treasury liquidity was this bad, The Fed injected $1 trillion every day to unlock the bond market and launched $120BN in QE to short circuit a catastrophic USD short squeeze.
Source: zerohedge.com
Visits to PayPal cancellation pages soar by more than 500% as finance giant forced to reverse 'Orwellian' misinformation policy

Oops. You went woke, you know what comes next, @PayPal https://t.co/Ln8AUdJwgG

— Rita Panahi (@RitaPanahi) October 12, 2022
PayPal is reportedly bribing $15 worth of vouchers to account holders to prevent them from canceling their accounts, that only tells you how bad the situation is.
Source: thegatewaypundit.com
Earlier today I learned that @kanyewest was officially kicked out of JP Morgan Chase bank. I was told there was no official reason given, but they sent this letter as well to confirm that he has until late November to find another place for the Yeezy empire to bank. pic.twitter.com/FUskokb6fP

— Candace Owens (@RealCandaceO) October 12, 2022
This evening Bank of America canceled popular conservative Twitter user Catturd's podcast account. No reason was given.
Catturd took to their account Twitter saying:
"Just so you know, Bank of America @BankofAmerica canceled our bank account for our podcast. When Jewels, my cohost, asked why they rudely said 

they didn't need reason.

 
Today on our podcast https://t.co/8VEQbaIeCF – Jewels is going to tell the entire story of how Bank Of American abruptly canceled the bank account we used for our podcast. Wait until you hear how snotty and rude they treated her when she went in to ask them why.

— Catturd ™ (@catturd2) October 13, 2022
---
Political/Rights
AP: Saudis say US sought 1 month delay of OPEC+ production cuts

Translation: Joe Biden just asked the Saudis for foreign election inference to help Democrats in the midterms.

— Charlie Kirk (@charliekirk11) October 13, 2022
Trump said his phone call with Ukraine was perfect, does this look like a perfect phone call ?
Trump was impeached over an alleged quid pro quo threat to Ukraine over weapons transfers before an election.
A federal judge has denied former President Trump's motion to pause the proceedings of a defamation suit against him from a woman who has accused him of rape while appeals over the case play out, setting him up for a deposition next week. 
New York Attorney General Letitia James on Thursday asked a judge to bar Trump from moving his businesses to a new holding company amid a lawsuit she filed last month.
Letitia James said her office is seeking to:
Make Trump pay $250 million.
Ban the Trumps from running NY businesses for good.
Ban Trump and Trump Org from buying commercial real estate in NY for 5 yrs.
We're making a criminal referral to the US Department of Justice
Source: thegatewaypundit.com
ALEXANDRIA, Virginia — 

T

he FBI set up an immunity agreement with British ex-spy Christopher Steele's main source shortly before the bureau made Igor Danchenko a paid confidential informant in early 2017, special counsel John Durham's trial revealed.
Durham prosecutor Michael Keilty said Tuesday that the FBI in early 2017 had two main goals related to Danchenko: uncovering the Russian's dossier sources and attempting to either corroborate or refute the dossier's allegations. Keilty noted the existence of the immunity agreement in his opening argument, arguing that its requirements were that Danchenko tell the truth, not conceal information, and not lie.
Danchenko defense lawyer Danny Onorato argued that Keilty was lying about the existence of an immunity agreement during his own opening argument, telling the jury, "That's a lie. He just lied to you." Onorato told the jury to "think about that while you consider the government's case" as he argued that the agreement his client had signed in January 2017 did not provide immunity from prosecution. 
After the jury left the room, Durham said that the comments by Danchenko's lawyer were "highly inappropriate" and "untrue." He said the agreement Danchenko had signed with the Justice Department referenced the statute guiding immunity, and Durham called on the judge to instruct the jury to disregard the Danchenko lawyer's claims. Keilty and Onorato continued to debate the document quietly during a brief recess.
The judge ended up siding with Durham's team and shot down Danchenko's argument. "I think the jury does need to be told something," Judge Anthony Trenga said before they walked in. Durham repeated that the jury should be instructed to disregard the Danchenko lawyer's claims.
The judge said that although Danchenko was not given total immunity, he was absolutely given partial immunity. Trenga said simply, "That's an immunity agreement." Danchenko's lawyer kept trying to argue the issue, but the judge wouldn't have it. "I don't want to prejudice Mr. Danchenko because of his counsel's improper remarks," the judge said.
"Mr. Onorato's statement needs to be clarified," Trenga told the jury, adding, "While it does not provide total immunity, it does provide use immunity."
FBI supervisory intelligence analyst Brian Auten, who testified during the trial on Tuesday, was one of the FBI agents who interviewed Danchenko in January 2017. Auten said neither Danchenko nor Steele ever provided corroborating information for the dossier, even though the FBI had offered the former MI6 agent up to $1 million if he could back up his claims, which he apparently could not.
According to Durham, Danchenko anonymously sourced a fabricated claim about Trump 2016 campaign manager Paul Manafort to Charles Dolan, a Clinton ally who spent years, including 2016, doing work for Russian businesses and the Russian government.
Durham's indictment also says Danchenko lied to the FBI about a phone call he claims he received from Sergei Millian, a Belarus-born U.S. citizen and businessman whom the Steele source had said told him about a conspiracy of cooperation between former President Donald Trump and the Russians — which the special counsel says is false.
Keilty had argued during his opening statement that Danchenko "fabricated a source" (Millian) and "concealed a source" (Dolan).
Source: washingtonexaminer.com
James Comey deceitfully pushed Steele's lies into the Intelligence Community Assessment. He also asserted that some of the dossier's reporting had been corroborated.

Comey's lie has now been unequivocally contradicted in court testimony.

When will Comey be held to account? pic.twitter.com/NJu5aG2H6S

— Hans Mahncke (@HansMahncke) October 12, 2022
2129  
Q
!!mG7VJxZNCI
09/10/2018 13:41:01
 ID:
8chan/patriotsfight: 207
  the Department of Homeland Security (DHS) announced that Venezuelans who seek to enter the U.S. illegally will be returned to Mexico effective immediately as part of a new migration policy.
"As part of the Biden-Harris Administration's ongoing work to build a fair, orderly, and secure immigration system, the Department of Homeland Security (DHS) is announcing joint actions with Mexico to reduce the number of people arriving at our Southwest border and create a more orderly and safe process for people fleeing the humanitarian and economic crisis in Venezuela," according to the news release.
Anyone from Venezuela who enters the United States between ports of entry without proper documentation will be sent back to Mexico immediately.
Source: thegatewaypundit.com
Texas data indicates illegal immigrants have higher murder rateshttps://t.co/ZcuN7xW4fD pic.twitter.com/fKBP8MYBxk

— The Washington Times (@WashTimes) October 12, 2022
---
War
North Korea has test-fired a pair of long-range strategic cruise missiles, with leader Kim Jong Un lauding another successful display of the country's tactical nuclear strike capability.
The test, which took place on Wednesday, aimed at "enhancing the combat efficiency and might" of cruise missiles deployed to the Korean People's Army "for the operation of tactical nukes", state media KCNA reported on Thursday morning.
 Source:  aljazeera.com
The Ukraine conflict has been the most propagandistic in the history of human warfare. Now we know, as many speculated and were called "conspiracy theorists," Zelensky and his handlers record green screens to project a false image of a brave wartime leader pic.twitter.com/axjqdni3Di

— Dan Cohen (@dancohen3000) October 12, 2022
Macron's "we don't want a world war" statement also comes immediately after he announced that France will be delivering radar and anti-air defense missile systems to Ukraine in the coming weeks, following the unprecedented in size Russian airstrikes on many Ukrainian cities.
Macron explained, according to France24:
"This is a new phase of bombing coming from land, sea, air and drones against essential infrastructure and civilians," Macron said, adding that radar and anti-air missiles would be delivered in the coming weeks to "protect the country from drone and missile attacks."

…A source aware of the matter said Paris would provide Crotale short-range anti-air missiles, which are used to intercept low-flying missiles and aircraft.
An ongoing meeting of NATO defense ministers in Brussels has said the military alliance is ready to beef up Europe's air defenses while committing to more defense aid to Kiev "for as long as it takes". Moscow has meanwhile repeated its warnings that the deepening involvement of NATO countries makes them a "direct party to the conflict".
Source: zerohedge.com
·

The Democrat party is being dismantled before your eyes and yet people still want to tell you that nothing is happening. Do not listen to them. 
When the average person witnesses sky-high gas prices, war mongering, and the threat of literal nuclear war: They start to pay attention to politics.  
We are looking at not only an Exodus from Babylon but an Exodus of the Democrat party.
It. Is. Glorious.
---
False Flags
The CEO of Moderna announced his company has a program that involves injecting messenger RNA (mRNA) into people's hearts following a heart attack.
"We are now in a super exciting program where we inject mRNA in people's hearts after a heart attack to grow back new blood vessels and re-vascularize the heart," Stephane Bancel, the CEO, told Sky News in a recent interview.