The People Are Figuring It Out, But When A Long Train Of Abuses & Usurpations… – Ep. 2610
Watch The X22 Report On Video
The [CB] is pushing everything they have at the people, they want the people to feel pain so they conceded to their plan, the people are not going along with it. Our founding fathers warned us about the [CB], now people are realizing what economic enslavement really is. The patriots want the people to see the [DS] plan, they want the people to feel it just like the founding fathers felt and saw the plan of the British government. The people are figuring it out, each time the government pushes its turning into a long train of abuses and usurpations. When this happens the people have the right to remove the government and replace it with a new one. This is what the Trump and the patriots are showing the people, it all goes back to the constitution, truth, transparency is the only way forward.
---
Economy
Deputy Treasury Secretary Wally Adeyemo may have accidentally leaked the cause of America's supply chain issues.
"The reality is the only way we're going to get to a place where we work through this transition is if everyone in America and everyone around the world gets vaccinated," Adeyemo admitted in an interview with ABC News.
Starve them out, let the dissenters suffer, and those who bought into this agenda will turn against them.
Adeyemo said that the Biden Administration has already provided "the resources the American people need to make it to the other side."
Source: zerohedge.com
"When do you expect inflation to get back to the 2% range which is considered normal? 2022? 2023? When?" CNN's "State of the Union" host Jake Tapper asked Yellen on Sunday.
"Well I expect that to happen next year," Yellen said. "The inflation rate will remain high into next year…I expect improvement by the middle to end of next year."
Source: thegatewaypundit.com
We get them to take out $100,000 in loans so they can get the job their grandparents got with a high school degree, ship in millions of people who will do that job even cheaper, buy up every home while telling them having a family is evil and then tax money they haven't made yet pic.twitter.com/ouvikZRPys

— Auron MacIntyre (@AuronMacintyre) October 25, 2021
Florida is doing record cargo volume with no backlogs, and is inviting vessels stalled in California to divert via the Panama Canal. The week trip is probably their fastest route to market. https://t.co/YhFMNaHt9a

— Phil Kerpen (@kerpen) October 24, 2021
How Florida could save Christmas: Port authority tells cargo vessels waiting to dock in California to divert via Panama Canal to The Sunshine State where there are NO backlogs
 
The California ports broke three new records Wednesday with 167 ships berthed
Meanwhile, the Jacksonville port 'has capacity,' Governor Ron DeSantis says
It would take a week for those ships to move to Jacksonville, Florida, through the Panama Canal, and officials say it's worth the trip because it will save time 
A Florida port authority is inviting steamships waiting to dock in California to divert via the Panama Canal to the sunshine state, where there are no backlogs.
 
Florida ports council president Michael Rubin said they can expedite cargo ship movement by rerouting container ships via the Panama Canal, a seven-day journey from Southern California to Northern Florida.
Source: dailymail.co.uk
According to a new report from CNBC, Mastercard is partnering with Bitcoin and crypto wallet provider Bakkt, which will offer Bitcoin custodial services to merchants that sign up, executives at Mastercard and Bakkt said.
There are currently thousands of banks and millions of merchants on Mastercard's network, all of which could soon be able to send or receive payments with Bitcoin wallets, earn rewards in Bitcoin through credit and debit cards, and implement loyalty programs whereby airline or hotel points could be converted into the asset as a result of the partnership.
Source:  bitcoinmagazine.com
Sen. Rand Paul (R-Ky.)  that cryptocurrency could eventually replace the dollar as "the reserve currency of the world."
 Source: axios.com
Thomas Jefferson on the extreme dangers of Central Banking. pic.twitter.com/1lEATzjHqL

— Chase 🇺🇸🏛⚡️ (@sovereignbrah) October 24, 2021
---
Political/Rights
Biden becomes most disappointing American president since World War II, poll reveals 
Joe Biden has achieved at least one groundbreaking result – though likely not the sort that he had in mind – as polling indicates that he has lost the most ground in voter approval of any new US president in more than 75 years.
No other president since then has come close to Biden's historic collapse in the eyes of voters.
Source: rt.com
During a September speech by Donald Trump Jr. in Georgia, the crowd broke into a "F*ck Joe Biden" chant at the prompting of the former president's son. The Post, in a story titled "Biden's critics hurl increasingly vulgar taunts," falsely claimed the crowd was cheering "Let's Go, Brandon."
As GOP strategist Arthur Schwartz pointed out on Twitter, "Let's Go, Brandon" did not come about until October 2. The chant originated after NBC Sports reporter Kelli Stavast awkwardly attempted to run cover for the president as she interviewed NASCAR Xfinity Series race winner Brandon Brown after the race. As she spoke to Brown, the crowd in the stands spontaneously broke out in a chant of "F*ck Joe Biden," live on the air.
Stavast absurdly claimed that the crowd was chanting, "Let's Go, Brandon."
"Brandon, you also told me," Stavast said before being interrupted by the crowd. "As you can hear the chants from the crowd…" she added, before claiming that the crowd was saying, "Let's Go, Brandon."
Donald Trump Jr., in his own response to the fake news story, tweeted demanding a retraction.
Source: breitbart.com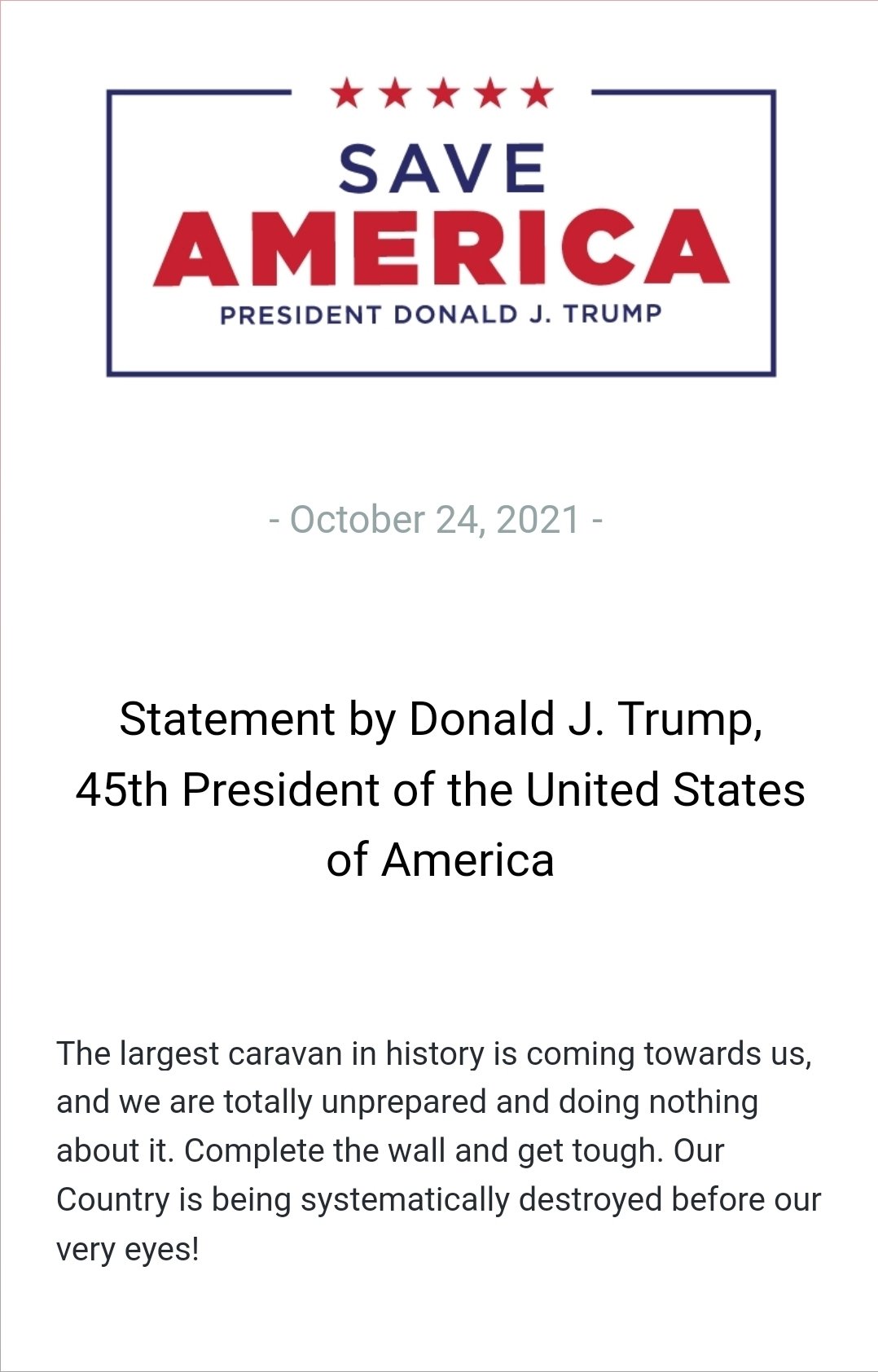 Kamala Harris has refused to do anything about the migrant crisis at the U.S.-Mexico border, but she's planning another trip overseas.
"Harris will travel to Paris in November to meet with French President Emmanuel Macron, deliver a speech at the annual Paris Peace Forum and attend the Paris Conference on Libya, the White House said Friday," according to Fox News.
Source: conservativebrief.com
---
Geopolitical/Police State
Donald Trump's social network broke software rules and has 30 days to comply before access is terminated or the platform is sued, report says
truth Social has ripped off code and violated a software licensing agreement, the Software Freedom Conservancy said.
Former President Donald Trump's social network has 30 days to comply with the agreement, the nonprofit said.
If Truth Social doesn't comply, it could be sued or forced to rebuild the entire platform.
While platforms are entitled to reuse Mastodon's code, as Gab already has, the Software Freedom Conservancy, a non-profit that enforces free and open-source software licenses, said they must comply with the Affero General Public License (or AGPLv3).
A condition of the APGLv3 is that every user can receive the complete corresponding source for the website based on that code. "That's how AGPLv3's cure provision works — no exceptions — even if you're a real estate mogul, reality television star, or even a former POTUS," said the Software Freedom Conservancy.
Source: businessinsider.com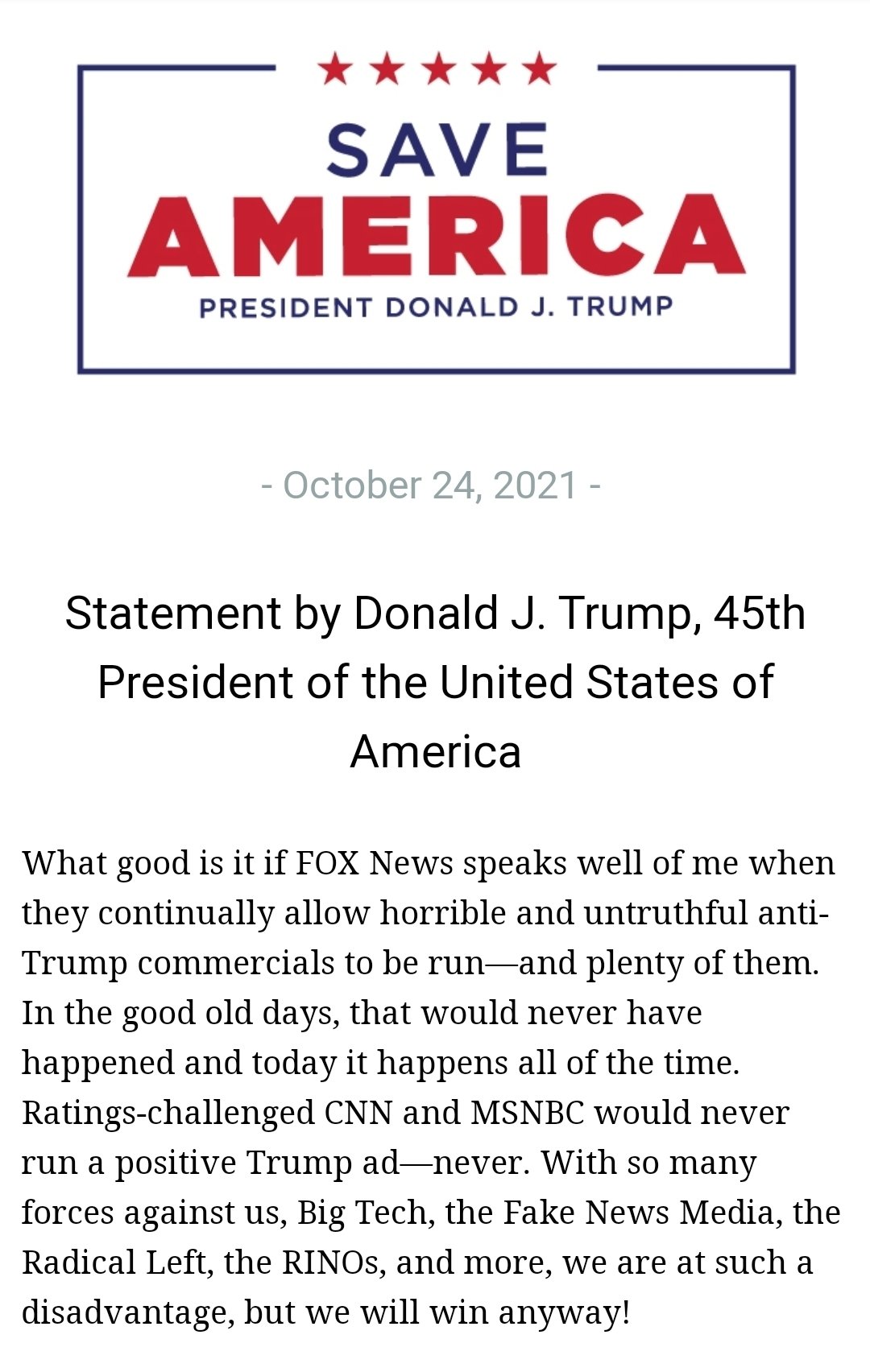 Former President Donald Trump's new media enterprise – Trump Media & Technology Group – is already worth an implied $8.2 billion following last week's buying frenzy following the announcement of it's special purpose acquisition company (SPAC), Digital World Acquisition Corp. (ticker: DWAC).
Source: zerohedge.com
The Illinois Supreme Court ruled on Oct. 21 that two taxes on guns and ammunition in Cook County violate the state's constitution because they affect law-abiding citizens' Second Amendment right to acquire firearms for self-defense.
Supreme Court Justice Mary Jane Theis wrote in a 6–0 decision that the taxes violate the constitution's uniformity clause, while also pointing out that the revenue from the generated tax isn't directed toward funds or programs that reduce gun violence.
"While the taxes do not directly burden a law-abiding citizen's right to use a firearm for self-defense, they do directly burden a law-abiding citizen's right to acquire a firearm and the necessary ammunition for self-defense," Theis wrote in a 14-page opinion (pdf) filed on Thursday.
---
War
US calls on North Korea to stop missile tests, resume nuclear talks
A US diplomat urged North Korea to end its test-firing of missiles and return to the weapons talks, saying the launches are "counterproductive" to denuclearizing the Korean peninsula.
Sung Kim met with South Korea officials about President Kim Jong Un's recent missile tests and told reporters on Sunday that the US was committed to a "sustained and substantive diplomacy" with North Korea.
Source: nypost.com
False Flags
Prime Minister Ardern previously decreed that some people will be allowed to leave their lockdown houses to see another family member; but strict rules must be followed or the citizen will be arrested. New Zealanders will be permitted to visit one household of a family member at a time. They must remain outside at all times, they must remain wearing masks and being socially distant, but they are permitted to see and talk to them. This is a time for great celebration.
Listen to the new approved activities as authorized by the government; and remember – almost everyone in this nation is complying with this stuff. Apparently none of this seems like madness to the people living there. Someone once told me that fish don't know they are in water… in this situation that metaphor is apropos.
Source: theconservativetreehouse.com
It's a goal for communities or nations, not for individuals
Source: thehill.com
Dr. Anthony Fauci is now under heavy fire for agonizing conditions that were recently revealed for dogs used for research under his agency's grants or at his own laboratories. But Fauci, who has been the director of the National Institute for Allergies and Infectious Diseases since 1984, has been granting billions in taxpayer funds for cruel, abusive, and often unnecessary animal experimentats for years.
The White Coat Waste Project, the nonprofit organization that first pointed out that U.S. taxpayers were being used to fund the Wuhan Institute of Virology, recently revealed dogs were tormented with NIAID-disbursed taxpayer money for experiments conducted under dubious bioethical conditions and with lax oversight.
"Our investigators show that Fauci's NIH division shipped part of a $375,800 grant to a lab in Tunisia to drug beagles and lock their heads in mesh cages filled with hungry sand flies so that the insects could eat them alive," White Coat Waste told Changing America. "They also locked beagles alone in cages in the desert overnight for nine consecutive nights to use them as bait to attract infectious sand flies."
The following are some of the animals that were used for research at the NIH Maryland campuses alone in 2019.

Number of dogs used in experiments: 415
Number of rabbits imprisoned or used in experiments: 487
Number of monkeys used in experiments: 3,272
Number of monkeys imprisoned but not used: 477
Number of monkeys who endured pain or distress without any painkillers: 383
Number of pigs used in experiments: 185
Number of hamsters used in experiments: 420
Number of guinea pigs used in experiments: 790
Number of bats used in experiments: 414
Number of ferrets used in experiments: 77
Source: beckernews.com
CDC Director Rochelle Walensk  said the Biden Regime is planning on providing "education and counseling" for unvaccinated police officers and 'essential workers.'
" 
Walensky said the Biden Regime will roll out a plan to 'educate and counsel' vaccine hesitant workers.
Source: thegatewaypundit.com
Sometimes all it takes is a spark to change the tides of history. And that spark may have been provided by the unlikeliest of heroes: Brooklyn Nets star player Kyrie Irving.
On Sunday, protesters crashed through the barricades at the Barclays Center in Brooklyn, New York bearing an American flag and shouting anti-vaccine mandate slogans like "no more mandates!" and urging the NBA to "let Kyrie play." Watch the explosive moment:
The anti-vaccine mandate protesters were wearing shirts like "Freedom over Fear" and "Stand with Kyrie" as they stormed towards the arena while security finally gave up trying to stop them all.
Source: beckernews.com
12k Municipal workers including FDNY, NYPD, SDNY and EMS marched across the Brooklyn Bridge today to protest the vaccine mandates, mainstream media looked the other way, full footage:
Crowd is massive for today's protest against DeBlasio's vaccine mandate. pic.twitter.com/JmTmCtP3jY

— Gavin Mario Wax 🇺🇸 (@GavinWax) October 25, 2021
The police union is hoping that a proposal for reversing the vax status mandate order passes in a much anticipated city council vote to take place Monday:
Fraternal Order of Police President John Catanzara is hoping a crowd shows up to City Hall to support an ordinance that will be introduced Monday that would defy the Mayor's city employee COVID-19 vaccine mandate.

"Let's hope enough Aldermen do the right thing and push to have that ordinance enacted so this vaccine policy gets reset and negotiated like it should have been," Catanzara said.

  Source: zerohedge.com
  The core question should be "Does the Federal Government have the legal authority to issue a vaccine mandate?"  In a word, no.
State Vaccine Mandates Can be Permissible
The foundational and still-controlling legal authority is Jacobson v. Mass, 197 U.S. 11 (1905).  In that case, the U.S. Supreme Court let stand a vaccine mandate issued by a town.  The Court reasoned that the town's legal authority flowed from the State's general police powers.  Massachusetts law empowered local boards of health to mandate vaccines for when a contagious disease has an outbreak.  During a Small Pox outbreak, the Cambridge board of health mandated that all adults who were fit candidates had to be vaccinated or pay a $5 fine. The Supreme Court found that the concern about an outbreak of a deadly and contagious disease justified this use of the state's police powers.
The Court acknowledged the states' inherent police power regarding public health and discussed why Massachusetts' mandatory vaccination law was reasonable.
The Tenth Amendment, though often ignored or neglected, explicitly excludes powers to the federal government that are not granted to it in the Constitution (or implied by the powers that are granted), the effect is that the federal government does not have general "police powers".  The legal phrase describing the federal government is that it has "limited and enumerated powers."
The Tenth Amendment states:
The powers not delegated to the United States by the Constitution, nor prohibited by it to the states, are reserved to the states respectively, or to the people.
Taken together, the Tenth Amendment and Jacobson leave no doubt that the ability to create vaccine mandates belongs to the states.  The Federal Government has NO authority to issue vaccine mandates.  A state's mandates will be upheld as long as it isn't enacted or enforced in an unreasonable, arbitrary or oppressive manner (see Jacobson, at 39,40),  
The Supremacy Clause Does Not Rescue Biden's Mandate
The Supremacy Clause makes it crystal clear than in areas where the feds have Constitutional authority, federal law overrides any state or local law to the contrary.  Think of it as the inverse of the Tenth Amendment.  For a federal law (or regulation or executive order) to be "supreme", it must first be Constitutionally permissible.  A federal vaccine mandate[2] is void ab initio!
Did Biden Issue a Vaccine Mandate?
Biden knows he doesn't have the legal authority to issue a direct vaccine mandate, so his mandate is masquerading as a work rule to hide it behind the Interstate Commerce Clause. 
  if the federal government can use the Interstate Commerce clause to decide what medicine you have to take if you want to be able to work, there is nothing to stop it from preventing you from being employable if you eat French fries, or drink alcohol, or have unprotected sex, or have too many kids, etc.
It's Not About the Vaccine, It's about the Unconstitutional Order
Biden is aware[4] the power to issue vaccine mandates rests with the states. There is no COVID exception to the Constitution.  At the time the Constitution was drafted, the Founders were well acquainted with plagues and outbreaks of various disease.  Such occurrences were a fact of life for them, and yet they refused to create special "plague" or pandemic powers for the federal government.  Since Biden is actively attempting to over-reach the limits on his power, and subvert the explicit authority of the states, he has become an active threat to the Constitution.
Source: thegatewaypundit.com
They believe they own your children. pic.twitter.com/btRSz6jEG7

— James Lindsay, premium Halloween costume (NSFW) (@ConceptualJames) October 25, 2021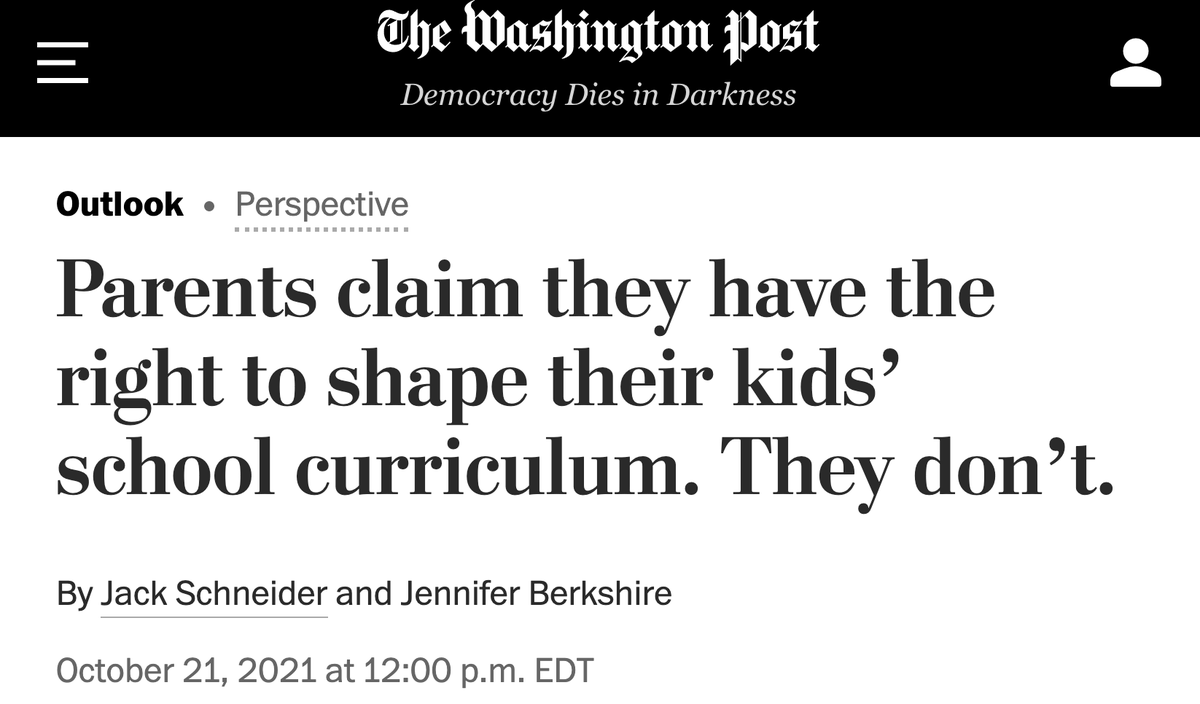 ---
Q
Revolver News has now found that Epps was quietly scrubbed from the FBI's January 6 'most wanted' list  
"Using the Wayback Machine from archive.org, we see that from January 8, 2021 until 3:37 a.m. on July 1, every archived version of the FBI.gov website shows Ray Epps as Suspect 16," the report continued. "The below photo is just a snapshot sample from February 16, 2021 — but users can view the Web Archive themselves to witness the Ray Epps purge occurring sometime between 3:37 a.m. and 5:55 p.m. on July 1. That would be during the FBI workday."
The FBI's before-and-after scrubbing screenshots c 
As Revolver News points out, those suspects who were arrested get an "Arrested" label put underneath their photos. However, Epps' photo was outright deleted from the page. This is highly suspect.

The report also points out that not only did Epps instruct his "commandos and the crowds at his attention to rush into the Capitol," but he also "assiduously protected cops and law enforcement so no local or federal officers would be harmed during the precision breaches."
Source: beckernews.com