The Wizards, Guardians Of Intelligence, [Midterms], Start The Storm – Ep. 2775
Watch The X22 Report On Video
The [DS]/[CB] are trying everything to bring us into their new system by using inflation to make us broke and shutting down the supply chains to make us hungry, this is failing because the people know who to blame.  The patriots are now moving forward with the plan, the storm is about to start and the wizards (guardians of intelligence) have it all. The people are building the grass roots movement and it cannot be stopped. Scavino sends a message that the next to fall is the Queen. The [DS] is in trouble they tried another [FF] to push gun control, this is not going to work, the people see the truth. Nothing can stop this, nothing.
---
Economy
Americans can't afford to buy groceries or put gas in their cars, and Nancy Pelosi decides now is a good time to open a congressional liquor store on Capitol Hill.

And yes, your tax dollars can be used for purchases.

Washington Dems couldn't be more out of touch. #FirePelosi pic.twitter.com/IRBup7OOtf

— Congressman Drew Ferguson (@RepDrewFerguson) May 13, 2022
At the White House press conference today, the Press Secretary mistakenly said that our formulas were tainted and killed two infants. The deaths of these infants are a tragedy. 🧵 [1/11] 
The facts, however, are critical: A comprehensive investigation by Abbott, FDA and CDC found no evidence that our formulas caused infant illnesses. Specifically… [2/11]
CDC concluded its investigation with no findings of a link between our formulas and infant illnesses.
We conduct microbiological testing on products prior to distribution and no Abbott formula distributed to consumers tested positive for Cronobacter or Salmonella. [3/11]
All retained product tested by Abbott and the FDA during the inspection of the facility came back negative for Cronobacter and/or Salmonella. No Salmonella was found at the Sturgis facility. [4/11]
The Cronobacter sakazakii that was found in environmental testing during the investigation was in non-product contact areas of the facility and has not been linked to any known infant illness. [5/11]
Genetic sequencing on the two available samples from ill infants did not match strains of Cronobacter in our plant. Samples from ill infants did not match each other, meaning there was no connection between the two cases. [6/11]
In all four cases, the state, FDA, and/or CDC tested samples of the Abbott formula that was used by the child. In all four cases, all unopened containers tested negative. [7/11]The formula from this plant did not cause these infant illnesses. [11/11]
Source: threadreaderapp.com/thread/1525191088159477760.html
---
Political/Rights
One quarter of Americans falsely believe that overturning Roe v. Wade would make abortion illegal nationwide, but the vast majority realize that doing so would kick the decision back to the states, a University of Massachusetts Amherst survey released Thursday found.

 

The survey asked, "How would a decision to overturn Roe v. Wade affect abortion laws?" It provided two options: "Make it so individual states can establish laws banning abortion" and "make it so that abortion is illegal in all of the United States" — the latter being a common misconception.

 

Most Americans, 74 percent, realize that overturning Roe would simply kick the decision back to the states, but over a quarter, 26 percent, believe it would make abortion illegal across the U.S.
"It is time to heed the Constitution and return the issue of abortion to the people's elected representatives," the draft opinion, reportedly penned by Justice Samuel Alito, reads.
 
Source: breitbart.com
---
Geopolitical/Police State
Not to mention potential bugs in the code. Open source is the way to go to solve both trust and efficacy.

— Elon Musk (@elonmusk) May 15, 2022
I'm not suggesting malice in the algorithm, but rather that it's trying to guess what you might want to read and, in doing so, inadvertently manipulate/amplify your viewpoints without you realizing this is happening

— Elon Musk (@elonmusk) May 15, 2022
For the sake of argument, let's say that Twitter is wrong and that the real number of fake accounts is higher. If the undercount is just a few percentage points, so that the real figure is seven percent, it's probably not a big deal. What would be a big deal is if bots make up one-third or even half of Twitter's daily active users.
The legal liabilities that would be associated with underestimating bots on that scale would be enormous. There would be suits from advertisers claiming they had been misled about how many genuine human beings were seeing their accounts. Shareholders would sue saying they had purchased shares at prices pushed artificially high by Twitter's misstatements. Bondholders could sue alleging that they had been misled. Regulators such as the Securities and Exchange Commission and the Federal Trade Commission might bring lawsuits. Even users might be able to successfully sue Twitter by showing they had expended time and money to grow their reach on the website based on how the idea that they were reaching real people and not a "readership" made up of thirty-percent spam bots.
So why is Musk worried? After all, he was not the one running Twitter at the time of potential misstatements. But he would inherit the liabilities for Twitter's misdeed by acquiring the company. More precisely, the liabilities would still be Twitter's liabilities after the acquisition. If the damage awards were high enough, Elon would wind up paying tens of billions for a company that would then get handed over to its creditors in a bankruptcy trial or dissolved entirely.
It would make sense if some of those extending credit or equity for the deal pointed this out to Musk. The banks that have said they will provide credit for the buyout may be concerned about the potential liability. Some of the equity partners may also. No one wants to extend funds into a potential black hole of legal liability.
Source: breitbart.com
Leave Twitter and get the TRUTH!!!
 
* * *
Update (1832ET): During a press conference, Buffalo Police Commissioner Joseph Gramaglia said 13 people were shot, and ten people died in a "racially motivated" mass shooting.
Gramaglia said that an 18yo white shooter drove from "hours away," equipped with military gear, and opened fire in a Tops Friendly Markets on Jefferson Avenue in Buffalo.
A gunman dressed in a military uniform reportedly opened fire in the parking lot and inside the Tops Friendly Supermarket at 1275 Jefferson Avenue.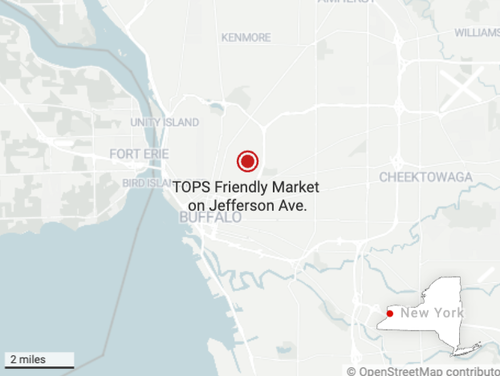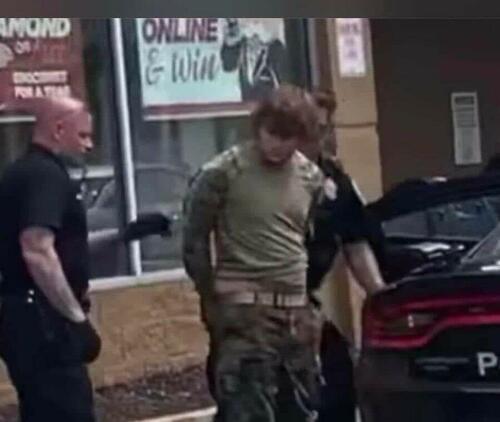 The Daily Mail notes the gunman live-streamed the shooting. This is an unconfirmed screenshot of the video.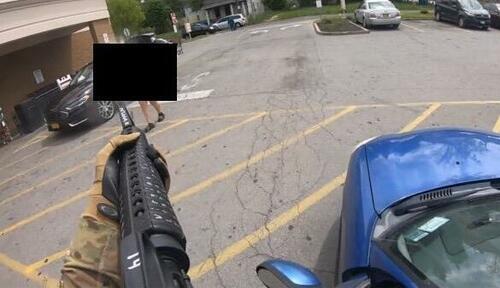 NBC points out the supermarket is situated in a "predominately Black neighborhood, about 3 miles north of downtown Buffalo. The surrounding area is primarily residential, with a Family Dollar store and fire station near the store."
Source: zerohedge.com
 investigators were examining a "manifesto" believed to have been written by Gendron that was posted online.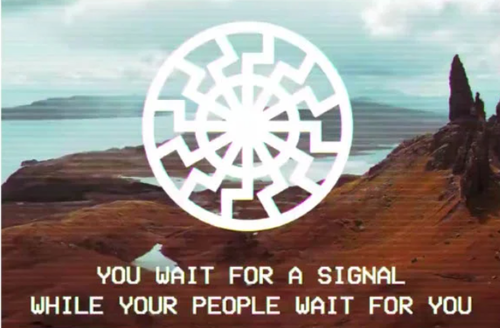 In the uncorroborated manifesto (circulating the internet), Gendron says he was radicalized on 4chan at the beginning of the virus pandemic in early 2020. The document's layout is similar to Brenton Tarrant, the white supremacist mass shooter who killed 51 people and injured 40 others in a New Zealand mosque in 2019.
Gendron appears to have copy and pasted Tarrant's manifesto.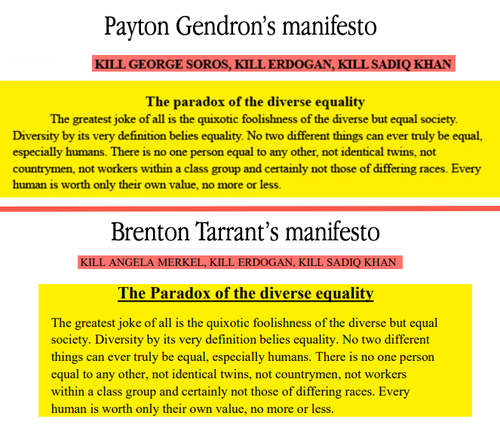 Here's another example of the copy and pasting.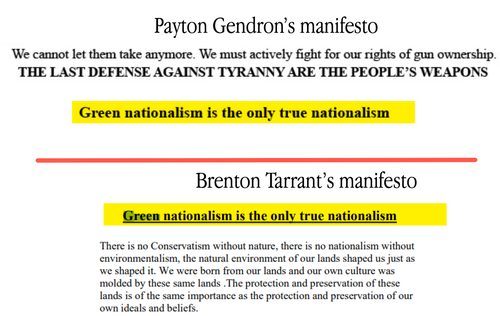 Source: zerohedge.com
The killer attacks Fox News in his manifesto. CNN is paying a guy to lie and politicize the deaths of 10 people while their bodies are still warm. https://t.co/hUXVZXRILx

— Donald Trump Jr. (@DonaldJTrumpJr) May 14, 2022
Surprise, leftist mayor attacks First and Second Amendment after horrific mass murder. https://t.co/ZltpbxKrHs

— Tom Fitton (@TomFitton) May 15, 2022
4) Another Manifesto.
Seems to be the new hit thing when a shooter carries out an attack these days, he puts out a manifesto on social media! Our Buffalo shooter released a 180 page manifesto before carrying out his attack yesterday, complete with graphs and charts and statistics and his life story. 180 pages. I
In what might the most hilarious part of this scam-ifesto, the Buffalo shooter claimed to post pictures of himself. Here's a screenshot from the manifesto and pictures he posted:
I saw these photos and thought, where have I seen that guy before? Ran a quick reverse image search through Tineye and came to realize that these photos are actually of comedian/troll named Sam Hyde. Since 2015, Hyde has been misreported numerous times as the perpetrator of shooting attacks.
Whoever wrote this manifesto, whether it was actually the shooter, Fedbois, or someone else, they are clearly trying to troll us with those photos. Do they think we won't pick up on this? I would think they would expect us to. Regardless, something weird is going on with this manifesto. It's almost like it was quickly and hastily put together at the last minute, probably like this whole manufactured shooting.
5) Symbolism.
One issue with this Buffalo shooting that shows pure contradiction in mainstream media narratives is that they're calling the shooter a white supremacist Nazi due to the Black Sun symbolism in his manifesto – the problem here is that this Order of the Black Sun symbol, which is an actual Nazi symbol dating back to their secret societies of the WW2 era, is used by the Azov Battalion in Ukraine.
The Azov Battalion that Putin is fighting. The actual Ukraine Nazis. The Nazis the media says aren't there or aren't a problem. The Nazis that the Biden Administration is working to fund with money and support with military equipment. Maybe those rifles the Biden Admin is sending to Ukraine will be used in a mass shooting on U.S. soil someday? Maybe that's what they want to happen?….
Another glaring symbol used in this shooting brings us to another connection with the Christchurch, New Zealand shooting of 2019. This Christchurch shooting was clearly a false flag that they used to justify advancing gun laws in New Zealand and that Big Tech used to basically shut 8chan off of the internet for a while. 8chan was where Q was posting at the same and where many citizen journalists were congregating to share info and expose the New World Order. They claimed the shooter posted his manifesto on 8chan and that the website radicalized him. They were targeting anons, citizen journalists, and Q with that shooting.  
So this Buffalo shooter had many of the same symbols on his gun that the Christchurch shooter did! We've got the hash marks:
We also have the "14" and the "Fish" symbol used on both guns. The number 14 is somewhat commonly used in Neo-Nazi circles, and it also has meaning within the Illuminati cultists too.
You might be familiar with the infamous photo of John Podesta with the 14/Fish symbolism written on his palms. Remember when John Podesta was in New Zealand only days before the Christchurch shooting happened?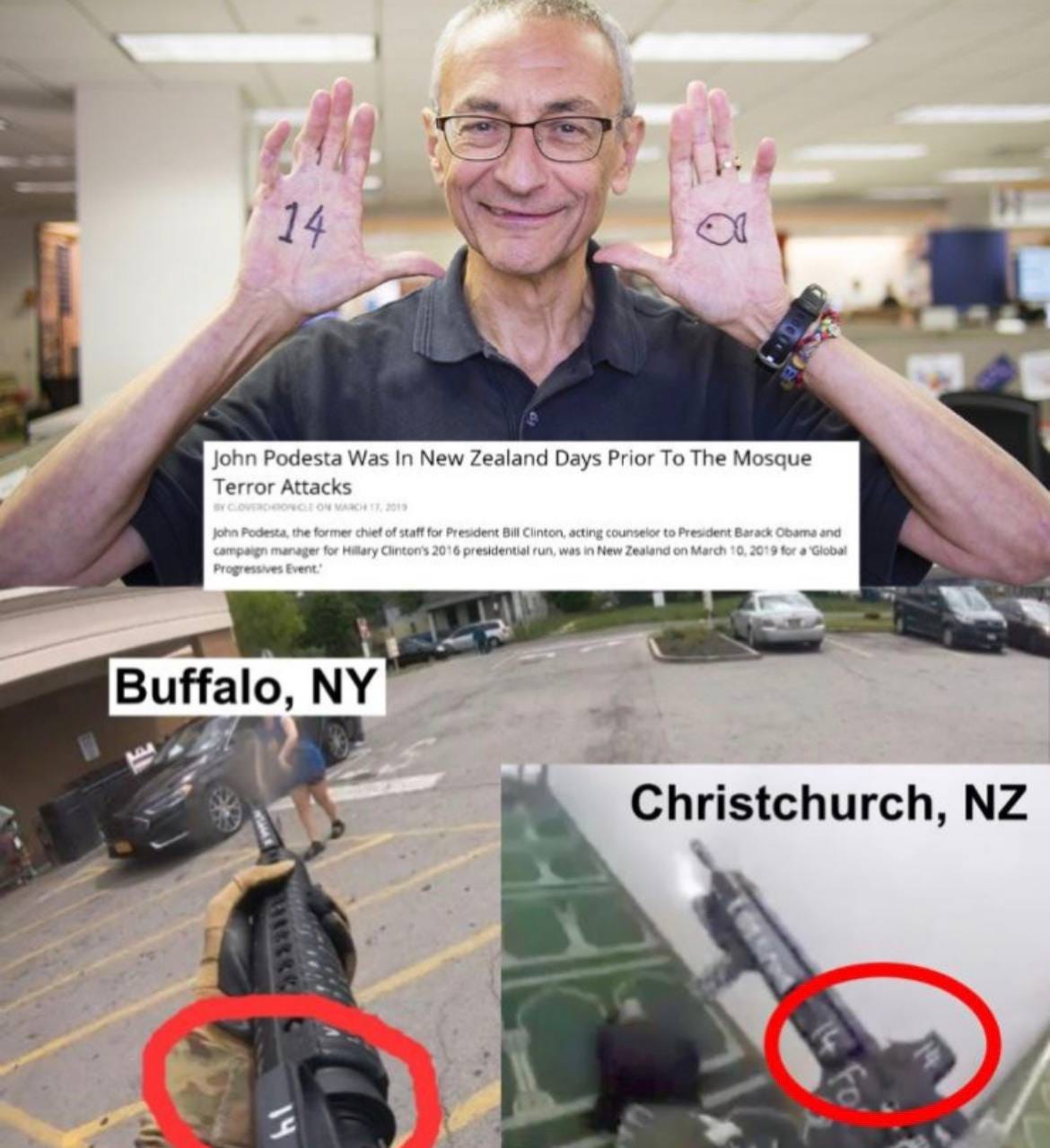 This 14/Fish symbolism also shows up with one of John Podesta's friends, a woman you may have heard of who goes by the name Ghislaine Maxwell. Back in 2015 the U.N. came out with 17 of what they called "Sustainable Development Goals", and the 14th goal had to do with the oceans. 
 Source:  jordansather.substack.com
---
War
A contingency of Republican senators led by GOP Majority leader Mitch McConnell flew to Ukraine today to stand with President Zelenskyy in Kiev.
The GOP senators were seen walking down the street in Kiev, a reported war zone.
Mitch McConnell won't travel to the US open border.  McConnell won't visit baby formula manufacturers.  But he will travel to Ukraine to stand with their leader in his war against Russia.
Who are these people?
Source: thegatewaypundit.com
Three unarmed prisoners, three shots. The three men collapse. A video, broadcast on March 27, 2022 and which Le Monde was able to authenticate and cross-check with other images, documents a probable abuse committed by Ukrainian volunteers against Russian prisoners of war.
Such acts are strictly prohibited by the Geneva Convention, which lays down the rules to be respected towards enemy soldiers taken prisoner: protect them like your own soldiers, do not violate them, treat them if necessary.
The images spotted by the independent analyst Erich Auerbach , and crossed by Le Monde with other documents available online, prove that volunteers from the Ukrainian Slobozhanshchyna battalion were on the scene when the Russian prisoners were tortured. While it is not possible to say with certainty that the individual who fired the shot came directly from their ranks, the leader of the group, Andri Ianholenko, clearly appears alongside the three victims, before the shots were fired. Asked by Le Monde , Andri Ianholenko did not respond.
source: .lemonde.fr/
---
False Flags
A California bill to allow children as young as 12-years-old to be vaccinated without parental consent passed the state senate on Thursday.
The bill, SB 866, would allow kids to get any vaccine without their parents knowledge, including the COVID-19 jabs.
Authored by Democrat State Senator Scott Wiener, the bill passed with a 21-7 vote.
 "if it becomes law, California would allow the youngest age group of any state to be vaccinated without parental permission."
The state already allows minors to get vaccinated without parental consent if it is for a sexually transmitted disease.
Each health care provider who administers a vaccine set forth in the
Vaccine Injury Table shall provide to the legal representatives of any
child or to any other individual to whom such provider intends to
administer such vaccine a copy of the vaccine information statements,

— Senator Melissa Melendez (@senatormelendez) May 12, 2022
More importantly, any vaccine can have side effects, sometimes life threatening. That's why parents are required to furnish information on the
child's medical history, prior allergic reactions, and the child's overall well-
being.

— Senator Melissa Melendez (@senatormelendez) May 12, 2022
Do we believe all 12 year olds will know what they're allergic to and communicate that to the person administering the vaccine?

Do we believe they will be aware of any past reactions to vaccinations received as a toddler?

— Senator Melissa Melendez (@senatormelendez) May 12, 2022
Source: thegatewaypundit.com
Immunity against the omicron coronavirus variant fades rapidly after a second and third dose of Pfizer and BioNTech's Covid-19 vaccine, according to peer reviewed research published in JAMA Network Open on Friday, a finding that could support rolling out additional booster shots to vulnerable people as the variant drives an uptick in new cases across the country.
KEY FACTS

Levels of omicron-specific "neutralizing" antibodies—which can target the virus and stop it from replicating—decline rapidly after a second and third dose of Pfizer's shot, according to the Danish study of 128 people who had received two or three doses.

Antibody levels, which are associated with protection against infection and disease, fell within weeks of getting the shots and were much lower than the level of antibodies specific to the original and delta coronavirus variants, the researchers said.

Compared to original and delta variants, the proportion of omicron-specific antibodies detected in participants' blood dropped "rapidly" from 76% four weeks after the second shot to 53% at weeks eight to 10 and 19% at weeks 12 to 14, the researchers found.
Source: forbes.com
There was a huge win for the Constitutional right to freedom of religion on Friday.
The Louisiana Supreme Court sided today in favor of Pastor Tony Spell who continued to hold church services in defiance of Dr. Tony Fauci and Governor John Bel Edwards during the COVID pandemic in the spring of 2020.
Dr. Fauci urged state leaders to place significant restrictions on US churches to stop the spread of the Coronavirus.
The Louisiana Supreme Court ruled that the restrictions on gatherings and the stay-at-home mandate Edwards imposed were unconstitutional as they applied to Spell. The ordered charges against Pastor Spell to be dropped.
Here is the Louisiana Supreme Court ruling released today.
Source: thegatewaypundit.com
A Black Lives Matter founder expressed fear when a reporter spoke to the security man guarding her $1.4 million California mansion.
Daily Wire host Candace Owens spoke through an intercom to a security guard at one of the four properties Patrisse Cullors reportedly purchased with BLM money. The guard reportedly did not respond to requests by Owens to speak to whoever was at the BLM's Topanga Valley property.
"I am pre-releasing the footage of me showing up at one of Black Lives Matter founder's, Patrisse Cullors, multiple mansions," commented Owens in a Friday afternoon post to her verified Twitter account. "Remember she fake cried and said I harassed her? LIAR. I kindly spoke to a white security guard (who remained silent) through a gate." Her caption appeared above a video clip that conveyed her soft approach and Cullors' faux distress.
Owens speaks calmly and politely in the video segments published, which diametrically opposes statements made by Cullors in the video.
"I really need my family to be safe," cried Cullors. "I need to be safe. I need my child to be safe, and what happened this morning is not safety."
Cullors accused the Wire of setting a dangerous precedent and alleged it was trying to divide Black Americans. Since she did not appear to meet with Owens, it is possible Cullors is not aware that Owens is a Black woman.
"It's unacceptable and it's dangerous for anybody, any stranger, to come outside of my house," Cullors said.
Watch:
 Source: resistthemedia.com
Almost 1 million views. BLM Founder Patrisse Cullors has decided to remove the video of her fake crying and lying from Instagram.

Sunlight is the best disinfectant. https://t.co/yUz7B4IZ9U

— Candace Owens (@RealCandaceO) May 14, 2022
Reuters director of data science was recently fired for reporting accurately on police shootings and race in America.
Zac Kriegman was fired for reporting on facts and not the frantic flawed opinions of today's media.
Via Zac Kriegman.
Until recently, I was a director of data science at Thomson Reuters, one of the biggest news organizations in the world. It was my job, among other things, to sift through reams of numbers and figure out what they meant.

About a year ago, I stumbled on a really big story. It was about black Americans being gunned down across the country and the ways in which we report on that violence. We had been talking nonstop about race and police brutality, and I thought: This is a story that could save lives. This is a story that has to be told.

But when I shared the story with my coworkers, my boss chastised me, telling me expressing this opinion could limit my ability to take on leadership roles within the company. Then I was maligned by my colleagues. And then I was fired.

The data was unequivocal. It showed that, if anything, police were slightly less likely to use lethal force against black suspects than white ones.

 According to calculations (published by Patrick Frey, Deputy District Attorney for Los Angeles County) based on FBI data, black Americans account for 37 percent of those who murder police officers, and 34 percent of the unarmed suspects killed by police. Meanwhile, whites make up 42.7 percent of cop killers and 42 percent of the unarmed suspects shot by police—meaning whites are killed by police at a 7 percent higher rate than blacks.
Source: thegatewaypundit.com
---
Q
The best way to understand the dysfunctional 2020 election is to see that California's election processes, shortcuts, tricks, tactics, techniques, and procedures were exported to the entire nation, against the laws of most states.  One of the major election tricks championed by California's renegade government is the practice of ballot harvesting.  Ballot harvesting is the collection and return of ballots by someone other than the voter and can be innocently applied to one spouse dropping off a ballot for another.
Ballot harvesting is abused when it is used to seek out illegally mailed ballots in places such as nursing homes, apartments, and dormitories.  2000 Mules documented the trafficking of mail ballots to drop boxes, typically in the dark of night by those commissioned to deliver hundreds, if not thousands, of ballots each over weeks of the period allotted for returning mail ballots.  The system was sophisticated and clearly engineered to overcome what was expected to be monstrous turnout for Donald Trump.  Every trend, indicator, bellwether, and predictor, some valid for more than a century, showed a Trump victory was inevitable.
Ballots were picked up at pre-designated headquarters and sent by "mules" throughout the surrounding counties.  If we are to view the "mule" operation as we would a military operation, each major ring had an assigned area for dropping off ballots, often crossing state lines, and designed for the purpose of either tipping a state for Biden or giving the illusion of Democrat control of counties destined to flip to Trump.
Source: skeshel.substack.com
Fox News is no longer Fox News. They won't even show or discuss the greatest & most impactful documentary of our time, "2000 Mules." The Radical Left Democrats are thrilled – They don't want the TRUTH to get out. Depressing to watch what has happened to Fox! CNN should go Conservative and take over the greatest, strongest, and most powerful BASE in U.S. history. Nobody is watching CNN's Fake News now so, as I say, what the hell have they got to lose? Sadly, they're to stupid to make the change!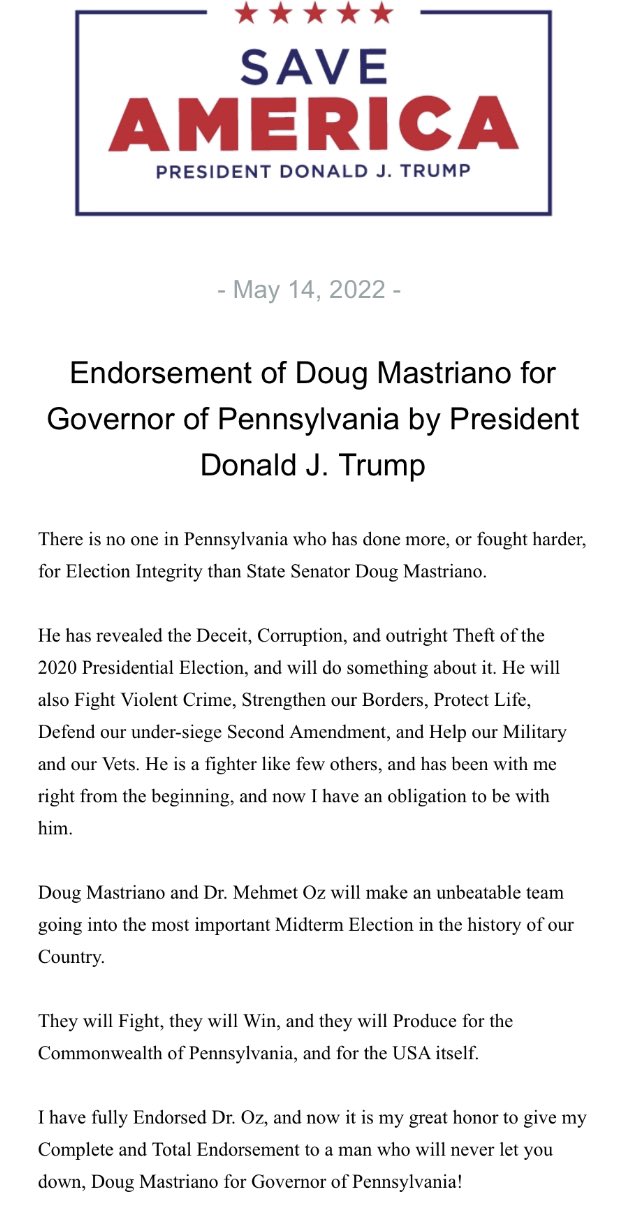 @DanScavino
Pool players Queen of spades
1378
Q
!4pRcUA0lBE
05/16/2018 01:14:32
 ID: cc831c
8chan/qresearch: 1427755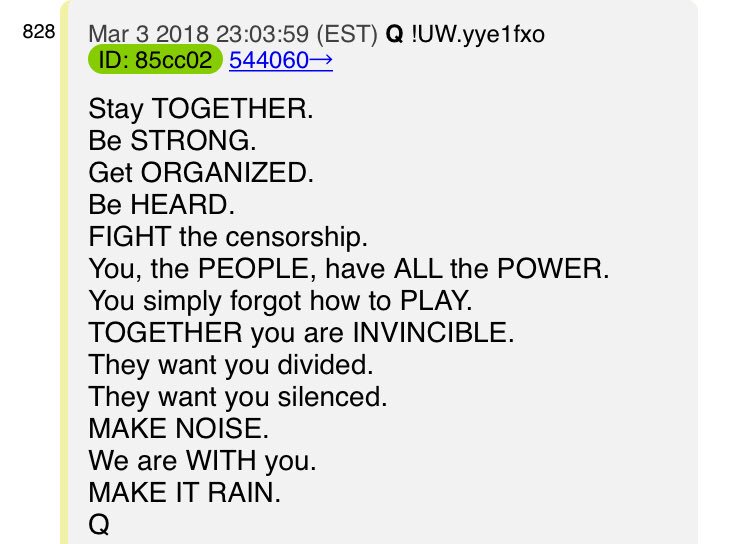 Filename:
6830710481da79466b78ddfd63ec4e230a6d9e70257d62d7bf4b11c2b28e2508.jpeg
Image Name:
0F0B584F-0E55-4CDC-AEA8-29233B5626F6.jpeg