[Zero-Day], Think Rumble, Think TruthSocial, The Cure Will Spread WW – Ep. 2646
Watch The X22 Report On Video
The [CB] have been stripping the people of their wealth since the [CB] came into existence. Now it's time for the people to take back the system. The supply chain issue has not disappeared and it is still a problem. The push for the green new deal is failing, the people are rejecting it. Trump helped the middle class with tax cuts. There is an economic war on the horizon. The [DS] is now losing the narrative on covid, the pandemic is going away and the people are pushing natural immunity and the big pharma and the [DS] cannot stop it. Trump is now preparing for zero-day, all the pieces are now coming together. New platforms are being installed to take the bull horn away form the [DS]. The people are about to get their voice back. The cure will spread WW, think multiple meanings.
---
Economy
Richest 1% Took 38% of New Global Wealth Since 1995. The Bottom Half Got Just 2%
A new report finds that global inequities in wealth and income are "about as great today as they were at the peak of Western imperialism in the early 20th century."
In the nearly three decades since 1995, members of the global 1% have captured 38% of all new wealth while the poorest half of humanity has benefited from just 2%, a finding that spotlights the stark and worsening gulf between the very rich and everyone else.
"If there is one lesson to be learnt from the global investigation carried out in this report," he added, "it is that inequality is always a political choice."
Source:  commondreams.org
Biden's cargo crisis is only getting worse, despite his promises to address it.
In June we reported that there was a crisis building in California that could impact the entire country.  Cargo ships were beginning to build up offshore due to delays in getting unloaded.
This crisis has only gotten worse.
The ports of LA and Long Beach are not doing any better.  Now there are a reported 100 container ships sitting offshore waiting to be unloaded.  The Daily Mail reports:
The number of cargo ships docked off the Los Angeles coast is still at an all-time high – contradicting claims from port officials that the number of boats has dwindled in recent weeks.

However, according to data provided by ship-tracking website MarineTraffic, there are currently nearly 100 cargo ships waiting to dock at the two popular ports – which have seen unprecedented bottlenecks during the US' current supply chain crisis.
Source: thegatewaypundit.com
The left-wing media doesn't discuss it, but the automobile industry is reporting that as the Biden administration ramps up its push for more electric vehicles, the supply chain necessary to produce them is riddled with human rights abusing nations.
The supply chain also includes countries that violate good environmental practices as electric vehicles are touted as the answer to saving the planet.
The Automotive News website put the pieces together:
The Democratic Republic of Congo supplies about 70 percent of the world's cobalt, a key material for today's EV batteries. But according to Wilson Center, a U.S. public policy think tank, cobalt mines in Congo rely on about 40,000 children — some as young as 6 years old — or about 16 percent of the 255,000 people who work in the mines. Workers are often paid less than $2 per day.

Meanwhile, China is responsible for 90 percent of global rare-earth element supply and is instrumental in processing raw materials for EV batteries around the world. But the country has been under fire for its environmental practices, as evidenced by an artificial, toxic lake in Inner Mongolia made of black sludge and hazardous chemicals that result from rare- earth mining.
Source: breitbart.com
Fed bigger threat to stock markets than Omicron – Morgan Stanley 
The potential impact of the US Federal Reserve's move on speeding up the taper of asset purchases may turn into a much bigger headwind for the stock markets than the Omicron Covid-19 strain, analysts at Morgan Stanley say.
Strategists at the US banking major are reportedly "not that concerned about omicron as a major risk factor for equities," but are warning that the harsh words of US Federal Reserve Chair Jerome Powell about the possible accelerated tapering of asset purchases would build headwinds elsewhere."Tapering is tightening for the markets and it will lead to lower valuations like it always does at this stage of any recovery," 
Source: rt.com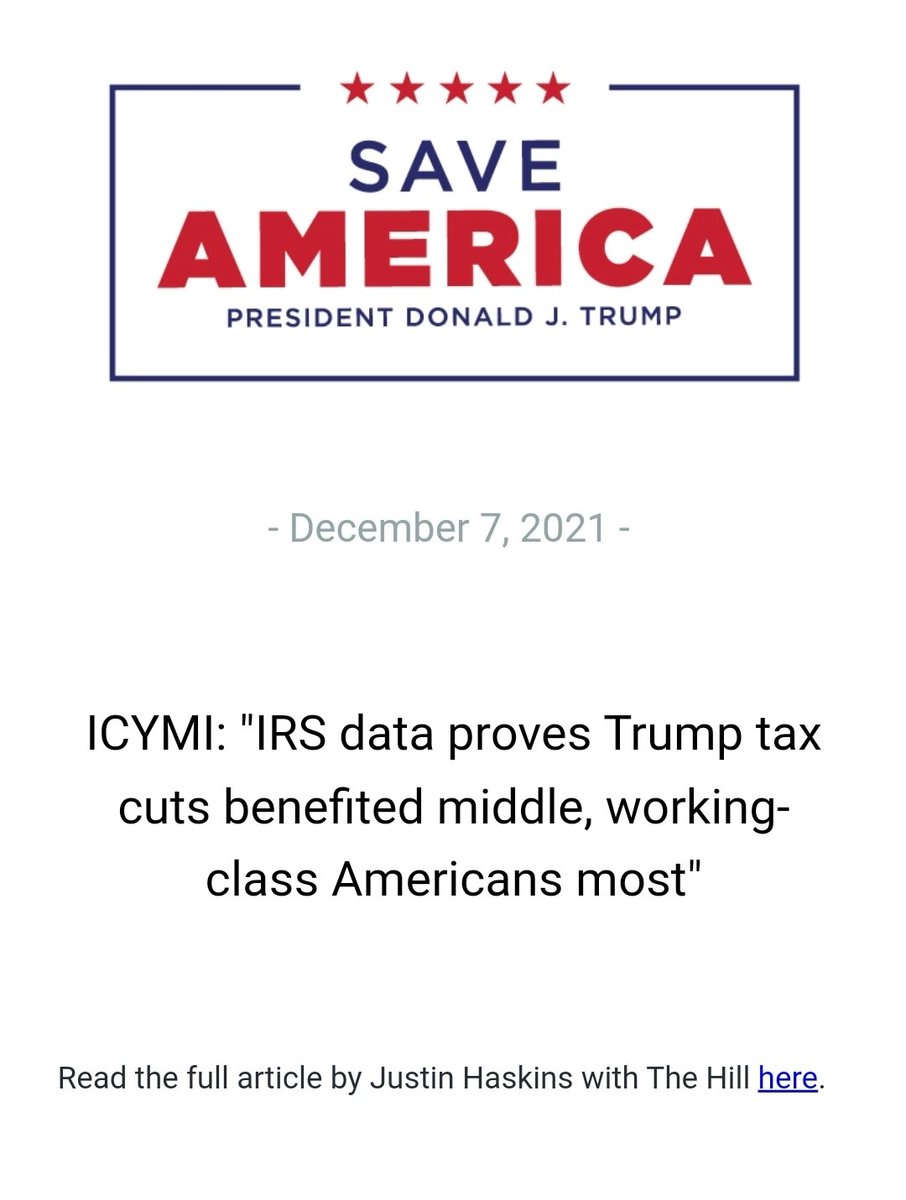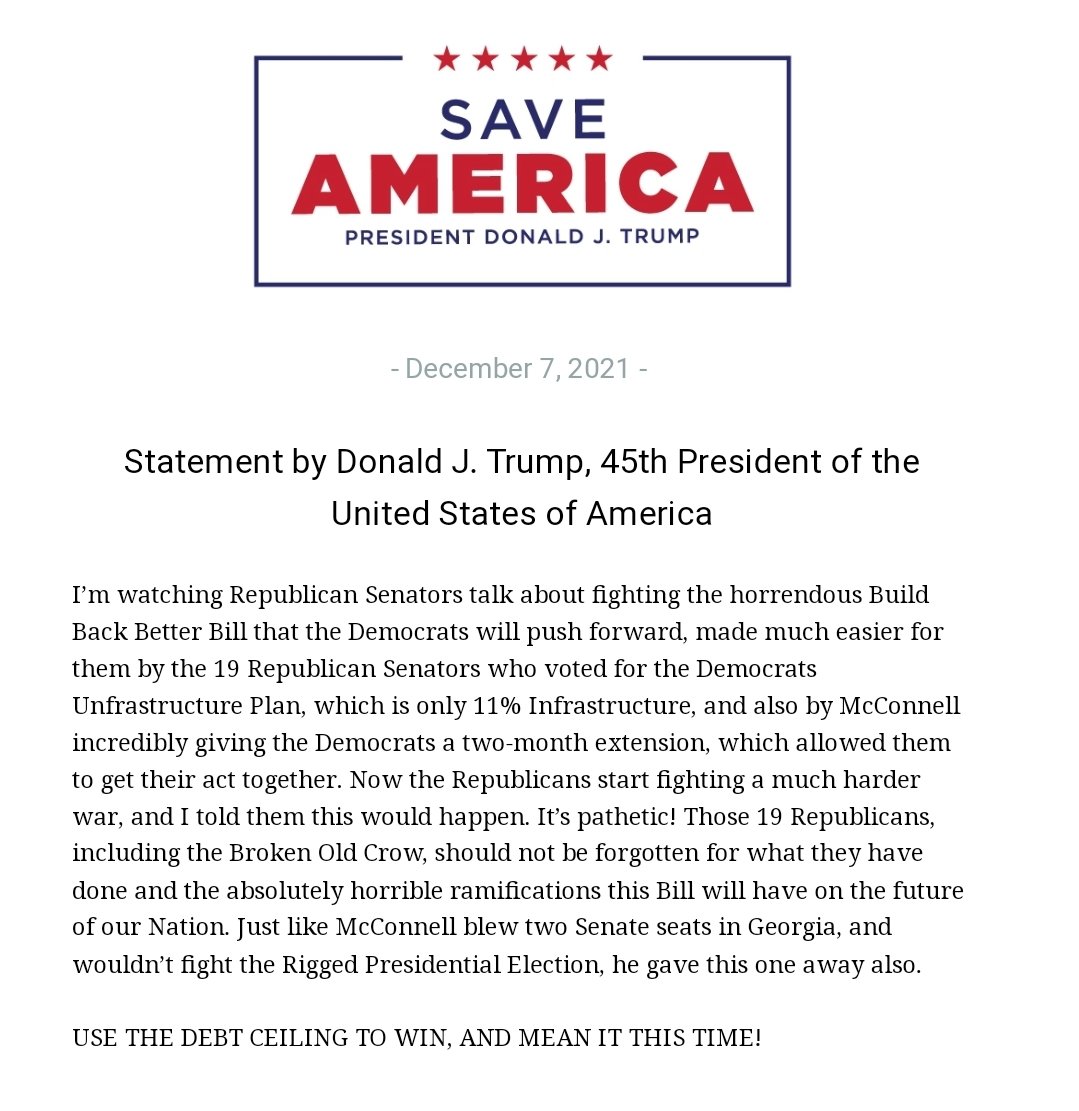 ---
Political/Rights
Today, we honor and remember the 2,403 American Patriots who gave the ultimate sacrifice 80 years ago on a date which will live in infamy. The unforgettable attack on Pearl Harbor that also badly injured 1,178 brave soldiers and sank four U.S. Navy battleships solemnly reminds us of our Country's unwavering resolve and the courage of those who served with honor in the Second World War—and those who continue to defend our Nation.
American Airlines CEO stepping down
American Airlines CEO Doug Parker will step down next year,  
Parker, who took over as the airline's CEO in 2013, will retire in March and remain chairman of the board. He'll be succeeded by American Airlines President Robert Isom.
Source: thehill.com
Chris Cuomo resigns from Sirius Radio show
Fired CNN host Chris Cuomo is set to sue the network if it balks at paying him at least $18 million to cover what's left on his contract, sources told The Post on Monday.
Cuomo, 51, has hired lawyers and is preparing to file the lawsuit over the remainder of the four-year contract he signed last year —
Source: sott.net
Source: thepostmillenial.com
The White House flagged money laundering in the art industry   as a point of corruption while allowing Hunter Biden to sell his artwork to anonymous buyers for as much as $500,000.
The first report of its kind named the United States Strategy on Countering Corruption is geared towards exploring the ways and means "government officials abuse public power for private gain."
Though the White House's report specifically focused on the art industry as a "market" where financial crimes occur, it did not mention the Biden family's involvement with corruption, such as Hunter's art selling scheme to investors while his father is president.
Source: breitbart.com
Source: thefederalist.com
"There was no hoax," Smollett insisted to Cook County jurors.
As for the Osundairos, the defendant admittedly cut them the $3,500 check which the prosecution has cited as the payment for the alleged hoax. He has repeatedly insisted, however that the payment was for personal training services. Those services he said, were eventually negotiated after he struck up a party-and-play-style relationship with Abimbola Osundairo, whom he referred to on the stand as "Bon."
The two met, Smollett said, at a club where they "did some drugs" before shifting gears and heading to the Steam Works bathhouse in Boystown, a Chicago neighborhood that is known as home to one of the most vibrant LGBTQ communities in the world.
"Cocaine and weed," Smollett said when asked what kind of drugs the two used. "I had the weed. I always have weed on me. Not now, but…"
Source: lawandcrime.com
Jussie Smollett swearing under oath that "there was no hoax" is as believable as Alec Baldwin saying he didn't pull the trigger or the media saying an SUV murdered 6 people in Waukesha.
Smollett interrupts special prosecutor Dan Webb as Webb was reading aloud one of Smollett's messages that had N word in it.
Smollett: can you spell or say the N word out of respect for every African American in this room? you've been saying that word a lot.

— Matt Finn (@MattFinnFNC) December 7, 2021
CNN anchor Don Lemon allegedly sent  Jussie Smollett texts during the Chicago Police Department's investigation of his alleged hoax hate crime.
Testifying at his own trial  Jussie Smollett reportedly said under oath that he received a text message from Don Lemon informing him that Chicago police did not believe his account of what happened the night he claimed to have been the victim of a hate crime by two white Trump supporters.
Source: breitbart.com
The woman, identified only as "Kate", alleged that Maxwell introduced her to the late convicted sex offender in the early 1990s, and convinced the teen to give him a sexual massage before trying to convince her to recruit other "cute, young, pretty" girls "like you," according to the New York Post (NYP).
Kate alleged Maxwell led her to a room where a naked Epstein was waiting for a massage and told her to "have a good time," according to the report.
"She would ask me if I knew anybody to come and give Jeffrey a blowjob because it was a lot for her to do," Kate reportedly testified. Kate, now 44, claims the duo promised they would help her acting career and name-dropped powerful people they knew, including former President Donald Trump, according to the NYP.  
Source: dailycaller.com
Alaska was ranked last out of all the states. Forty of the 50 states plus Washington, D.C. were given a failing grade in their response to child and youth sex trafficking, according to a report by the nonprofit Shared Hope International.
According to the report, Alaska is the lowest-ranked state, while Florida is the top-ranked, with an overall grade of C and a score of 72.5 out of a possible 110 points.
Source: justthenews.com
ICE reveal: Deportations down 90% under 'clueless' Biden@CIS_org @JessicaV_CIS Biden's "deliberate refusal to enforce immigration laws is one of the most clueless and egregious acts of negligence in modern government history."https://t.co/1mVKAScJmJ pic.twitter.com/aejNOU7uLp

— Paul Bedard (@SecretsBedard) December 6, 2021
Responded
Biden has functionally abolished ICE by memorandum and is mass releasing criminally charged and convicted illegal aliens out of our jails and prisons and directly into our communities—blocking ICE from deporting them. Of all of Biden's scandals, this is the biggest and worst. 1/2 https://t.co/4AwJlvl563

— Stephen Miller (@StephenM) December 6, 2021
This is a dire threat to national security & GOP should demand a rider on the defense bill to stop Biden from freeing criminal aliens into our cities, near our families, close to our schools, and throughout our neighborhoods. 2/2

— Stephen Miller (@StephenM) December 6, 2021
---
War
---
False Flags
Not a single healthy child from ages 5 to 18 died of COVID-19 throughout the first 15 months of the pandemic in Germany– the largest country in Europe, according to a newly published major study.
A German registry established in March 2020, shows 1.5 million German children or adolescents were infected with Sars-Cov-2 between March 2020 and May 2021.
Not a single healthy child died from the virus.
The probability of a healthy child requiring intensive care for COVID were about 1 in 50,000, researchers at Cold Sring Harbor Laboratory concluded in a study published to the medRxiv prepping server on Monday.
The odds of children 12 and older requiring intensive care for Covid were 1 in 8,o00.
Source: thegatewaypundit.com
New York City Mayor Bill de Blasio (D) on  defended his updated vaccine mandates — expanding to private-sector employees as well as young children —  claiming that "vaccine mandates work" and that such vaccine passport programs should be emulated across the country.
"Vaccinations work and vaccine mandates work. That's the bottom line," he asserted.
"Use the thing that works. Vaccination," he continued, calling it the "central weapon in this war against COVID."
Source: breitbart.com
Dr. Susan Desmond-Hellmann – a member of Pfizer Inc.'s Board of Directors – previously served as the Lead Independent Director at social media giant Facebook. The site has routinely censored posts relating to COVID-19 vaccines, with Pfizer in particular eliciting support from major corporate outlets.
Hellman was appointed to the social media platform's board in March 2013 and served as it Lead Independent Director from June 2015 until October 30th 2019, shortly before the first reported case of COVID-19.
Source: thenationalpulse.com
Biden Vaccine Mandate for Federal Contractors Blocked Nationwide
The Biden administration's mandate for federal contractors' employees to be vaccinated will be halted nationwide,  Source: bloomberglaw.com
Natural immunity is one of the most often overlooked factors in the fight against the Covid pandemic. 
Herd immunity occurs "when a large portion of a community (the herd) becomes immune to a disease, making the spread of disease from person to person unlikely," the Mayo Clinic defines the term. "As a result, the whole community becomes protected — not just those who are immune."
The Mayo Clinic's article proceeds to discuss the perceived medical issues with pursuing "herd immunity" as a goal in the context of the Covid pandemic.
"There are two main paths to herd immunity for COVID-19 — infection and vaccines," the article states. "Herd immunity can be reached when enough people in the population have recovered from a disease and have developed protective antibodies against future infection."
Yale Epidemiology Professor Dr. Harvey Risch set the record straight in October.
"People can get infected while the vax is working fully, but they're relatively protected from very severe outcomes, which is a good thing, by and large, for the people who take it," Dr. Risch said. "But they really need much more natural immunity from the infection going forward, in order to prevent what they're seeing. And they need that natural immunity to combat other viruses, other strains that may be coming as well. And for longer-lasting protection, natural immunity is much longer lasting that vaxxed immunity."
More importantly, we are rapidly approaching the threshold needed to declare the Covid pandemic "over."
Source:  thekylebecker.substack.com
556
Q
!UW.yye1fxo
01/19/2018 00:39:17
 ID: 239b20
Archive Bread/Post Links: 89466 / 89777
Direct Link: 89777
 the media are informing the public on how to behave when entering any area were Democrats are in charge of civil society.  It is important not to accept this new normal; instead think about this broadcast in the larger picture of what it represents.  The media no longer question if you will be attacked; the media are now advising us on how to mitigate our pending attack.  The attack itself is a foregone conclusion.
.
Source: theconservativetreehouse.com
---
Q
Hearing up now on Bannon contempt of Congress charge. This is what Bannon's legal team wants under discovery from the government: pic.twitter.com/RWOFBxx4TQ

— Julie Kelly 🇺🇸 (@julie_kelly2) December 7, 2021
DOJ wants protective orders on numerous categories of evidence including J6 committee comms, witness statements, law enforcement information.

Bannon team: Under protective order, Bannon limited how they can use evidence in the case. Points out this is govt employee material

— Julie Kelly 🇺🇸 (@julie_kelly2) December 7, 2021
Keep in mind, this is the same DOJ demanding cell phone data including text messages, etc. from American citizens who protested Joe Biden's election.

Judge wants DOJ to explain protective orders. DOJ complaining Bannon will make evidence available "for public review." LOFL

— Julie Kelly 🇺🇸 (@julie_kelly2) December 7, 2021
"This case should be adjudicated in the court room not the media." – DOJ

WHAT ARE THEY HIDING?

Judge trying to split the baby–how evidence can be made available to defense but prevented from released to public/media. Bannon team objects to idea, notes media wants access, too.

— Julie Kelly 🇺🇸 (@julie_kelly2) December 7, 2021
Protective order is "severe."

Judge Nichols says he will rule soon on which categories will be protected.

Bannon team again argues congressional comms should be made available. Judge wants to find a way to prevent Bannon from making it public, only used for court proceedings.

— Julie Kelly 🇺🇸 (@julie_kelly2) December 7, 2021
DOJ claims dissemination to media will influence potential jury, witnesses, and outcome.

Team Bannon calls it "baseless." Judge Nichols suggests burden might be on Bannon to argue removal of protective order in each instance. pic.twitter.com/ntiUwdIPRT

— Julie Kelly 🇺🇸 (@julie_kelly2) December 7, 2021
Bannon atty detailing a long list of issues/rights the J6 committee has violated including separation of powers and Bannon's 1A rights. Communications would reveal how J6 committee approach ran afoul of numerous laws, rules, etc.

"This is a radical move they made."

— Julie Kelly 🇺🇸 (@julie_kelly2) December 7, 2021
It's clear Bannon's team is attempting to delegitimize the entire J6 committee, which is great.

Notes Thompson's personal lawsuit should preclude him from heading committee. Notes Raskin's lead role in Trump's impeachment. "Entitled to know what the processes were."

— Julie Kelly 🇺🇸 (@julie_kelly2) December 7, 2021
Legally documented, voting-age noncitizens comprise nearly one in nine of the city's 7 million voting-age inhabitants. Under a bill nearing approval, some 800,000 noncitizens would be allowed to cast ballots in elections to pick the mayor, City Council members and other municipal officeholders
Noncitizens still wouldn't be able to vote for president or members of Congress in federal races, or in the state elections that pick the governor, judges and legislators.
Source:  abcnews.go.com
The Justice Department  is suing Texas over its redistricting plans that 'deny the rights of Latino and Black voters on account of their race.'
US Attorney General Merrick Garland said the maps violate the Voting Rights Act.
"
This is the third time Joe Biden's DOJ has sued Texas.
Source: thegatewaypundit.com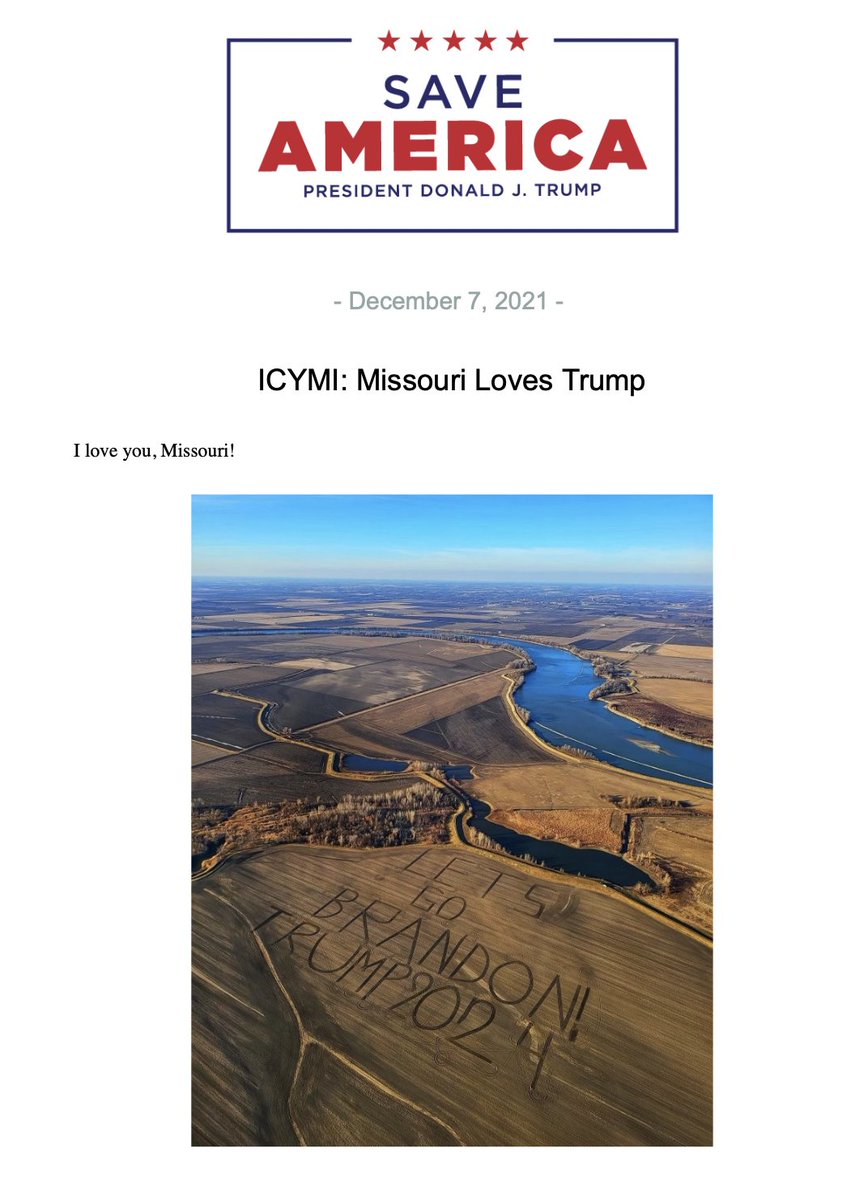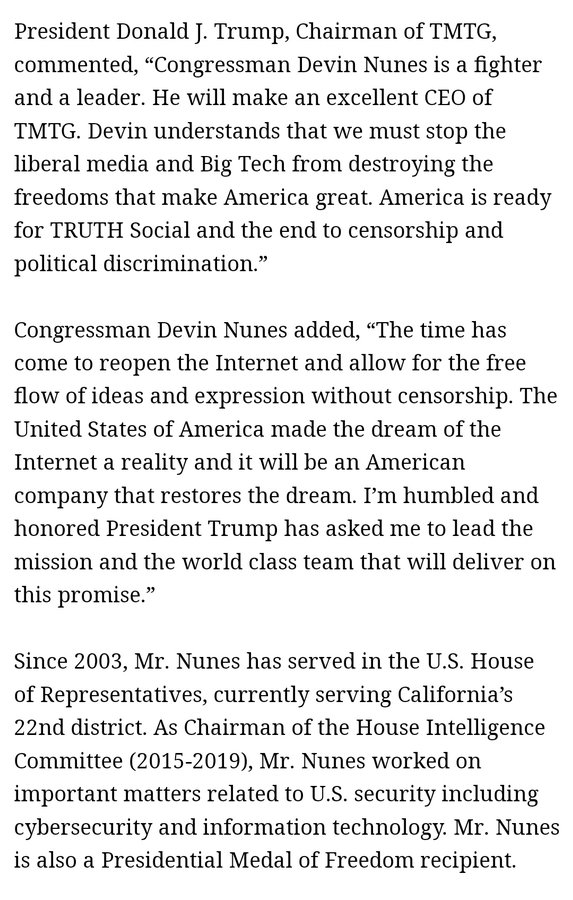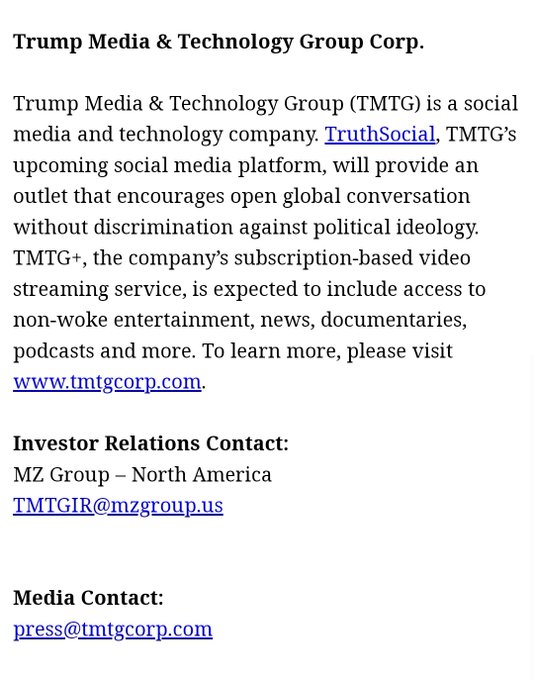 "Truth and the 45th president are going to use Rumble's infrastructure, their technology, their cloud distribution capability, so they are going to be a service provider, a tech provider to the president's Truth Social," Lutnick told interviewer John Bachman on his "John Bachman Now" show.
  "What this is, is people with political ideology being asked to leave YouTube, comedians are now coming over, gamers are coming over. It's a broad group of people don't want to be censored."
Source: thepostmillennial.com
Chris Pavlovski says Rumble is building a cloud services business and video platform "immune to cancel culture."
Pavlovski discusses the merge with CF Acquisition Corp., the company's growth and the partnership with Trump's social media firm.
2793
Q
!!mG7VJxZNCI
02/18/2019 15:50:20
 ID: f40549
Archive Bread/Post Links: 5247736 / 5247821
Direct Link: 5247821